One of the secrets to winning is to stay out of trouble. Call it luck or skill, Marquez has always succeeded and, in Barcelona, he preferred not to participate in the bocce ball competition proposed by Lorenzo. His brother, Alex, had already won an hour earlier, and Marc didn't want to spoil the family party. Moreover, he was able to take advantage of the time before crossing the finish line to decide where to go for dinner.
Instead, Dovizioso, Rossi, and Vinales lost their appetite, and Lorenzo's apologies were not enough to make them hungry again.
A bit of glory also for Quartararo and Petrucci. The first was predestined but lost his way; the second had to start from afar to find it. Both were able to wear laurels around their necks (which, among other things, are much nicer than most trophies that seem created by designers the day after a hangover).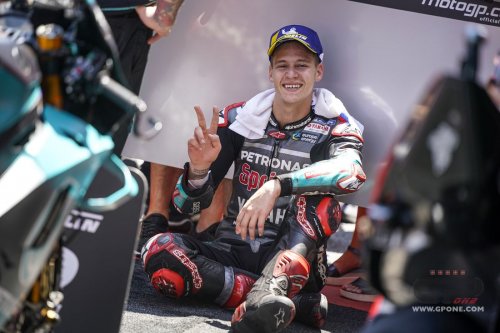 THE GOOD - The devil has an angel's face, several tattoos, a sincere smile, and an innate tendency for speed. Fabio Quartararo is the MotoGp's Diablo, but only on the track. Usually, he's polite and kind, and it's simple to understand why many celebrated him on Sunday. Until a few months ago, he seemed like a lost talent, but happy to have found it again.
THE UGLY - It would have been nice to have raced again on Monday because, on paper, the Barcelona GP had promised hectoliters of adrenaline.  The competitive Yamaha, Dovizioso with a good shot in his barrel, and the usual Marquez: all that was needed for a Sunday to remember. Yet, fate decided otherwise. All we have to do is wait for Assen to have the stolen goods returned to us.
THE BAD - Jorge Lorenzo has taken the title "Bad Guy" too seriously, which he also decided to wear on his helmet for Barcelona. But his error wasn't really "bad". Haste and enthusiasm played the most important roles. There was no need for a penalty because he already punished himself enough.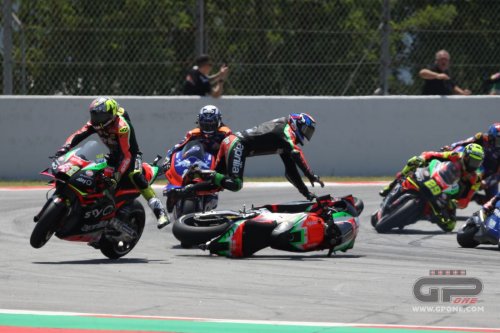 THE DISAPPOINTMENT - Among technical failures at the least opportune moment, self-elimination between teammates, and penalties, it's difficult to see anything good that came out of Aprilia's weekend. Iannone can't celebrate his 11th place as best result on the RS-GP, in a race conditioned by many falls. The Italian motorcycle needs results, fast.
THE CONFIRMATION - He wasn't the best. He had a stroke of luck, didn't waste it and got on the podium. Danilo Petrucci showed us he knew how to manage the difficulties. That was the proof needed after his victory at Mugello. Dovizioso taught him well, and the rider from Terni applied the lesson learned. Now his renewal is just a formality.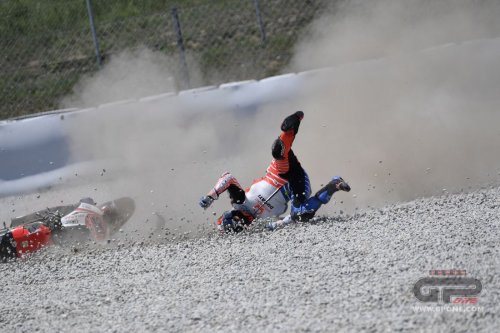 THE ERROR - We put Lorenzo Baldassarri, Franco Morbidelli, and Pecco Bagnaia behind the blackboard. All three could have had a good race. They instead ended up counting the bits of gravel in the ride-off area, and it's not a first.
THE SURPRISE - Seeing all the competitive Yamaha models, these days, is tantamount to seeing a Yeti among in the Himalayas. The climate in Barcelona was different, but the M1s suddenly remember how to go fast. On why it happened, not even those directly involved are really sure. Maybe Assen will help us understand something. There is no certainty in tomorrow.
THE PASS - Ten years later, the student has reproposed the master's main course. Overtaking on the last turn that made Celestino Vietti earn the podium, reminding us of Rossi's (famous) one on Lorenzo. Studying history helps.
THE INTERESTING FACT - A podium can be very sweet and Canet knows this well. Aron is, in fact, on a diet to lose a few pounds that, in Moto3, can make a big difference and, to reward him for 2nd place, his team let him have a spoonful of Nutella.
I TOLD YOU SO - "Many thought Rins to be the favored to win," said Alex jokingly the next day.