Barcelona, a definitely caliente weekend for MotoGP, back in action the weekend after the last round at Mugello. For Andrea Dovizioso, the Catalan race will be a special one, since it'll be his 300th consecutive Grand Prix.
No one has ever had a record in the MotoGp like the rider from Forlì, starting from the 2002 race in Japan in the 125, up until this coming weekend in Catalonia. Valentino Rossi is right behind him in this special classification, with 230 consecutive GPs (Malaysia 1996 - Le Mans 2010). The Doctor's series was interrupted in 2010 when a fall during the Mugello race weekend forced him to raise the white flag. Max Biaggi follows in third place.

Remaining on the subject of figures, Marc Marquez's personal milestone is rather noteworthy. Thanks to the 20 points he brought home at Mugello, the Spanish rider exceeded 3,000 points. To date, there have only been six riders who have had a higher score.
Valentino Rossi is, in fact, in first place with 6,145, second is Dani Pedrosa with 4,162, followed by his fellow countryman, Jorge Lorenzo, with 3,937. Behind the rider from Mallorca, two of our own riders, namely Andrea Dovizioso and Loris Capirossi.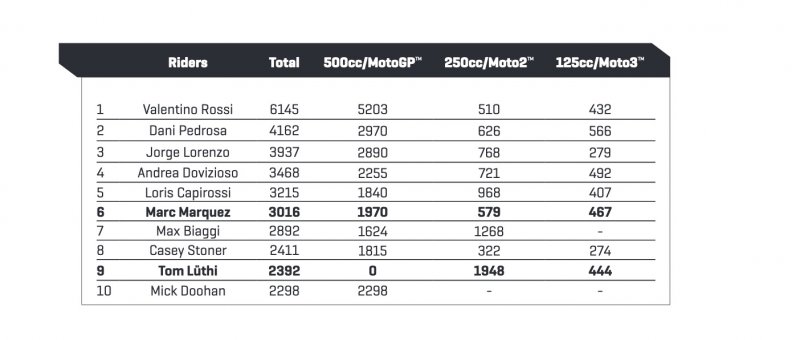 Share