Two rounds in as many states with four races in the books. The first verdicts are in from MotoAmerica 2019, starting at Road Atlanta and going through Texas, coinciding with the third MotoGP round.
Beaubier, Elias, once again Elias and then Herrin. These are the names of the first four race (battle) winners in order so far, with the Virginia round coming up, scheduled for next week. We were expecting the Yamaha riding Californian to fiercely defend the number 1 on his Monster Energy R1, and we knew that Elias would be ready to make life difficult for him, on the hunt for his second American title.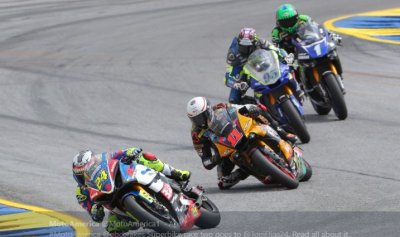 And Herrin? Josh made his arrival in the team Yoshimura camp with no little fanfare: the rider from Glendale boasts championship titles in AMA, half a season in Moto2 and speed that can make thing tough - first and foremost - for Toni, his teammate on an identical Suzuki GSX-R.
In every round, we'll see these three going at it. A big bang four-cyinder from Iwata against two "in-line" screamers from Hamamatsu: there is a chance that Beaubier could find himself "sandwiched" between the number 24 and number 2 bikes, with the Gixxer thousands and, in that case, we'll see whether or not the Suzuki riders are willing to be team players.
As early as VIR we will see if Garrett Gerloff is able to keep up with the three musketeers and we will also be waiting to see if Mathew Scholtz comes alive. The Texan and the South African add two more Yamahas to the scene and, with the aggressive and unpredictable, JD Beach yet another bike from Iwata joins the mix of those battling it out for the American throne.
For the other steps of the podium, it would be nice to see Wyman and his Ducati on at least one of the two: the KWR rider is waiting for the Marelli ECU from Bologna, which he should have soon, making his Panigale V4 R a true race bike. Keep an eye on Jacob "Jake" Gagne's BMW too. The San Diego native is anxious to give the German S1000 RR at least one win on American soil.