Joan Mir's fifth win was not such a sure thing at the Sachsenring; the Leopard team rider had to defend himself from ferocious attacks by Romano Fenati, watch out for a fastest than ever Ramirez and choose the right moment to go for it, managing to win after making a decisive pass at the penultimate, fast left-hand corner, after coming down from the Waterfall like a fighter pilot.
A demonstration of Joan's strength and maturity, as he clearly leads the way in the championship standings with his Honda: "it was a complicated race - commented Mir in parc fermé- but I had a clear strategy: to attack at the end and I did it, thanks also to team Leopard".
Romano Fenati had team Snipers put in a medium Dunlop at the rear, taking wider lines than those of his rivals, and was beaten at the penultimate corner. The Italian Honda rider is nevertheless pleased with second place and seems to be having more fun than in previous seasons. Romano is also second in the championship and still a title contender, profiting from poleman Canet's crash today, which sees him position third in the standings.
Third place, and a first podium, for Marcos Ramirez, the first KTM rider to the line, having fought for the win from start to finish. Fourth for Nicolò Bulega, finally competitive on the team SKY KTM.
Local rider Oettl came home in fifth, ahead of Enea Bastianini, sixth but never in the podium mix today.
Championship standings: Mir 165, Fenati 128, Canet 110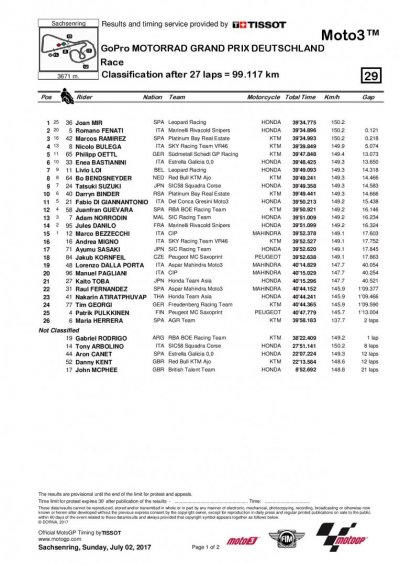 Share