The rainy morning in Assen had foreshadowed a wet race for Moto3, but fortunately it went differently and it was so much the better for the show. In fact, a group of no less than eleven riders contended for the victory and the podium down to the last historic "S" turn and coming out ahead of the rest was Aron Canet.
The Spaniard did not lose heart when he was forced into an off-track excursion in order to avoid hitting Fabio Di Giannantonio's bike (who crashed a few laps into the race), managing to catch up with the lead group after a series of fast laps and then snatched the win from Romano Fenati in the finale. The Italian rider had to settle for second, an excellent result, made even more valuable by the fact that he started from the 15th spot on the grid. Another great comeback was ridden by Scotsman John McPhee, who rounded out the Dutch podium. Poleman Jorge Martin was left instead emptyhanded, dealing with another race characterized by great speed but also various mistakes, whereas Jules Danilo, Marcos Ramirez, Gabriel Rodrigo and Tatsuki Suzuki performed outstandingly, occupying the positions from fifth through eighth.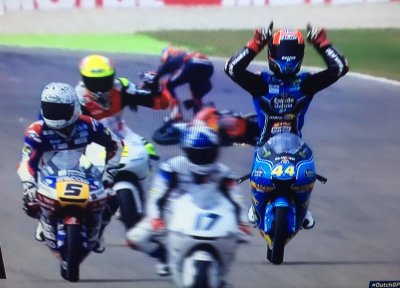 It was a negative race for championship leader Joan Mir who crashed out in the final turns of the last lap, going from first to ninth place, whereas Nicolò Bulega rounded out the top ten, exploiting the crashes in the finale by Norrodin and Bendsneyder. The Dutchman crossed the line rolling on the asphalt separately from his bike, so he was disqualified.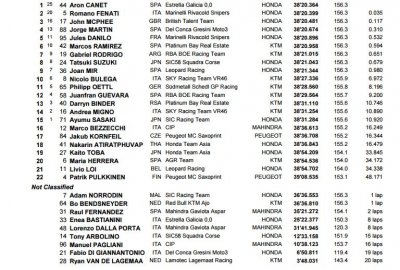 Share