Who said that dreams cannot come true? Joan Mir, before falling asleep last night, closed his eyes and "tried to imagine the moment when I would cross the finish line and be world champion. Then I said to myself, we'll see if it happens". It happened and was probably even better than how he imagined it to be. Twenty years after the title of Kenny Roberts Jr. in 500cc, the Majorcan has taken Suzuki back onto the top of the world.
Joan is not one of those baby phenomena who started riding a motorcycle before knowing how to walk, only at the age of 9 did he start to think of himself as a rider and then he skipped all the steps. Not without some difficulty.
"I have fought all my life to achieve this dream and I still cannot believe I have done it - he explained - My dad didn't have the money to pay a team to let me race, so my only chance was to win, so that a sponsor would notice me and help. But I trained a lot, in the evening I arrived home destroyed and my father himself made so many sacrifices. I had this dream in mind and I never stopped. There are a lot of people I have to thank, first of all my family, who helped me in the past and Suzuki for giving me this chance. I didn't expect to become champion in my second year, but now the title is mine" he smiled.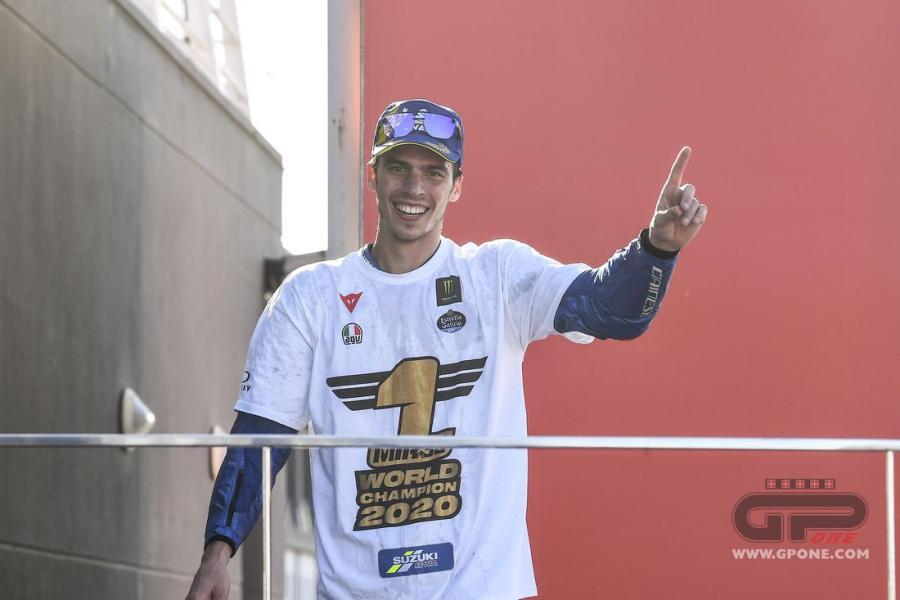 "Winning the World Championship with Suzuki has a greater value, that's why I chose it"
Not everyone would have bet on Suzuki, but it was the challenge of succeeding where no one had ever done in MotoGP that convinced Joan.
"I knew that if I had won the title with this bike it would have been of greater value - he said - I was courageous, but that was what I wanted. Sheene, Schwantz, Uncini are legends and being able to be part of Suzuki's history with them is the reason why I came here ".
Many observers have praised the work done by Brivio, who started from scratch and reached the World Championship title. Mir couldn't agree more…
"He has done a wonderful job - he confirmed - In the team there is a good combination of Japanese serenity and seriousness and Italian light-heartedness. Many people have contributed to improving the bike, starting with Guintoli, but also Iannone, Vinales and Aleix Espargarò in the past. Above all, Alex Rins has a lot of merits, also because as a teammate he is my first rival, he pushed me to the limit and is part of this success ".
Joan was the icing on the cake…
"The improvements this year are the result of the work of the previous one - he underlined - At the beginning of the season, however, I did not think I could win the title. In Austria, after the first podium, I realized I was competitive, but it was only after Misano that I started thinking about the championship, I realized I could be fast on every track ".
"I dedicate this title to all the people who are suffering from Covid"
It can be said that the toughest difficulty was yet to come. Because the closer the finish line gets, the harder it is to make a mistake, instead Joan demonstrated the coolness of a consummate champion.
"It wasn't quite like that - he smiled - From the outside I seemed calm and without pressure, but in truth I felt it. I'm not saying it was a bad feeling, but this has been a difficult year, because the pressure was not only on the track but also at home, due to Covid. It wasn't easy to manage, the virus was a rival along with those in the race. Indeed, I believe that in the end it doesn't need me to dedicate the title to it, so I would like to dedicate it to all the people who have suffered and are suffering from the coronavirus. Being able to make even 1% of them a little happier would be my biggest victory. "
Mir proved once again that he is a down-to-earth guy and above all a hard worker. Even though Chicho Lorenzo, Jorge's father and his first mentor, declared that as a child Joan wasn't exactly so serious.
"It's exactly the opposite of what they have always told me - he replied - You have to think that I was 9 at the time and you can't ask a child of that age to take everything too seriously, I for one did not know what I wanted to do ".
"Crossing the finish line and being world champion was an awesome feeling"
But he understood this clearly after a while and his climb to success was rapid.
"The feeling when I crossed the finish line was awesome - he said - I couldn't understand anything anymore, they stopped me for the celebrations, they talked to me and I nodded yes, but in truth I couldn't hear anything".
At parc fermé you found your mother, something rare and unique ….
"Not only does she never come to the circuits, she doesn't even watch the races, she just looks at the results. But today she was here for a good reason - he joked - She and my father helped me a lot, they have different characters and I think I took a little from both of them ".
The speed to adapt quickly to bike and category, though, is all his own work...
"At the beginning I was forced to - he explained – It was either win or go home, like in mini-bikes. The same in pre-GP, where I won in my first year. Then I moved on to the Rookies Cup, but I was really small, I didn't have the strength to ride that bike, but in the second season I fought for the title. Then came CEV with the Ioda, not the best bike, and finally the World Championship. I started with KTM, then I moved on to Honda and Moto2 with Kalex. I had practically never done two years on the same bike ".
Now Schwantz has offered him to try his 500. "I'm not ready yet," he replied jokingly.
Kevin has always been his idol, but not the only one…
"When I was little I was inspired by Lorenzo, also from Mallorca - he said - I've never had a poster stuck in my room, but I still have the collection of Valentino Rossi's motorcycle models at my dad's house".
"Marquez wasn't kidnapped, he made a mistake. My title isn't worth any less without him"
Mir is having the best day of his life, but there is one question that is bugging him. The one about how much his title is worth without Marquez on the track…
"Anyone who says that the title is worth less due to Marc's absence doesn't understand much about bikes – he said - Marc is not here because he was kidnapped, but because he made a mistake that cost him the season. Also in the past it's happened that a title favourite got injured, it's part of our sport ".