The victory that brought Spanish rider Aron Canet back to the Moto3 World Championship in Brno rekindled the fantasy of more than one nostalgic rider because his team manager, Max Biaggi, was on the podium alongside him.
Moreover, a podium that the Corsair had conquered 11 times during his racing career, between World Championships and Superbikes.
Something that thrilled the six-time world champion beyond all expectations.
"It's true that many have tied my presence to the fact that Brno is one of the circuits I love most but, actually, they called me up as the team owner. It was Aron who won. The team is important, but it's always the rider that finalizes the work . However, I must confess that I was excited," Max revealed. "It's probably because the podium is the same one on which I stood the last time in 2010, and the woman who handed me the trophy was the same who worked with the owner of the circuit, Abraham, but suddenly, if it hadn't been for the fact that I didn't have my suit on, I still felt like a rider. After 11 personal successes, I was there again, and this thanks to Aron's shrewd and courageous maneuver on the last lap, with worn tires, when he passed Antonelli in a third-gear corner."
"I don't have an Academy. Canet has something inside of him which I recognized in myself."
You were happy for a Spanish rider's victory over an Italian. Someone criticized you for this.
"Honestly, if there was any, criticism it wasn't that bad. When I put together the team, with only one rider, I needed someone with a bit of experience. At that time, all the Italian riders were under contract, and I'm not the type who gets in the way, or pushes to break agreements, or ups the ante. I don't have an Academy, just a team with a single rider, and I had to choose a winner, even though Canet had a bad season in 2018. He was in a declining phase of his career, even due to a couple of injuries, but I saw he was tough, and I believed in him. He has something which I recognized in myself, and this thing fascinated me, so much so that I even followed him during all the winter tests. We met at that time, creating a trusting relationship that we didn't have in the beginning. Let me guide you, I told him, you'll see that you'll have a top-level team by your side. Now he's overjoyed. It's not that I don't want Italian riders, also for the future. I liked Foggia, but he'll be going with the Leopard team."
What kind of team manager are you? Agostini was checking the suspensions on Lawson's Yamaha, infuriating Eddie.
"I'm not someone like Mino who also follows the technical part. I try to make the team work harmoniously. And then when Lawson arrived from Ago, he was already a champion but, above all, he wasn't so young and had more experience than Aron. I listen to Canet, then I talk to the head mechanic. I find out about the problems and how they want to solve them. Mine is just being informed, without intervening too much."
"I came to the Moto 3 because, at some point, you have to stop racing. But I like to compete."
At the end of the season, world title or not, Aron Canet will move on to the Moto2. What are your intentions?
"I'm staying with my team in the Moto3. For the moment, I don't want to go up in category. I like the Moto3. it's really competitive, and I'm here because I still like to compete, and the motorcycle world championship is the greatest competition there is. At some point, I didn't want to race anymore, before the time came when I wouldn't be able to, so I tackled the entire process: the national championship, the CIV, then the CEV in Spain. I wanted the world championship again, even if not as a rider.
"As a rider, you're the master of your destiny. As a team manager, you have less control."
Last Sunday, on that podium, with the trophy in your hand, we saw you as excited as you once used to be.
"Yes, but it's a different feeling. As a team manager, you have less control. When you ride a bike, you dominate it, then there's the race. You're the master of the result or at least you steer it in the right direction. There are many factors to consider here. You can manage a team, but you have to be careful not to overload the rider because it could be counter-productive."
"Aprilia in MotoGP? Honda and Ducati should stop for a couple of years so it could reach them."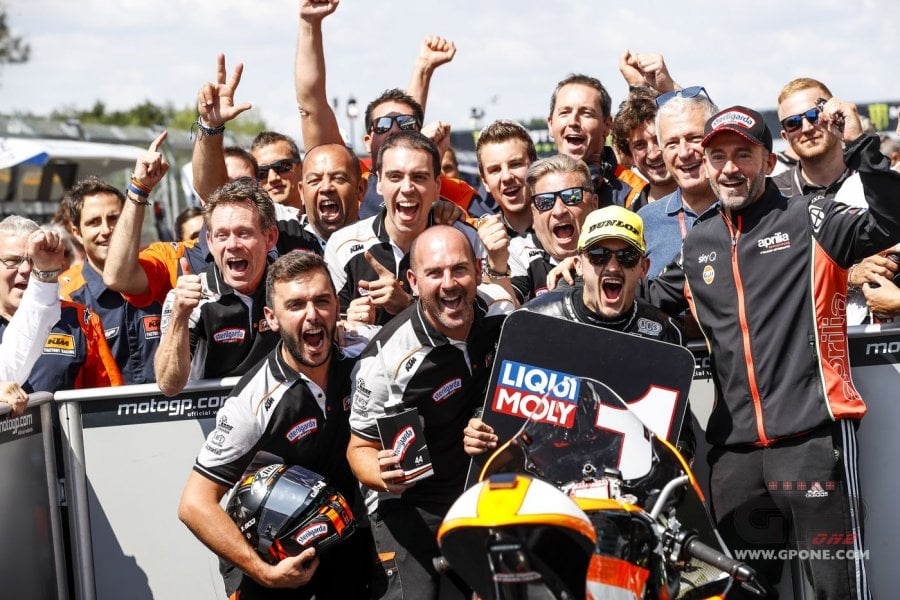 You
You only follow the Moto3. The MotoGP doesn't interest you anymore?
"Are you kidding? Once the Moto3 is over, I rush into the Aprilia box and follow everything in detail. I'm only an ambassador there but, obviously, because of my past with them, I have full access to information. It's not an easy situation because, in the MotoGP, you come up against companies that have an important background and extraordinary budgets with very high-level riders. It's difficult to recover. I joke about the fact that Honda and Ducati should stop for a couple of seasons but, obviously, no one stops."
"I no longer have the presumption to be able to rider a MotoGP. Riding these bikes is a sacrifice."
Don't you feel like getting back on a bike to give your opinion?
"No, the desire to get back on a bike is gone. I don't have this presumption. Jokingly, I was asked to, but getting on these bikes is a sacrifice just riding them, let alone taking them to the limit. It's something that would need a pressing commitment... I raced up until I was 44. I had stopped at 42, then I raced those two races, at Misano and Sepang, climbing the podium in Malaysia, but even just racing those two races was not easy."
"Rossi still on the track at 40? I stopped at 42, not because I was afraid of not winning, but to leave the scene a winner."
So Valentino Rossi should be admired for what he's doing at 40.
"Rossi better now than at 30? It's difficult to judge. I can only talk about my personal experience. In my case, I realized that the others were advancing, and that I struggled more in stopping my adversaries. I didn't retire because I was afraid of not winning anymore. It was rather an opportunity to retire as a world champion. Who ever succeeded in that? I paid the price on an emotional level for this decision. Up until the last race, I didn't want to do it. Finding the courage to go to Colaninno at the end of the championship and talking to him was really difficult. I had a contract, valid for all of the following year. When I went to Mantua, those on the team didn't want to believe that I was going to tell them that I was quitting, but they were there when Roberto Colaninno told me that he respected my decision, without imposing a penalty. I didn't expect to be taken into consideration because finding a rider at the moment was difficult. Luckily, Guintoli was then available."
"Lorenzo will stay with Honda. When these negotiations become public, they're never concluded."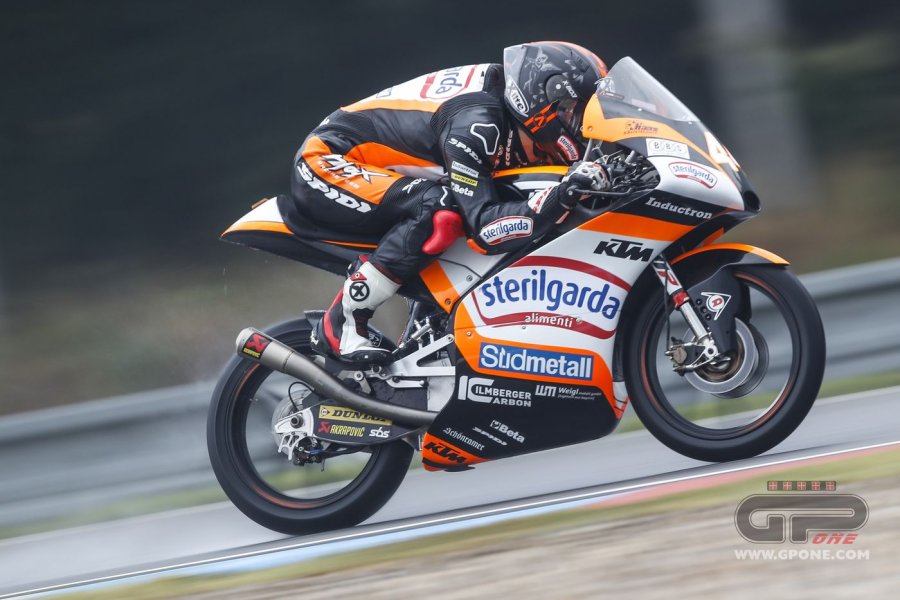 Obviously, given also your friendship with him, you followed the whole Lorenzo affair.
"I did on internet, but I think Jorge will remain with Honda. Changing an existing contract is absurd. I don't think it's that simple. When these things become public knowledge, it's even more difficult and usually means that the possibility has already vanished."
How do you see yet another Ducati against Honda challenge? You rode for both team.
"In 2018, Ducati lost a great opportunity. Dovizioso has more points this year, but also Marquez. I think it's going to be tougher this year."
Rumor has it that KTM has made Gigi Dall'Igna a big offer. You both respect each other a lot. You won two Superbike World Championships with him.
That's how racing is. It's a great opportunity for him. Sooner or later, he might decide to go."
Share