From Hailwood to Lawson up to Marquez: why the 'Kalex case' is not that much of a scandal 
Mike Hailwood raced with the Honda RC181 with an Italian chassis, Erv Kanemoto had chassis made up for Lawson in 1989: when the end justifies the means, every manufacturer looks around, as Yamaha did for its engines with Marmorini

Submitted by

Paolo Scalera

on Thu, 16/03/2023 - 16:06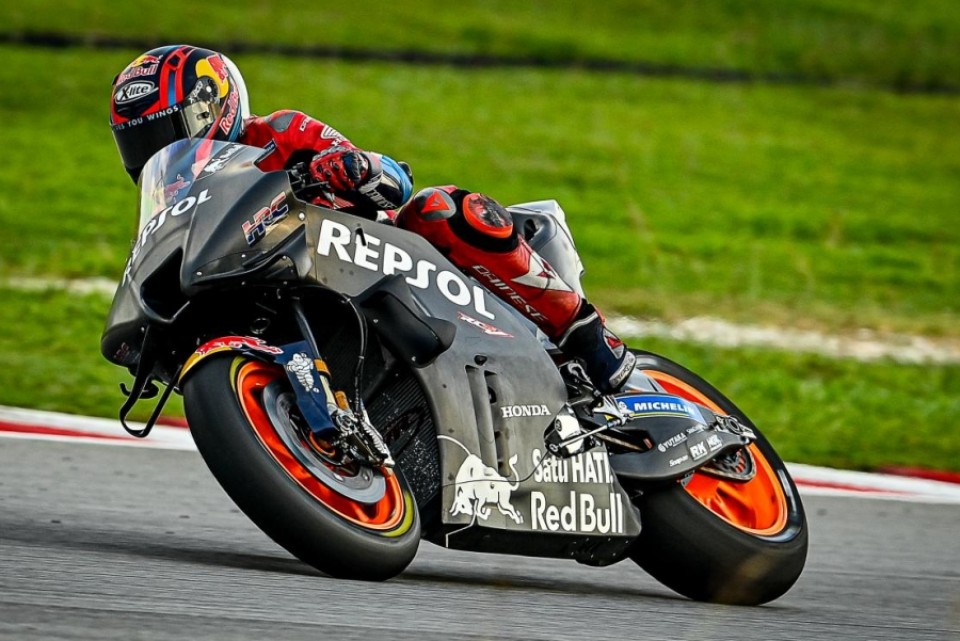 Share
Those observers who are amazed at HRC's request to Kalex to build a chassis for Honda don't seem to remember that the Japanese company has never laid low in its relentless search for performance.
The objective of a manufacturer, in fact, is to technically advance its know-how, and if necessary to bring in third parties into the research process. Exactly what Yamaha did, for example, by hiring engineer Luca Marmorini to develop its in-line four-cylinder. For this reason, does it mean that the tuning-fork manufacturer has lost its way and no longer knows how to make good engines and for this reason it has turned to the outside world?
And what about in F1 when Ferrari hired ex-Honda engineer Osamu Goto to bring technology from Japan?
Let's face it: in racing this transfer of information, obtained from people or from other realities, has always happened, so much so that in some cases - engineers responsible for innovative technologies - in the case of switching to a competing brand, we speak of a 'gardening' period, of forced rest, during which one cannot work for the competition. A year, six months, that's enough because knowledge is quickly lost in racing. And just look at the aerodynamics in MotoGP today to realize this. But let's remain on topic.
Each factory has its own lines of development: Honda, for example, has never really bothered, unlike for example Ducati and Yamaha, about adopting a unique technology for the engines: it has raced and won with engines of all types, even arriving at inventing oval pistons and 8 valves per cylinder with double connecting rod to try and contrast the supremacy of 2-stroke engines. Yamaha also attempted the five-valve adventure with the 0X88 8-cylinder that equipped the Zakspeed in 1989, built in collaboration with Cosworth. But if, for example, the Iwata-based company has always been famous for making motorcycles with almost impeccable chassis, but is less known for super-performing engines, Honda on the contrary has never been famous for its chassis but precisely for its engines.
After all, it was 1967 when Mike Hailwood, dissatisfied with the road holding of his extremely powerful RC181, commissioned the Italian firm Belletti to build a double cradle chassis in chrome-molybdenum tubular steel. It was designed and built in just 16 days, and delivered directly to the English rider, ready to be used on the track.
Mike The Bike with that chassis won the Rimini GP, valid for the Mototemporada Romagnola, and in the first round of the world championship at Hockenheim he obtained the best time in practice. In fact, later Honda, perhaps annoyed by Hailwood's initiative, returned to one of his chassis. But that's another story.
Like the one involving - we are in 1989 - Eddie Lawson and Erv Kanemoto. In the previous period with Honda, Freddie Spencer and Wayne Gardner had won in 1983, 1985 and 1987. The bikes available to Fast Freddie were the first three-cylinder NS and then the four-cylinder NSR, with the brief interlude in 1984 of the unrideable NSR with tank under the engine.
Both Freddie and Wayne faced their own hardships to try and tame those bikes. Spencer even asked for - and obtained - a return to the three-cylinder, while Gardner in 1988 defined his "a piece of iron, a diabolical bike to ride".
When, at the end of that year, Lawson left Yamaha after arguments with Agostini and offered to ride for Honda, only the intervention of Erv Kanemoto broke the deadlock. In fact, HRC did not want to play the part of those who hired not only the reigning world champion, but also one of the best test riders on the market. The solution was Kanemoto's creation of one of the first satellite teams in history, to which HRC passed part of the Rothmans sponsorship.
On that occasion, the legendary American tuner transformed the extremely difficult NSR 500 into what Eddie Lawson, with one of his classic caustic phrases, defined as "a real bike to ride".
Erv literally had carte blanche and after having modified and partially rebuilt a certain number of chassis he managed to conquer the first victory with Awesome Lawson in Spain, at Jerez, in the fourth Grand Prix of the year, with HRC opting to look the other way while Kanemoto on Eddie's indications asked for changes.
So it's little wonder that HRC turned to Kalex for help. In racing competition the end always justifies the means. And in the past more than one crew chief has made changes not allowed by the Japanese top management.
And while in 2012 Marquez won the Moto2 title with a Suter, the previous year Stefan Bradl, the current HRC test rider, won (coincidentally) the title with a Kalex. Who knows where the suggestion came from...
Share