Bagnaia at +23: "Everyone come to Valencia for the Grand Prix!"
The sign displayed by the wall of the Gresini team - BAGNAIA - did not slow down Bastianini who fought for the victory against his future teammate until the last lap. Quartararo's third place postpones Ducati's early party: two points still missing for the title that the Rossa has been chasing since 2007

Submitted by

Paolo Scalera

on Sun, 23/10/2022 - 11:20
Share
Gigi Dall'Igna had never once got up from his usual seat in the garage to go to the wall. But as he hadn't seen Bastianini slow down, but instead pass Bagnaia, after an incredibly clear sign - a large sign with the words 'BAGNAIA' had been hung out - his legs moved by themselves.
And there, with Ciabatti and Tardozzi, bowing to him as if to a 'bearded' confessional, he asked what was going on. And you can be sure they weren't talking about map 8!
At that moment Fabio Quartararo was selling his skin dearly, in third position, thus denying Ducati's leading rider the victory in the world championship. Meanwhile behind him, Marco Bezzecchi, fourth, was calling it a day. In doing so he relinquished that third place that would have given his friend from VR46 the world title in advance.
Thus, while the tension in the Ducati garage could be cut with a knife, Enea suddenly gave up the position again to Bagnaia, author of an unstoppable braking move.
It was at that moment that Dall'Igna, seeing the 2023 pairing in the right position - Bagnaia in front and Bastianini behind - resumed breathing normally. Was it perhaps because, with a slight delay, those seven red letters had suddenly lit up in Enea's mind? It wouldn't seem so, to tell the truth. On the contrary, following his instinct, the Gresini team rider did not make life easy for Pecco who at this point will go to Valencia with a 23-point lead.
All postponed, therefore, and by no means taken for granted with such a determined Quartararo. We must not forget, in fact, that the world champion had an incredible race, taking into account that he was running with a fractured middle finger of his left hand and moreover in technical inferiority.
What else is there to add to such a high-tension race? Perhaps only to underline Rins' fifth place, with Suzuki retiring, ahead of Miller and Marquez, who rode slow in the final laps. Evidently overwhelmed by fatigue on a track where the braking points hammer away at the shoulders.
The last note is for a revenant Franco Morbidelli: 11th behind Aleix Espargarò, Zarco and Binder, after a double long lap penalty.
"I want to say that I made the best start of my life, I took some risks to stay in front - explained Bagnaia immediately after the finish - Being behind Martin was too much for the tyres, so I slowed down, but today we did a great job for the championship and then it's my seventh win this year. Today we couldn't go faster because of the heat. Enea was very strong, as usual, especially in the last laps. I knew I had to attack immediately and it was not taken for granted because in my mind I had the spectre of a mistake. Perhaps one of my best and most important victories. Fabio was incredible, today we deserved to be first and second in the championship. As the fuel went down, I managed to brake harder and harder. The crash in practice did not affect me: I knew the reasons why. Everyone come to Valencia ".
"There was no favour, I tried to overtake Pecco in every way and was extremely fast even though my bike was very stable under braking. However, the goal remains that of third place in the world championship - said Bastianini - it was not an easy race, my strategy was to be careful in the first laps, then Jorge crashed. At that point I said to myself: let's try to make the rhythm, but I didn't have enough traction at the exit of the hairpins. I don't know what happened, maybe the asphalt temperature was different, today it was more cloudy. I did my race, although obviously I had to be careful with Bagnaia. In the table there was his name ... it's normal, Ducati is fighting for the title, we need to understand certain situations. It's not that the race fell asleep, it's true that I had something in my pocket, but Pecco had it too, so I kept an eye on the big screens to see who was behind".
The last words are, rightly, for Quartararo who is relinquishing the crown, but with the honour of arms.
"I'm really happy and satisfied - he said - I did what I had to do and we can get to Valencia with the championship still open. It did not affect the result any psychological change. In Australia we did the wrong strategy, only in the first laps did I save the tyres when I was with Marquez".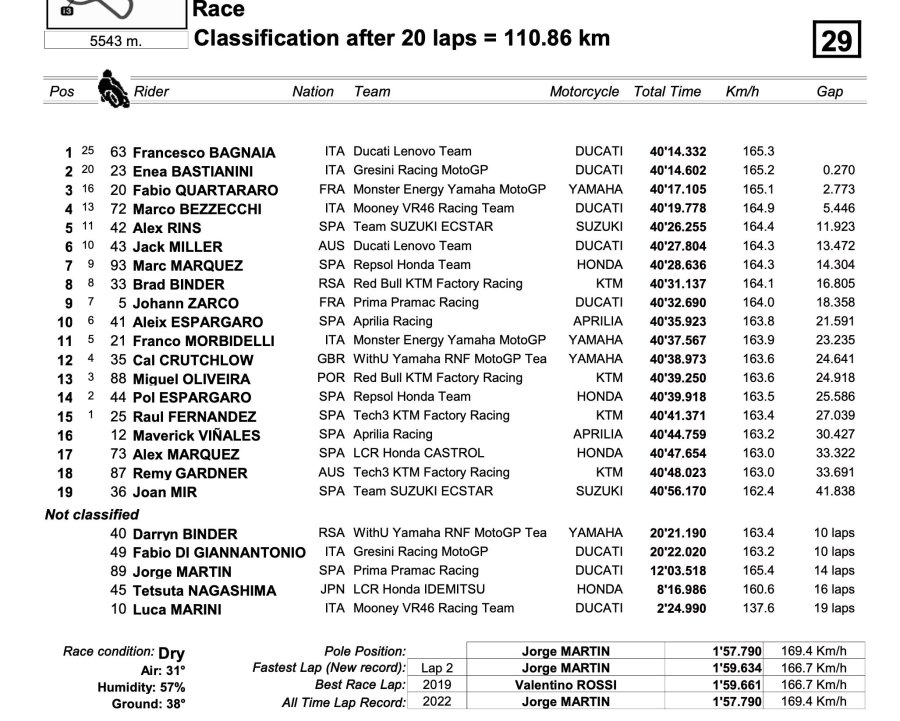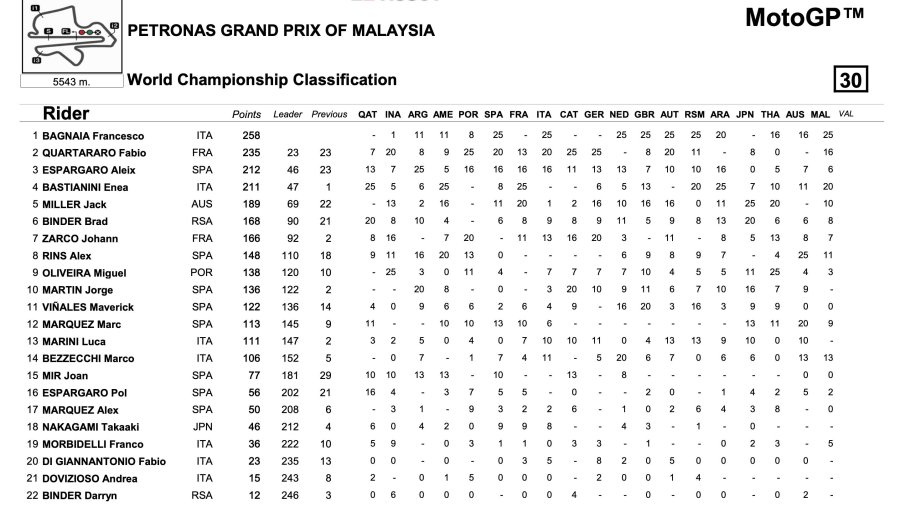 Share