Marquez needs MotoGP… and MotoGP needs Marquez
Quartararo says that he will rightly be one of the protagonists, Marc wards everything off but there can be no new king, unless the previous one has abdicated or has been dethroned. And for the moment Marquez's reign is still vacant

Submitted by

Paolo Scalera

on Fri, 16/09/2022 - 19:43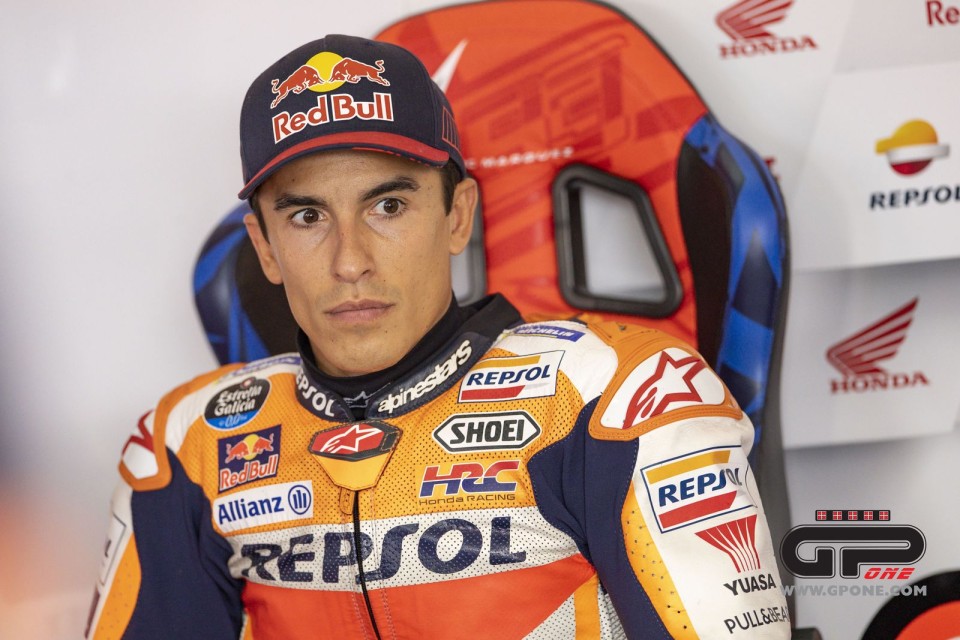 Share
Ah well, but what's the big deal? 359 thousandths from Jorge Martin's provisional pole, miles away from Bagnaia's track record from 2021, is not a time that should make people cry out for miracles.
True. But then you think that it's Marc Marquez we are talking about, someone who hasn't ridden for a hundred days and, sure, he might have tested at Misano and before on the Aragon short track with a CBR 600, but the others, his rivals, come off the back of an entire championship, with a bike now at the limit of their performance and instead he's riding the Repsol Honda, a bike that props up the field from 16th to 18th position with Nakagami, Pol Espargarò and his brother Alex.
Ah, of course lest we forget… despite not competing since the Mugello GP, Marquez is there in front of them with a 14-point advantage over the Japanese rider. As Inspector Poirot said: two coincidences make a clue: with the same bike, Marc is on another planet compared to his team mates.
The question, however, is rather: but only compared to his teammates or the rest of the grid? Here the subject becomes complex. Between one operation and another, four in total, plus a relapse of his double vision - it all started, you will remember, from a fractured humerus in the 2020 Jerez GP - for the last three seasons the guy from Cervera has not been racing full-time. It is true that speed is a talent and you never lose it, but here it is not a question of returning to the track in Sepang after the winter silence of the engines, which might also pose some problems for the riders, but chucking yourself back into the fray without adequate preparation.
That's where Marquez manages to amaze. OK, we will see what he will do in the race, of course, and it goes without saying that he might not physically be well enough to keep up with the leaders. On the contrary, all the predictions are against him and he himself fears the final result.
Rather, we must ask ourselves why his opponents, starting with Quartararo, the reigning world champion, instead rush to include him among the riders if not those to beat, at least those to be considered for the top positions.
This is called saying it loud and clear. Because anyone who finds him in front of them on Sunday afternoon will have to reconsider their potential. And that's the bottom line.
Then, maybe, let's hope not for him, he will be forced to stop because he was physically exhausted during the Grand Prix. We wouldn't be surprised. In athletics it is quite common to take part in preliminary races, taking into account a possible retirement. It's part of the preparation.
His presence, however, irrespective of his final result is good for MotoGP, which needs a benchmark character: the last two world champions, Mir and Quartararo, have in fact beaten Morbidelli and Bagnaia respectively. And although Pecco is vying for the crown again this year, the pair from 2020 have virtually disappeared from the radar.
Marquez needs MotoGP, 8 world titles haven't been enough to quench his thirst for victories, and not even these two terrible years have affected his desire to compete, but it is undoubtedly also true that MotoGP needs Marquez.
There can be no new king, unless the previous one has abdicated or has been dethroned. And for the moment Marc's reign is still vacant.
Share