And now Ducati and Domenicali are thinking of Petrucci for the Desert X
Ducati finds itself with a perfect testimonial for the Desert X: Domenicali is mulling over the idea. McWilliams: "It's like winning a TT at first attempt". And Glenn Irwin launches a poll on Twitter: "Petrucci deserves MotoGP wildcard at an Italian track of his choice"

Submitted by

Paolo Scalera

on Fri, 07/01/2022 - 10:31
Share
Everyone complimented Danilo Petrucci yesterday, from Marc Marquez to Valentino Rossi, but perhaps the best compliment came from Jeremy McWilliams: "it's as if a rookie had won at the TT", he wrote on Twitter.
And while Jezza paid Petrux the greatest compliment that can be given by an old guard rider, another road racing specialist, Glenn Irwin, added to the dose by launching a petition: "Petrucci deserves a MotoGP wildcard at an Italian track of his choice in 2022. On a bike of his choice".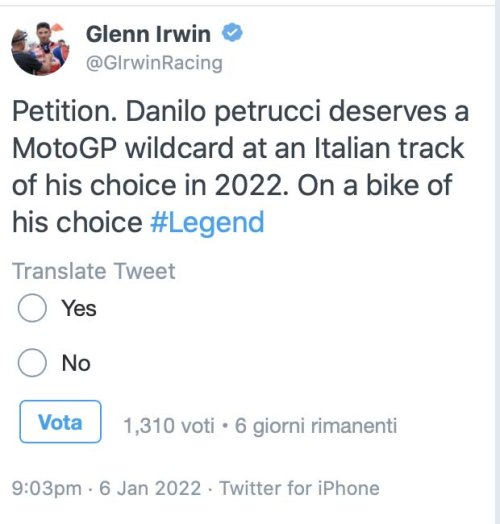 These expressions of esteem come as no surprise because Danilo has always received broad consensus among colleagues and professionals. Of course, no one expected that his debut at the Dakar would be so sensational and among these can be counted the CEO of Ducati, Claudio Domenicali, who finds himself with a perfect testimonial for the latest Borgo Panigale bike: the Ducati Desert X, a truly diehard off-road motorcycle, launched precisely to revive the category that was the most popular in the 80s: that of the two-wheeled 'desert' bikes, ranging from the Yamaha Ténéré to the Cagiva (Ducati) Elefant taken to victory by legendary names such as Hubert Auriol, Edi Orioli, Ciro De Petri and Claudio Terruzzi.
This year in fact, after his adventure with KTM in MotoGP, Petrux is set to return to the Ducati fold in MotoAmerica, and there is no doubt that at this moment KTM, but also Red Bull, must be kicking themselves. The former for having concluded an agreement with Danilo only for the Dakar, while the latter for not wanting to sponsor the rider from Terni.
With Petrucci, on the other hand, Ducati finds itself with a perfect testimonial for the Desert X and, why not, a benchmark rider if it wants to take part in some rally-raids. Not the Dakar, given that the current regulation prohibits engines with more than one cylinder, to limit the speed and the dangers ... but that's not necessarily the case.
Rumours? Not really. There have already been contacts in this regard. And while we wait to see what sort of welcome Wayne Rainey will give him in 'his' MotoAmerica, let's take up the invitation of Glenn Irwin, what do you think?
Share