SBK underway at Aragon: Kawasaki, Ducati, Honda, Yamaha, BMW, if you are there, show it!
A manufacturers' world championship which doesn't interest the manufacturers themselves. There is TV, but no coverage on mainstream media. And it's not Dorna's fault! The technology is there, so are the protagonists, but there is no desire to invest (and that's nothing new)

Submitted by

Paolo Scalera

on Thu, 20/05/2021 - 12:30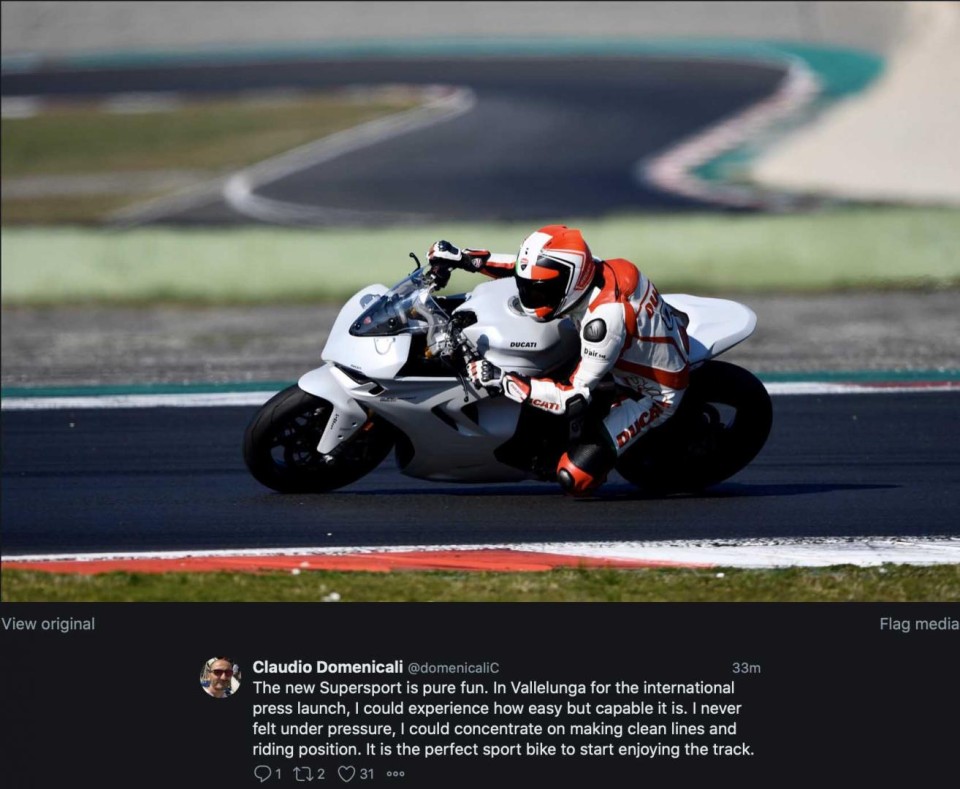 Share
World Superbike gets underway on Sunday in Aragon with the opening two rounds in the Iberian peninsula, as next week it goes to Estoril. We are at the end of May and the MotoGP colleagues are preparing for their sixth Grand Prix at Mugello next Sunday. To say that Superbike is starting late is an understatement.
On paper, the calendar is not bad: 13 races, but in our opinion Argentina is in doubt, even if the date is a long way away, October 17th, and even the round in Indonesia on November 14th we do not see as being very feasible. Not so much for the Covid-19 situation, which we are partially hoping will be better for that date, but for the costs that such an isolated trip entails.
So let's recap: this Sunday Aragon and the next one Estoril, then on June 13th we go to Misano and after three weeks, on July 4th to Donington. Then on 25th July in Assen and from there, on 8th August, to Most in the Czech Republic. And that would be six races.
Another break and on 22nd August everyone goes to Navarre in Spain and from there on 5th September the usual round at Magny-Cours, in France. At this point an unexpected triple-header: on September 19th at Barcelona, ​​on September 26th at Jerez and on October 3rd at Portimao, Portugal. That's acceptable: three circuits in the Iberian Peninsula and, if our doubts are confirmed, but we hope not, the championship is over. Everyone back home after 11 rounds.
More manufacturers in Superbike today than in the legendary Spencer vs Roberts' 80s world championship
It is not a crime, for heaven's sake. There have been amazing world championships over 11 rounds. Just to give one example, the legendary 1983 season, the year of the duel between Freddie Spencer and Kenny Roberts, unfolded over eleven rounds and the two Americans ended the duel separated by just two points after the Gunfight at the OK Corral of the San Marino GP in Imola.
Where is the difference? At the time Honda, Yamaha and Suzuki were racing in the world championship, this year Kawasaki, Ducati, Honda, Yamaha and BMW compete in Superbike. So the situation in favour of the production-based world championship is surely better.
In Superbike there are so many wonderful stories of men to tell, but are the manufacturers interested?
And there is no lack of stories to tell: the one about one man vs the world (Jonathan Rea) would suffice, a 'family man' who becomes unbeatable on his Kawa. Against him the UK's version of Lucchinelli (Scott Redding), a young Italian (Michael Ruben Rinaldi), the new entry (Andrea Locatelli), the old former teammate (Tom Sykes), the former MotoGP rider (Alvaro Bautista) who created havoc in his first season and then evaporated in the final part. And what about the long-time hero (Leon Haslam), whom I saw as a child riding his tricycle in the paddock while his father, 'Rocket Ron' always burnt everyone off at the start on his factory three-cylinder Honda NS ... and without holeshot device!
There's also the long-time Ducatista (Chaz Davies), Sam's twin (Alex Lowes) - they could do a round each and no one would notice - the 'Stoppie' king and Turk of few words with an unpronounceable surname (Toprak Razgatlioglu) ... I would say that everyone has their own story to tell yet… and yet despite the presence of five manufacturers, I have the impression that they, the factories, just don't care much about this world championship. And this despite the fact that their best bikes are on the starting grid. It's a demonstration of the technological splendour to which they have arrived. Two hundred and ten or more horsepower for their production model counterparts. And all adjustable, beautiful, well beyond the potential of even the most skilled of geeks.
SBK should follow the example of the golden age of rallying
Is there really any desire by the manufacturers to bring a bigger audience closer to this Championship? In our opinion, no. Let's not talk about the fact that all eyes are on MotoGP: at the time of the heyday of F1, Lancia and various sponsors brought the press from all over the world to rallies.
Hold on, we are not speaking for ourselves, because we are already present and correct in Superbike, as we are in MotoGP. We are only disappointed that there is virtually next-to-no coverage the so-called mainstream media. For these media, Superbike simply does not exist. But it is not a new problem, anyone who says that Dorna is to blame is mistaken because I already said exactly the same thing at the time of Maurizio and Paolo Flammini.
It seems that the production-based world championship has never been able to create that virtuous circle that should make people say, when they park their super sports bike in front of the bar: "I saw my bike on Sunday at Aragon, did you see how it goes?".
And this for us, for someone like me who after forty years still and always stops - always - to admire those speed sculptures that are super sports bikes, is something that we cannot understand. So, and now I turn to the only CEO that I can say that I have known and esteemed personally for years and years, Claudio Domenicali… are these bikes not your flagship models?
Share