Valentino Rossi, the Long Goodbye: when racing is more important than winning
Lauda, ​​Schumacher, Hailwood all stopped racing and then started again. Quitting is a trauma, Agostini and Cadalora confessed, so why do it? The writer experienced it firsthand ...

Submitted by

Paolo Scalera

on Sun, 09/05/2021 - 14:56
Share
Competing, playing sports, searching for competitiveness, but until when?
All sportsmen wonder about it, and while they fight with a decrease in performance and their first ailments, at a certain point they stop. For some it is a brutal stop, for others gradual. There is no single manner or way. Everyone chooses his own way to do it.
It happens to champions, it happens to amateur sportsmen, it happens to everyone who loves to practice a sport until it becomes, almost, a reason for living.
Stopping is a bit like dying, so for some it is a 'long goodbye'. You compete, you stop, you start training again. The breaks become longer. You get used to the loss like a divorce. It is never easy. And it's always painful.
Then at a certain point, months and months or even years can pass, something clicks inside you, like a spring and you start training again. It happens to champions: Niki Lauda, ​​Michael Schumacher, Mike Hailwood, sensational returns, for some a success, like that of Mike The Bike at the TT in 1978, for others simply an agony.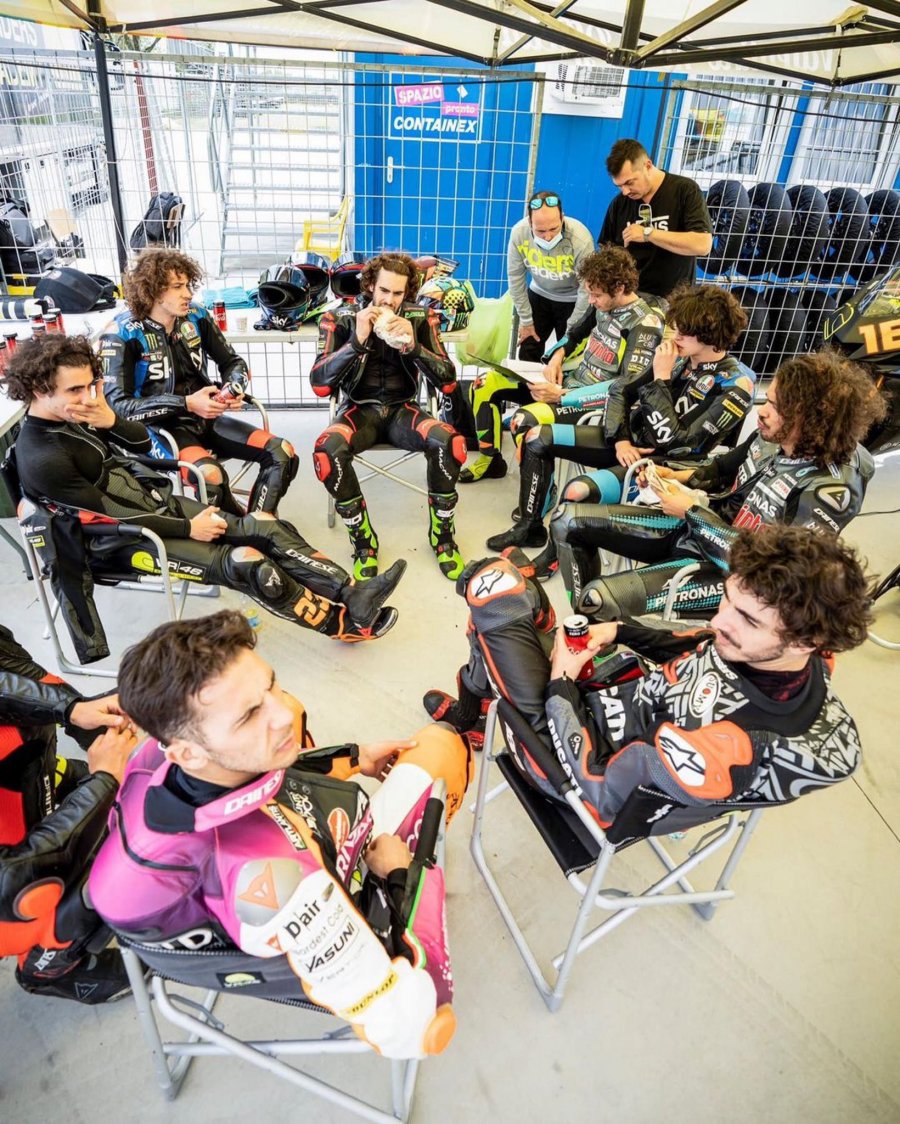 Cadalora: "racing is like a drug, you would never stop"
There are also those who, after making a decision, never go back.
"When I stopped I cried for three days", Giacomo Agostini repeats to us every time we touch the subject.
"I was racing to win, and when you start to finish third or fourth, you don't enjoy it anymore."
"You know, it's hard to stop, it's like a drug - Luca Cadalora told us a week ago backstage in one of our Live transmissions - you feel you have to stop but you don't want to stop. You miss competing in an unbearable way, even if you feel that the time has come to stop. This is why you stop, you start again, you stop again: you don't want to accept it ".
Luca today races whenever possible with Supercars, on the track, just like Eddie Lawson, at the end of his career, did first in Indy Light and then with Superkart. In short, quitting is a drama. Sporty, of course.
I write this after spending an afternoon (thanks Andrea Venturi!) at Vallelunga with a Ducati V4S, alongside my 'coach' Giancarlo Tiriticco.
I am unspeakably slow, my pace is not even worth talking about, I guess I do a good corner every three laps but when I think that at the threshold of 67 I am still here to (try to) get on the throttle after starting on a 350 Desmo in the '70s, then moving on to the stratospheric 87 horsepower of the 750 SS, having earned the trust of many teams and having tried practically all the GP bikes since the late '70s to Stoner's Desmosedici 800, well I feel like a lucky guy.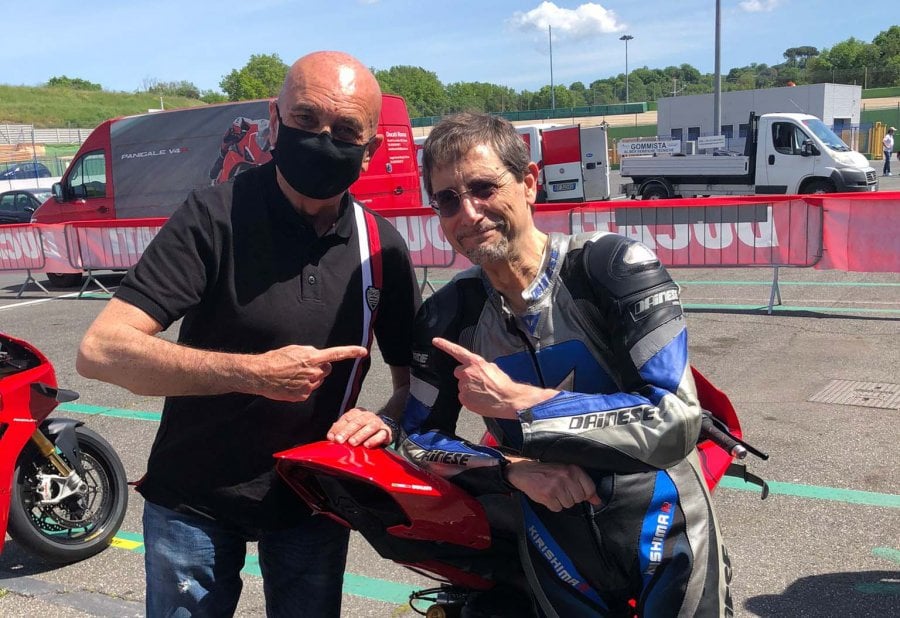 The thought that Marquez also needs time to get back in shape makes me feel less impeded
No, I don't intend to get back on track, but the thought that Marc Marquez will also need three or four Grands Prix to get back toin shape made me feel less impeded yesterday, as I hadn't worn my leathers since October.
Which is the same feeling I felt last year, in full lockdown, when I put my trainers back on and went for a run. And even if my times are nowhere near what they used to be - and there it is tough, the noggin of a motorcyclist / runner does not grow and age like the rest of the body - the idea, and the desire, to start again has reappeared. A 10,000 metre race? Half? The marathon no… not for now.
The appeal of carbon: now it's also in running shoes!
So here I am discovering that technology, even there, has made great strides. Nike made the AlphaFly with a carbon insole, Saucony the Endorphin (I'll buy them just for the name), and who gives a damn if they were built for a 3' per km pace. Do you think the Panigale V4S was designed for kids my age?
Obviously my hero today is Eliud Kipchoge, but I don't forget maestro Alessio Faustini, just as I don't forget my first handshake with Giacomo Agostini. Those were the times when I was giving up active sport and I discovered that being a journalist kept me close to the world I loved. And what was better than following Franco Uncini, Adelio Faccioli, Gianni Pelletier, whom I had met on the track in Vallelunga at the time of production-based bikes?
I projected my passion onto them, and I was happy, but I'm happy even now, every time I put on my leathers, every time I put on my training shoes. And I have not yet made peace with myself for the times that are no longer coming. But this doesn't matter today as much as spending a day with Giancarlo or my son Andrea who patiently comes to see this foolish father do something he loves: sport.
I know, you opened this article because you saw the photo of Valentino Rossi and I haven't even named him yet. I'll do it now. Seeing him nibble a sandwich at Pomposa, after a workout with an R6, made me feel closer than ever. And why should he stop now, after his worst career start ever?
At 42 you put your hand in your pocket without finding the ace you were looking for
One thing that the passage of time has taught me is that at 42 you start to put your hand in your pocket without finding the ace. If all goes well, you will draw a jack. But that will have to do. Yet the meaning of everything lies in this continuous quest. Never stop. Or stop, but then start again. Don't give up. How many people would be able to do what you are doing right now? Winning is lining up on the starting blocks of life every day.
So Vale, continue for as long as you want and like. What's better than a sandwich, in the company of younger friends whose times come easy? I remember a training session with Alessio, at Villa Pamphili where I felt great and I heard him ask me: "Hey, what do you think you're doing? Challenging me?"
Those who rocket past me (you) today will have won the battle when they are still there to challenge themselves in many years' time…
Share



Gallery: