Who is the real devil? The eyes of Marquez on a diminished-value world championship
For Marc's opponents it is a unique opportunity to end his reign by winning a title that will be remembered for this crash, but – careful – 'El Diablo' is not necessarily the man who won at Jerez on Sunday.

Submitted by

Paolo Scalera

on Tue, 21/07/2020 - 13:02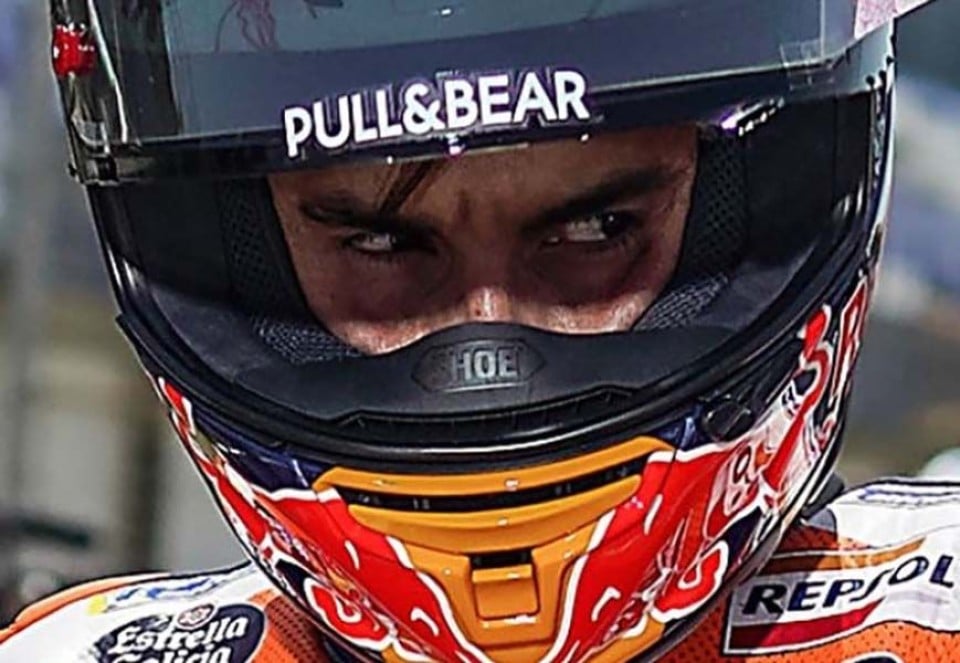 Share
A photo found on the internet, of which we don't know who the author is, encourages us to follow up on our blog last Monday called 'Raging Bull', which sparked off a shitstorm on Twitter. If we exclude all the insults, this is something that we are obviously pleased about.
Mind you, we weren't so pleased that Simon Crafar (1 victory to his credit in 500cc, in 1998, in Donington), today our colleague on the Dorna microphones, is on the other side of the barricade, but we challenge him that we are not able to express a judgment 'because we are journalists'. We have already agreed to have a chat about it, as friends, over a beer …
When he won his only Grand Prix, thanks to a miraculous Dunlop tyre that saw him take the flag more than 11 seconds ahead of Mighty Mick Doohan, we applauded his feat: in that season he also climbed onto the podium - second and third - two more times, but we did not define him the 'new Doohan'. Those were the years of the tyre wars, and an excellent racer like Simon knew how to take advantage of the situation.
The mere fact that we are journalists, and the amount of (controlled) information we can collect allows us to make a more accurate judgment than him. In any case, it's simply not true that riders always know more. At Donington that very same year, we informed a very angry Biaggi about some updates received by Doohan for his Honda that Max knew nothing about… but that's another story.
So let's go back to the heart of the matter: the 2020 world championship which, deprived of Marc Marquez from the very first race, is a championship that has been beheaded of its main actor - or of one of its main actors if you prefer.
This seems to us to be an indisputable fact. And it would have been the same if Andrea Dovizioso, who has been Marc's main antagonist in the last three seasons, had hurt himself (touch wood!).
With a small difference: Marquez has won 6 of the last 7 world championships, picking up 56 wins, 60 poles, 29 second places and 10 thirds in MotoGP, a winning streak that began with his first victory in 2013 in America.
And how did he win these championships? Well, he had to fight for his first one, in his rookie year, winning it by only 4 points from Lorenzo; the second with 67 points over Rossi, winning the first 10 consecutive races; in the third in 2016 the advantage on points, again over Rossi, was 49; in 2017 he won by 37 points over Dovi; which rose in 2018 to 76 and to 151 in 2019.
In short, a bit of a bulldozer. And we don't think anyone will object if we compare him to Mike Tyson in the years '87-90 or to Usain Bolt, who won gold medals in the 100 and 200 metres in three consecutive Olympic Games...
So, if we write that we are facing a championship deprived of its main protagonist, "unless, of course, Marquez returns, gives battle like only he can, and offers his opponents the opportunity to redeem themselves", it should not really cause much of a scandal.
At the time, you had to beat Iron Mike to be the Heavyweight Champion of the world and Usain over 100 and 200 metres to call yourself champion. Why should it be any different in motorcycling?
Ah yes, because "to finish first, first you have to finish". I agree. This is always the case, but out in the first race with a serious injury is a bit different, don't you think?
In 1993, the year of Kevin Schwantz's title, 11 races (out of 14) had been held by the day of Wayne Rainey's accident at Misano. And, to rebut the value of the title won by Nicky Hayden in 2006, Valentino Rossi crashed in the last race (of 17) at Valencia…
So I reiterate that it's a bit different to lose the outright protagonist in the first race. And the fact that today the Gazzetta dello Sport's title was: "If not now, when? Title opportunity, Dovi must take advantage of Marquez KO", does nothing but reinforce my opinion.
It is common wisdom - no less valid than that of Rossi's fans who attribute the 2015 title to him - to say: 'if Marquez had not been in the way'. That's one opinion. Can it be proved? Certainly not. You can't just say that Rossi would have won that world championship, just as you can't say that without the Jerez crash Marc would win/have won this. Let's say that in both cases it was possible. And that in both cases we will be talking about the significance of these two world championships - 2015 and 2020 - for a long time.
I hope I have made myself clear.
There are other things to be clarified, and I will be quick. They wrote on tweets:
"His opponents put him under pressure"
And who were these opponents? Marquez passed everyone as if they were standing still. Riders like Rossi and Dovizioso moved to one side. Only Miller attempted an honourable counterattack. Marquez put himself under pressure because he wanted to win, or at least get on the podium, which was already his anyway. OK, he made a mistake, but as Alberto Puig rightly pointed out, it seemed to me that the gap between him and his opponents has increased.
Again: it was repeated several times:
"Marc switches off his brain"
Did Rainey switch his brain off at Misano? Crashing is part of the game. There is nothing to switch off…
The worst ones wrote:
"He paid the price for never getting injured"
I write the worst because this sentence implies an undisguised satisfaction, not so much in seeing a defeated rider, but precisely for the fact of 'having paid' for his audacity with an injury. Utter madness.
Someone even pulled out the same old chestnut:
"Honda has paid the price of making a bike just for him"
Honda makes a motorcycle for those who win. Only Casey Stoner won with the Ducati, the others ended up at the psychologist. Then Casey switched to Honda and won. Today with the Ducati all the riders are going (more or less) well, as with the Yamaha, but they don't win the title, which is the goal.
Personally, I think it is a question of style, not of bike. Lorenzo took a year to adapt the Ducati to him and himself to the Ducati, and then he won three Grands Prix in a row. With the Honda he was unable to do that.
I wish to conclude by saying that the world championship is obviously going to be an uphill struggle for Marc Marquez; today we will know the outcome of the operation to the humerus bone, but it is also an uphill struggle for his opponents: if he does not return, one of them will win the title at a canter. And even if his name is engraved on the trophy, everyone will say 'what would have happened if…'. If, on the other hand, Marc comes back and comes back victorious, everyone will say: How stupid, he could have easily won had he not been a 'raging bull' at Jerez.
I don't want to write about what could happen if, after missing three races, his disadvantage is -75 points. For Magic Marquez, -40 would not be an Everest to climb.
So, the Gazzetta dello Sport is right when it mentions that Brno and the double-header at the Red Bull Ring are an open motorway road for Ducati: Go Dovi, "If not now, when?".
Share