Men in black in Valencia: carbon and other winter test stories
DAY 1 - Those who test less go faster: the case of Quartararo, by now Yamaha's leader. The Marquez "style": both brothers on earth. Dovi e Rossi, "old school". KTM faithful to orange and tubes.

Submitted by

Paolo Scalera

on Thu, 21/11/2019 - 09:46
Share
The end-of-year tests, especially the first day, are always very difficult to interpret. The numbers in the field are the same, but we need to take into account what the individual riders and teams are testing. Apparently, in the end, those who have less innovations in the garage are the ones who have the best times.
In fact, it would have been strange if the 2020 prototypes were ready. Most of the time, they try to evaluate the progress made in sensitive sectors without fine-tuning the frame and electronics much.
Quartararo, Yamaha's new "beacon", also in the first winter test
Taking this factor into account, it wasn't surprising that Fabio Quartararo - who did not test the M1 2020 but only a carbon swingarm and new wings - achieved the best time. Fabio also fell during the day while trying a time attack.
It seems obvious to say, but "El Diablo" is the new reference for the team represented by the three tuning forks logo. Fabio is, in fact, riding like he did all year round,without preconceptions, and we're waiting for him at the Jerez tests when the new, more powerful engine, should be available. Today, he also repeated that the Yamaha rides well and only needs a little more power.
The fact that the Yamaha is in good shape was also confirmed at the end of the first day when the other two M1s ended up behind it: Vinales' and Morbidelli's. Rossi was farther back, 9th, almost nine tenths from the top, but we know that, at this stage of his career, Valentino relies more on details than on his fellow teammates.
After all, with experience (and age), we become more analytical and rely less on our innate talent.
"Old school" Rossi and Dovizioso rely on analysis rather than genius
A peculiarity that, in a certain sense, unites him and Dovizioso, who's also a past-generation rider. Neither almost never seeks pure performance, adrenaline, as they do with overall equilibrium. And it's no coincidence that both have declared themselves satisfied with the progress made by their respective teams. But we'll have to see if, when push comes to shove, they'll have it in them to shove.
Marquez does not disappoint, and his brother Alex confirms that it all runs in the family
Marc Marquez represents the current generation of riders who first shoots then asks questions later. In fact, he really hustled out there on the 2020 prototype of the RC213-V... and practically destroyed it when he fell.
Something that his eagerly-awaited brother, Alex, also did when he fell at Turn 10 at the beginning of the test, something he himself defined as a "rookie error", meaning that he entered the track too early, when the temperature of the asphalt was still very cold. But if he had done anything differently, he wouldn't have been a Marquez.
KTM interprets the future of the steel tube frame
And we could stop right here, as far as first impressions go for these test , if we didn't have to add a specific detail: KTM's debut with a frame that was apparently inspired by Japanese "Deltaboxes" but made with tubes, which mislead several careless observers.
We can imagine Dani Pedrosa (a lifetime with Honda) expecting certain answers regarding the frame from the Mattighofen engineers, who then went to work on it and presented the one that Pol Espargarò ended up testing.
He was probably smiling. It's always nice to see someone faithful to his ideas.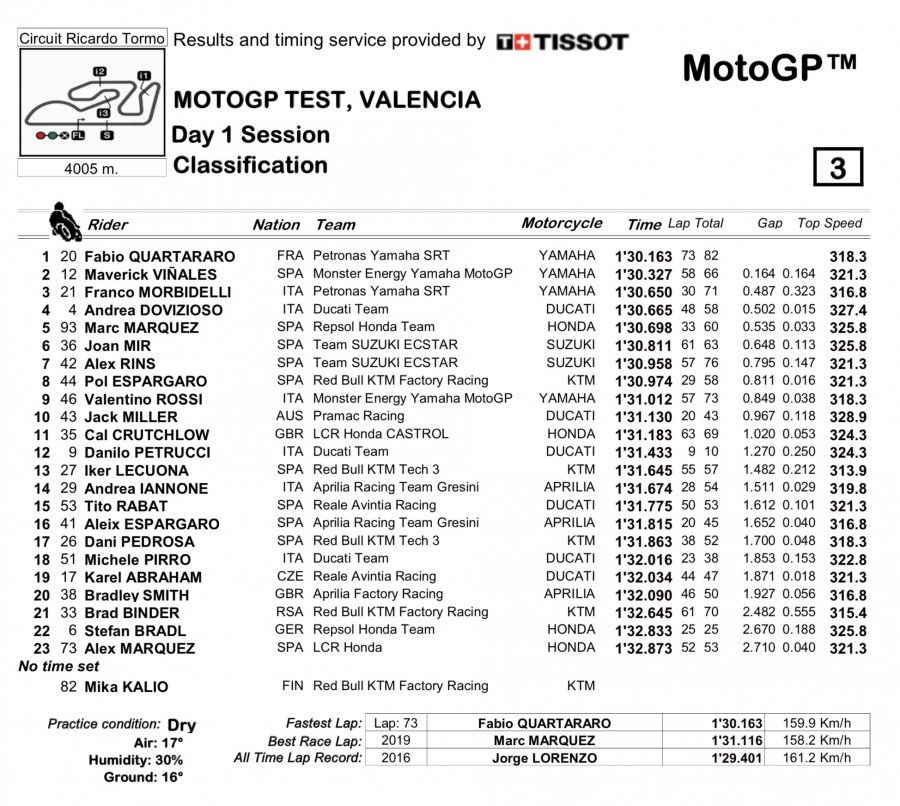 Share