The "Rossa" needs rude riders
The "cute and cuddly" team didn't work. All you have to do is ask for a fast bike, as if the opponents had perfect ones. Quartararo has shown Yamaha that many problems magically disappear by opening the throttle, and Ducati must take note.

Submitted by

Paolo Scalera

on Mon, 18/11/2019 - 17:50
Share
We want them bad, we want them a bit ignorant, we want them politically incorrect. We want them to be successful. The "cute and cuddly" team - a fan's definition that we read on the web and loved - that Ducati put on the track this year did not work. The reason is nothing new: the best teams have always been those with two riders who hate each other, not those where they're all love and peace.
The "family" team is an invention of our times, where it's legitimate to pretend, and showing your true feelings is a sin.
Prost and Senna hated each other, and Agostini and Read were no exception. Rainey couldn't stand Kocinski and, not surprisingly, the best season for Borgo Panigale was last year, when Dovi visibly couldn't tolerate the real Lorenzo, not the one who applauded him under the podium the year before.
And if the goal is the world championship, even if it might seem ugly, hierarchies must be established. Rainey was pissed off when Luca Cadalora stole his victory from him at Donington in 1993, and Kenny Roberts treated Eddie Lawson badly when he didn't have his back against Freddie Spencer at Imola in 1983.
If Andrea Dovizioso's first second place behind Marquez in 2017 was a result and the second year, last year, confirms that Ducati could win back a title that they haven't had since 2007, the third, this year, is simply a bitter and atrocious defeat.
Marc was a steamroller, that's true. He never did worse than second place. He stopped only once - it wasn't his fault - but Rins, Vinales, and Petrucci also won. A total of four Grand Prixs. So Marc is magical, but not unbeatable.
Furthermore, the teams with two champions must be managed with authority, not through ignorance nor through fence-sitting. And if you know you have two numbers, one on the team is not a disaster. It's a choice, and you have to behave accordingly.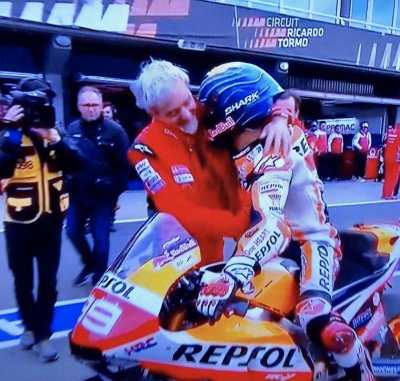 So, only one boss at the head of everything. Duties and honors. One word, one face. Today we saw Gigi Dall'Igna give Jorge Lorenzo a sincere hug when he returned to the garage. He never doubted that he had a Champion - not just a good rider - in his hands.
Well, you know what I mean. We didn't like Ducati's policy this year and, frankly, considering a possible "team title" as a result, was ridiculous. As if preventing Honda from conquering the "triple crown" (which doesn't mean squat, let's face it) were something that could give them a bit of satisfaction.
We're serious. Sports, any type of sports, is oppression in white gloves and, of course, there is a whole series of correct rules to respect. It's a war that they must learn to lose in style.
This year, Fabio Quartararo reminded Yamaha tha,t in motorcycling, the rider still counts more than the bike. He eliminated any type of excuse for Rossi and Vinales. Ducati should take advantage of this reality.
Share