Marquez against Rossi: The numbers explain it all
No penalty for Marc or Vale, but the split times of that last lap, chasing a pole, tell the truth and reveal the riders' lies.

Submitted by

Paolo Scalera

on Sun, 15/09/2019 - 09:30
Share
After having summoned the two riders, the Stewards Panel decided to dismiss the incident between Marquez and Rossi in qualifying, so we could go ahead and already declassify it to a simple misunderstanding between the two.
It's obviously okay. Things like this have happened in the past lots of times. The only difference then is that there weren't dozens of cameras and slow motion images to split hairs, leaving fans to favor on or the other rider. 
The incident remained inside the track, but the riders obviously knew whose fault it was. The fact, however, that there was no evidence of the crime made it much more superficial.
But nowadays we have all the means to examine these things in detail, and we'll do it starting from the numbers, which often do not tell the whole truth, but they rarely lie.
It's actually often the riders who don't tell the truth.
So, let's start with Valentino who, at the conference, said he was pushing to improve his position at the start, and that his not understanding what Marc was up to. prevented him from doing so. Not true.
In the implicated lap, the 9th, as we can see in the timesheet, Rossi wasn't faster in the first split time - 25.909 - than he was in his best lap (25.792). Later, in the second, despite having touched the green asphalt, which invalidated his lap, he was still slower (20.930 against 20.928). Vale - and those who want to believe him can - then explained that he continued to push because he wasn't sure he had touched the green with his wheels. Actually, he probably realized it because he rode the next segment - the third - in 25.685. A time that is decidedly slower than his best, 25.342.
Rossi's split times tell a different story from what he told
Based on these three facts, we can state, without a shadow of a doubt, that the rider from Pesaro was far from improving the 1.33.079 that gave him a seventh position at the start. So why was he there battling it out with Marquez?
Marquez said he didn't go looking for Rossi, but he was in line with the pole
Now about Marquez. Let's analyze his timesheet, sector by sector. See those two rectangles with his first split times? That means they're the best of all the previous ones. So Marc was definitely in his hot lap but too close to Rossi, and he probably also noticed that Vale had definitely slowed down before him, so much so that he had no choice but to overtake him at the Curvone. To do so, however, he was forced to anticipate his trajectory, passing him inside, but he then ended up too wide when exiting and rode over the green, way over it.
At this point, Marquez said (probably not telling the truth) that he was not sure he had invalidated his lap and that's why he continued pushing until, at the slow Carro corner, Rossi slipped in at such a speed and trajectory that he wouldn't have been able to complete the corner, and would have crossed Marc's trajectory, forcing him to close, in order to avoid him.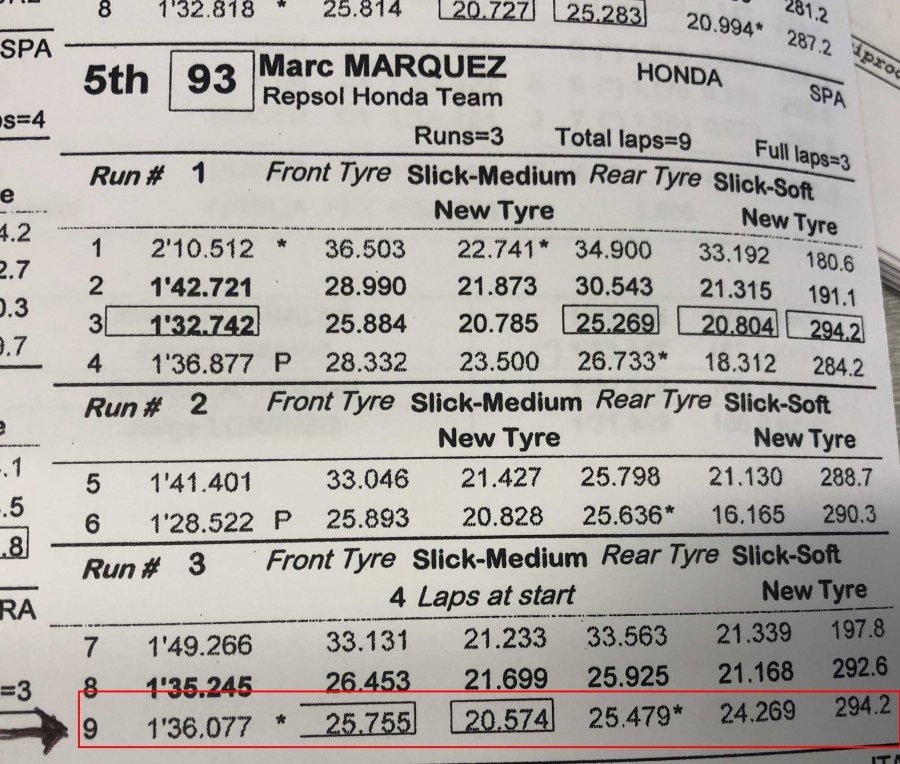 These are the facts, after their statements. It's not a question of defending one or the other. Rossi obviously didn't want to offer his number one rival his slipstream again after Silverstone. We can believe or not believe that Marquez didn't do it on purpose, but it makes no difference. Being clever is not a crime. But compared to Silverstone, Valentino wasn't forced to push. He already had a time. That's what led to his subsequent choices.
They both lied, of course, and the split times tell a different story from how it was told to us, and how it was hashed out by these two star players who can't stand each other. And it shows.
Yet, they still offered us a nice preview of the San Marino Grand Prix. One of them tried, the other hindered him. That could happen. It's not the first time it, and it won't be the last. Don't kill yourselves trying to defend one or the other. Neither in this is a newbie.
Share