Quartararo, truth will out... and the Yamaha crisis is uncovered
There's talk about the guy who, in Barcelona, can beat the record of the youngest GP winner that was once Spencer's and Marquez's, and about mind games, attacks on teammates, and those who are afraid and those who are not.

Submitted by

Paolo Scalera

on Sun, 16/06/2019 - 14:57
Two coincidences are a clue is what the great crime writer, Hercule Poirot, would have his Agatha Christie say. And he was right.
After the pole in Jerez, Fabio Quartararo got his pole in Barcelona and, at this point, we can no longer talk about coincidences. Having arrived in the world championship at age 15 thanks to a special law, Fabio is finally keeping faith with the premises that proved he was a really talented kid.
Quartararo: last chance for the precocity record that was once Spencer's and is now Marquez's
It's true, the French rider has not yet reached the podium, and this will be his last chance to beat Marquez's precocity record. But whether he succeeds or not, he's now in the spotlight and in the sights of the best MotoGP riders who have by now sniffed him out, not so much as a current opponent but as a rival for the future.
Adored by the French, but also favored by the Spaniards and Italians - the first claim his militancy on Iberian soil in the CEV, we Italians his Sicilian origins - he is dealing with all this interest lightly.
El Diablo's speed has forced the other Yamaha riders to open their throttles
Certainly, his nickname - El Diablo - which he wears on his suit for the moment, doesn't resemble him, but we'll wait because if it's true that the truth will out, Fabio's merit is that of having uncovered the strange Yamaha situation that, although criticized by its official riders, has placed four bikes in the top five here.
According to some, the inevitable outcome is the result of his speed, which forced his teammates to push even more. Actual problems or not.
"I have no complaints about Yamaha. The Japanese listen, they take notes. And they don't speak."
"I'm not complaining about the bike ," said Fabio. "The Japanese take notes, but they don't speak much."
Surely, however, this thing is emerging during the technical meetings in Japan.
But it's not the only anomaly that was discovered in this Barcelona Grand Prix that showed us an always very strong Marquez, of course, but apparently not one with a big margin on his rivals.
A different Marc, more attentive with regard to his adversaries, so as to want to study them one by one, during both the practice, as well as the qualifying sessions. Almost as if wanting to test their actual limits.
Almost as if he had discovered his own.
Marquez, mind games with rivals and straight on attacks on Lorenzo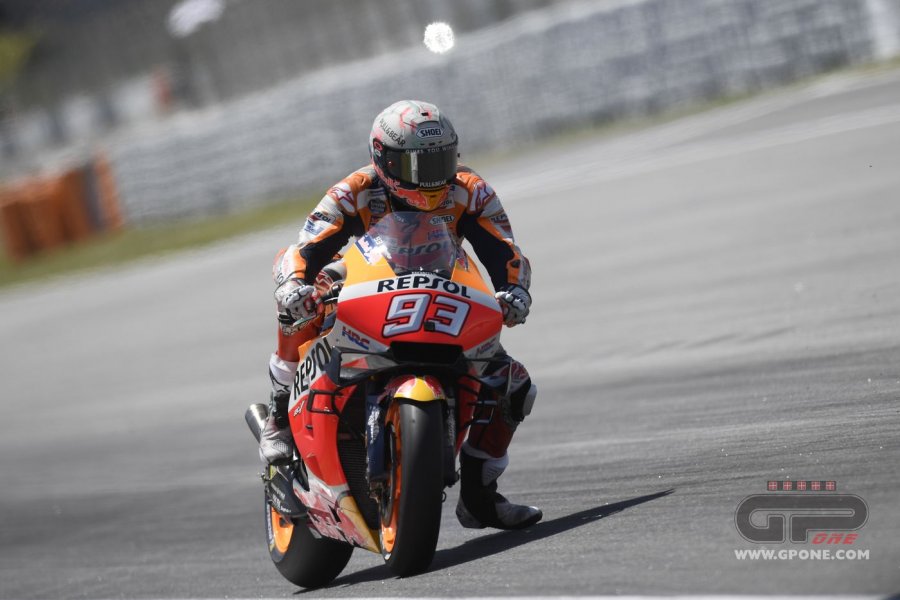 This can also be one of the interpretations to be given about the turning point in his relationship with Jorge Lorenzo, apparently more tense after the Mugello Grand Prix.
After attacking Jorge in Italy - "to ask for a different bike, you need to be the fastest rider" - here he actually even asked that his teammate be penalized for a definitely involuntary slowdown during the FP3.
"They're not really a qualification, but almost, given the need to enter the Q2," he explained.
A bit nervous due to Jorge's cumbersome presence, proven by his trip to Japan?
Could be, even if we are more inclined to think it's due to a new strategy, copied from the old master, Valentino Rossi who, in the past, was really good at these mind games with his rivals.
Rins and Suzuki aren't bothered by Marquez, Dovizioso, and Ducati
Whose not bothered by Marquez is Alex Rins, increasingly incisive and at ease with Suzuki, assisted by a team that cheers him on. Alex doesn't care much about who his opponents are. He thinks about giving his best and that's it. On the contrary, Andrea Dovizioso and Ducati are bothered by Marquez.
Unknowingly, or perhaps knowingly, they're convinced that with the same bike, or perhaps even with a slightly better bike than the Honda, the world champion would be unbeatable.
Because of this, while trying not to lose the title for the third consecutive year, they're already thinking about when the market will reopen in 2021.
This year, the trick of keeping a door open in the official team with his annual contract didn't help Petrucci. Danilo will be reconfirmed and, at the horizon of the events, there was no phenomenon or saint to turn to. Actually, there's a problem to face and resolve: that of finding a fourth official bike for the Pramac team.