The decision: Petrucci fights for Ducati renewal at Barcelona
After winning at Mugello, Petrux, still without a contract for 2020, risks losing his ride if he doesn't obey team orders

Submitted by

Paolo Scalera

on Tue, 11/06/2019 - 09:23
Share
It's become something of a rule - if the Ducati wins at Mugello, it also does so at Barcelona.
This was the case for Andrea Dovizioso in 2017 and Jorge Lorenzo the following year.
So 2019 could be the turn of Danilo Petrucci... but will Petrux be free to beat Dovi?
This is the question after the Italian's latest win, the rider quick to apologise to his team-mate in light of his victory.
Behaviour that many viewed as inferiority towards his friend, something incomprehensible.
Unless we consider the fact that Petrucci is still without a contract for 2020. And with so very few seats available, and all on satellite teams, he really does have no room to move.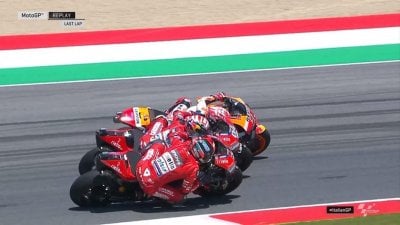 Danilo was also very clear in the interviews following his first MotoGP win.
"I've achieved my dream, now I will try to help Dovizioso achieve his".
What is this if not a declaration of intent?
Without being accused of wrongly interpreting the phrase, it could be read like this: "Now that I've proved I can win and deserve a contract renewal, I will use my speed to help Dovizioso. Please renew my contract".
For this reason, the upcoming Barcelona GP will serve as a watershed between the two. Petrux needs to show that he is the perfect team-mate. So he shouldn't worry Andrea, but try to defend him if possible.
In return, he will receive (perhaps) a contract extension. The question is - will this come before or after Barcelona? Thus, before or after he backs up his words with facts?
We'll see. In the meantime, our long experience in the championship tells us that when two team-mates are fighting each other on the same bike, there is always the possibility of an unfortunate outcome.
Capirossi vs Harada: 1996, Eastern Creek, Australia: Doohan vs Criville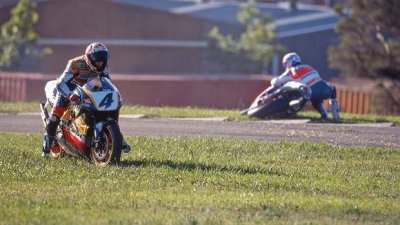 Without going into Loris Capirossi's kamikaze move on Harada, in Brazil in 1998, which gifted the Italian his third world title, his first in 250. Two years later we had the Mick Doohan-Alex Criville duel, both riding a Honda NSR 500, at Eastern Creek in 1996, and both finishing in the run-off area.
On that occasion, Doohan was quick to accuse his team-mate but it was Loris once again who benefited, winning his first 500 race (and only race with team Rainey's Yamaha).
2006, Estoril: When Pedrosa puts Hayden's title at risk
Another great duel between team-mates came during Dani Pedrosa's debut season, at Estoril in 2006.
The victim was Nicky Hayden, who as a result of the incident risked losing the title at Valencia. Rossi then fell and the Kentucky Kid tasted the greatest joy of his career. Despite his team-mate.
2010, Motegi, brothers in arms: Rossi vs Lorenzo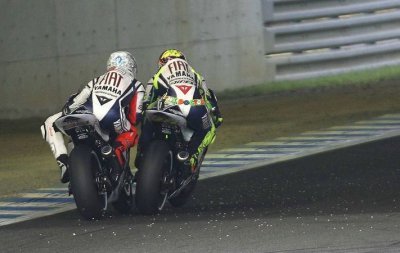 Another duel, fortunately completed without a crash, starred Valentino Rossi and Jorge Lorenzo, at Motegi in 2010. Jorge was fighting Pedrosa for the title. Valentino was no longer in the mix for the title but the pair got caught up in a battle that saw the Italian come out victorious and reach the podium, behind Stoner and Dovizioso.
2016, Rio Hondo: the mistake with Dovi cost Iannone a Ducati podium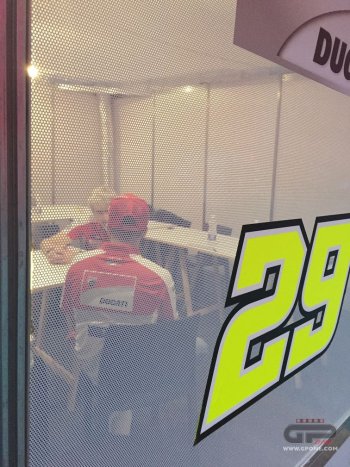 Even more thrilling was the Dovizioso - Iannone fight at Rio Hondo, in Argentina, in 2016. At the last corner, just a few hundred metres from the line, the Maniac lost control of his Ducati, also taking Dovizioso down in the process.
Andrea was immediately called into a meeting with Gigi Dall'Igna, probably losing his contract renewal as a result and having to move to Suzuki. The first false step of his career.
2018, Jerez, history repeats itself: the Dovi-Lorenzo-Pedrosa crash
For Ducati it didn't end there though: two years later, in 2018 at Jerez, Andrea and Jorge were both caught up in a clamorous collision that also involved Pedrosa.
Both braked very late, but Lorenzo, on the inside, was able to close the trajectory and collided with Dani, bouncing off Dovizioso.
And then we have Mugello just last week. Things could have been worse, considering what's come before. If Dovizioso hadn't braked, stuck as he was between Marquez and Petrucci, a crash would have been inevitable. Once again.
Sometimes, knowing when to stop is more important than knowing how to win. 
Share