Ayrton Senna: The Best just flew away
On May 1st, 25 years ago, one of the greatest drivers of all time left us forever. Introverted like Eddie Lawson, fast like Kevin Schwantz, tough like Wayne Rainey, and loyal and determined like Kenny Roberts.

Submitted by

Paolo Scalera

on Tue, 30/04/2019 - 21:21
Share
Now that the echo of the celebrations has died down, that the newspapers have stopped publishing an article a day, and the books written about him rest on shelves, I want to add my little contribution to remember a driver, and a man, who touched me. I've always had a passion for motorcycling, but I followed the F1 for the Corriere dello Sport newspaper with pleasure thanks to him. A man who, alone, reminded me of Lawson for his introvertness, Spencer for his love of God, Schwantz for his breakneck laps, Rainey for his unwavering will, and Kenny Roberts for his stubborn opposition to a 'regime', represented by the FIA, at the time.
That weekend in Imola was tragic, not only for Ayrton. First, there was Roland Ratzenberger's accident and, of course, on May 1st, the newspapers shouldn't have gone to print.
A great Director, Italo Cucci, had put us all to work. And, in the drawer of my desk, I still have the article written by my colleague, Giuliano Riva.
---------------------------------------------------------------------------------------------------------------------------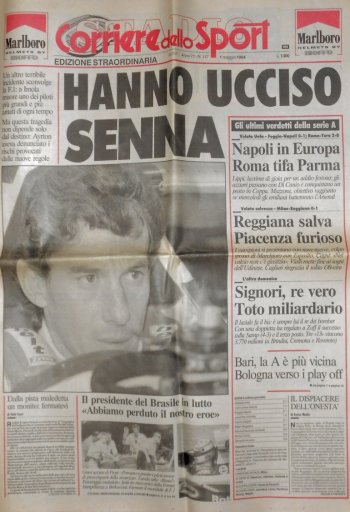 The crickets jumped around in the grass looking to escape his footsteps. Light thuds on the ground, so different from the noise of the crash, that only a man in love, or a disappointed lover, could have perceived with his suffering altered senses. Eyes fixed on one point and staring at nothing, to reconstruct the flight and the fall. Marks on the asphalt and debris on the grass, like the remains of a shipwreck washed up on the beach by the current. And he was there, trying to figure out if it was a storm, an illness, or an error that brought Ratzenberger from the last row to the last corner. It was not a premonition. He, The Greatest, couldn't have imagined he was leaving behind him his last corner, the Tamburello, his destiny. Otherwise, we'd to believe that he would have fled from that horror. And he would still be alive. Instead, Senna, as usual, wanted to understand.
What happened in Ayrton's solitary journey on the Villeneuve that Sunday morning? What were his thoughts? What was he feeling during the warm-up and during the first laps of the race?
We don't have a single memory of Ayrton before that Saturday in Imola. It's as if Thursday and Friday had never existed. Erased. In fact, we never even saw the Grand Prix. Of that May 1st, we only remember the lost stare of his brother, Leonardo, and that of Ecclestone hidden behind dark glasses, as he dragged him into the paddock, until he reached the FOCA motor-home where Betise Assumpcao, Ayrton's press secretary, was crying. We knew nothing, but we imagined there would be no more interviews. During those long silences, between the question and the answer, which were still awkward.
The car went off on a tangent, without a correction, straight towards the wall. Full of energy, which the impact had not exhausted. A split second before, Ayrton had understood. For a fraction of a second, the long-sought after truth was presented to him, clear in his soul, so bright as to blind him.
And we all stood in front of the closed, smokey gray door of the motor-home. The helicopter rose and flew away. Was there, had there been, a race back there?
When the speed reached zero km, and the energy dispersed all around, he was gone, leaving a wrecked car and a thousand doubts.
Then someone told Berger, who did not flee nor did he close himself off in search of solitude. Instead, he stayed, leaning  back against the Ferrari truck, and pondered. It would have been easy to go to him, question him, ask him what he had felt that time he also had driven into a wall. And how he felt to be alive. That was the piece we were supposed to write.
Instead, we ended up in the press room. To put together a newspaper that, without that accident, would never have come out, and with monitors behind us that kept endlessly repeating that crash. Loss of control. The crash... Spinning. Stillness. He doesn't suffer, he cannot suffer... And the others?
No one understood. We hadn't even come close to understanding. We were not worried about the crowd. It was just an accident, we had rationalized, but speed doesn't spare anyone, not even his God. So, why should we think that this time would be different? And, instead, the pilgrimage to that wall had already begun that night. The next day, with enormous delay, we had understood that the Messiah was gone. And, this time, he would never come back.
The chariot of the God slid slowly through his crowd, among his people. An irony for the king of speed. But the millions of people in the streets, millions behind TV screens, wanted to see him. And, because of this, Ayrton Senna, that time, passed slowly by. As usual, he had taken his return trip with his friends, in first class, and no one disturbed him.
We turned off the TV. Even the last of the Brazilians massed along the road, from the airport to the city, could have written a better piece on that story than ours.
----------------------------------------------------------------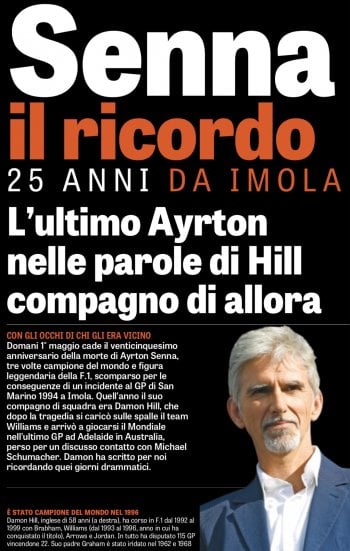 Note dated April 30th, 2019
                                                                                                                                                                                                                                           I remembered this today while reading a wonderful piece by Damon Hill in the Gazzetta dello Sport newspaper. If you get     a chance, read it. It's rare to find such gems in newspapers, but it happens. And this is one of them.
Share



Gallery: