Ducati choices imply they are already looking at Marquez
VIDEO The Ducati fans were luke-warm with the current riders at WDW while singing the praises of two great former stars: Bayliss and Stoner. They want victories and the title

Submitted by

Paolo Scalera

on Tue, 31/07/2018 - 10:44
Ducati arrives in BRNO on the wave of the success of WDW, which confirmed the red public's love for the brand.
World Ducati Weekend will have also proved informative for Borgo Panigale top management, in attendance at Misano with a less than rosy situation in the respective MotoGP and Superbike championships right now.
Leaving aside the production-derived series where Davies and Melandri seemed as cool about the arrival of the new V4 as Claudio Domenicali and co. seemed cool in their regard. For the rest, it's clear that SBK, despite the commitment of Aruba, is an 'option B' for the Borgo Panigale manufacturer.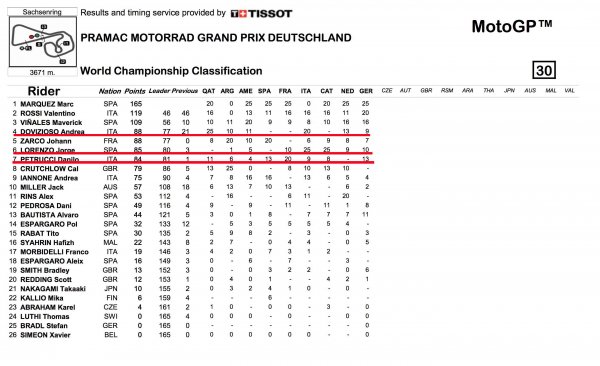 We cannot say the same about MotoGP, where Ducati, strong from its second-place finish in 2017 with Andrea Dovizioso and onerous hiring of Jorge Lorenzo, arrived on this year's scene with much greater ambitions than its current 4th and 6th place in the standings that, objectively, means the red bike can now only aspire to a runners-up spot on the championship podium.
The current positions come down to a few mistakes too many for Dovi and another slow start for Lorenzo, already a former rider after having signed a two-year contract with Honda for 2019-20.
And this is the point: the ducatisti, though fond of the current riders, do not appear enamored, the most highly praised riders at WDW proving to be Troy Bayliss, whose Panigale V4 S beat everyone else's in the auction on eBay, and Casey Stoner.
Two former riders who remain in the fans' hearts due to their riding style, but particularly their successes.
Once upon a time, they said ' win or die!', and while this is not a socially-accepted slogan in our sport, it does perfectly sum up the ducatista's fighting spirit - they do not want excuses, they don't accept a drop in performance or attitude, they just want their riders to give it their all, and more. Always!
Qualities that none of the current crop of riders appear to possess right now, subject to too many highs and lows. Dovizioso was firmly in the spotlight following his 2017 results but has lost that attention this year, despite making a wonderful start in Qatar.
Despondency has thus spread through the ducati soul, despite Lorenzo's wins at Mugello and Barcelona. He was just too late. In fact, the Majorcan's renewed competitiveness casts a shadow over Dovizioso, one that the Italian needs to step out of as quickly as possible.
As if that was not enough, despite its fondness for Danilo Petrucci, Ducati has only offered him a one-year contract, which leads us to think that they view him as a temporary solution, as they await a 2020 replacement, though it is not yet clear who this might be. Bagnaia? Miller? What's clear is that Domenicali has chosen to leave a door open.
And there are fans who are already looking to 2021, hoping that the Bolognese firm is able to hire Marc Marquez, enticing him away from Honda. Hopeful, perhaps, that the 'cohabitation' with Lorenzo turns out to be less than a bed of roses.
After all, fans like those seen at WDW deserve the best. Watch the video by Marco Balvetti and try to tell us otherwise!