Dovizioso & Lorenzo, a great future behind them
Ducati is disappointing in MotoGP despite three race wins. The sporting 'return' of Jorge has penalised Dovi. Now the pair are to all effect rivals.

Submitted by

Paolo Scalera

on Wed, 18/07/2018 - 11:40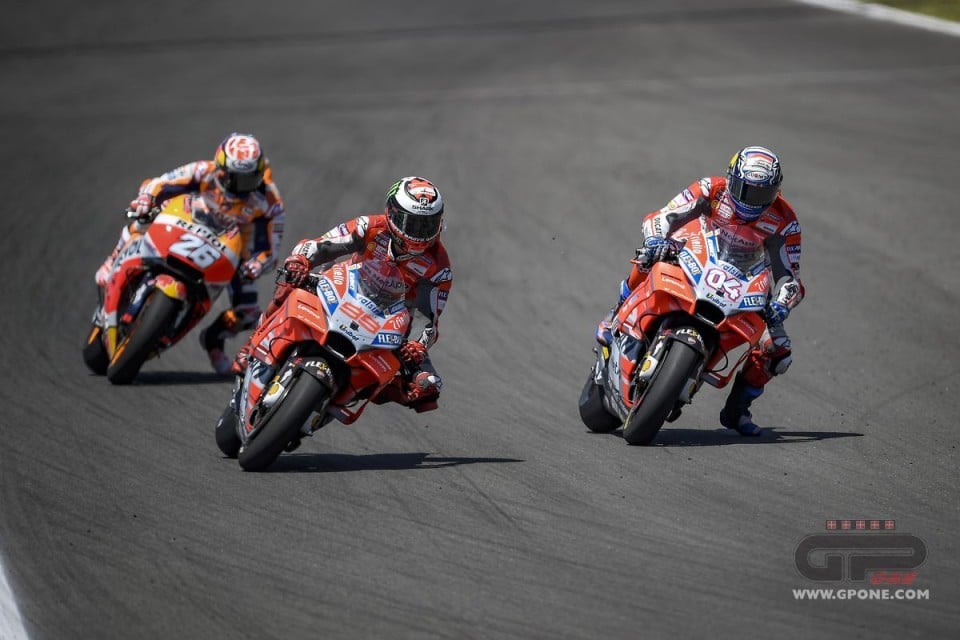 After the 2017 season and Andrea Dovizioso's fantastic six race wins, ducatisti the world over expected a real title fight come 2018, but alas it never came.
On the contrary, the red bikes' current season is falling well below expectations, despite having won three of the nine races run so far, two with Lorenzo and one with Dovizioso.
Only Honda has done more with 6 wins... although 5 of these are thanks to Marc Marquez.
The six-time champ got off to a much better start this year compared to last season. While, in 2017, he had accumulated 129 points before the summer break, he now has 165, so is 36 points up. His podium tally is 7, compared to last year's 5, while the number of retirements/mistakes remains the same: two.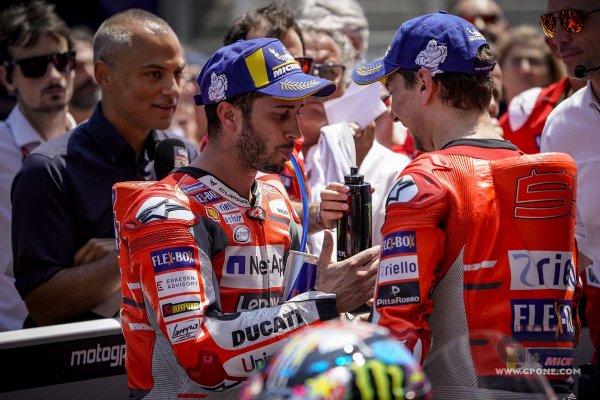 If we take a look at the standings, Andrea Dovizioso's situation is very different: in 2017, after nine races, the Italian was lying third in the standings with 123 points, while now he is 4th with 88, so 35 points down.
Andrea had also scored two wins and a second-place finish this time last year, compared to his single win this season.
Weighing heavily on this year's classification are his three retirements of course, compared to just one last season.
If we take a closer look at his championship though, the differences are minimal. Or rather, they are visible but tell a story that is far from what we imagined.
Starting from the most recent, with Germany, in 2018 Dovi scored one point less than he did in 2017, finishing behind Lorenzo.
In Holland he did slightly better: 13 points rather than 11. At Barcelona and Mugello he only scored a second-place, so 20 points, compared to last year's full house... but on both occasions this season, the race was won by his team-mate Jorge Lorenzo.
The ordeal continued in France, with a crash contrasting with 4th place in 2017. Another crash at Jerez, after he collided with the Majorcan. In 2017 he was 5th.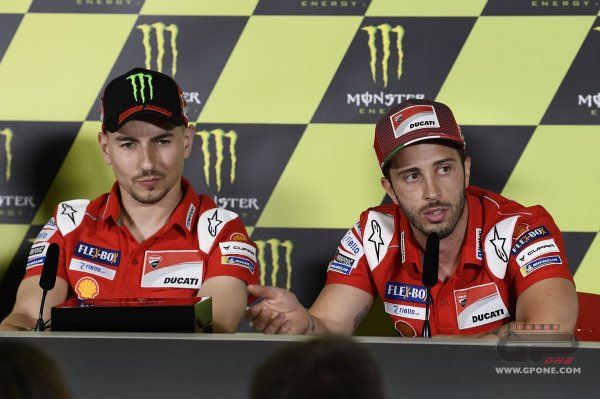 There was a slight improvement at Austin, 5th place rather than 6th, but this equates to just one point! He took 10 more at Rio Hondo though, finishing 6th in contrast to his 2017 retirement.
And then we are back to the beginning, at Losail, where he was 5 points up, this year's win versus a second-place finish in 2017.
This simple analysis highlights one less than positive fact for Dovizioso and Ducati.
The pair's results, retirements aside, are in line with those of last season. And where Andrea has lost, he has done so to Jorge. Often following a lengthy on-track battle between the pair.
Without Jorge, where would Dovi be if we were to credit him with his team-mate's results?
That's easy: he'd have scored 5 more points at Mugello, 25 at Barcelona. So he'd still be 5 points down. Not a particularly impressive step forward.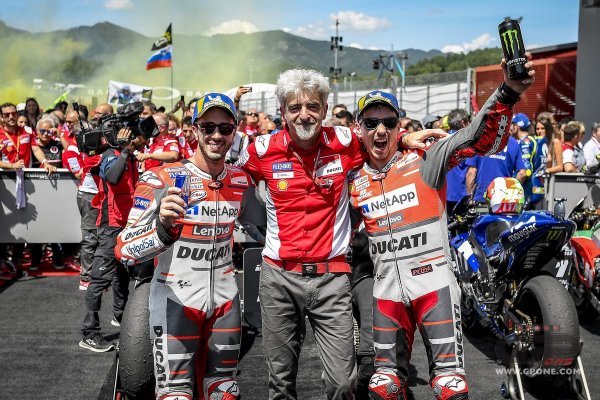 Il fThe fact is, of course, that Andrea Dovizioso gave his best in the second half of the championship, and we hope the same will be true this year. On the other hand, the numbers don't lie: the GP18 is only a little better than the GP17...or rather, hang on, it hasn't yet found the rider capable of exploiting its strengths.
And this is the point, because the bike is as important as the rider. And right now, neither Dovi nor Lorenzo are able to exploit it 100% throughout the entire race. The latest proof came at the Sachsenring, where both factory riders finished behind Petrucci and Bautista.
For the record, in 2017 Lorenzo was lying 9th at this point of the season, with 65 points, a third-place finish his best, while today he's 6th with two wins, 20 points up on last year's tally.
In terms of team alchemy, something has definitely not worked.