Marquez is frightening, his smile his armour
It's impossible to destabilise him. Incidents and controversy don't phase him. On track Marc is always 'Magic'.

Submitted by

Paolo Scalera

on Tue, 24/04/2018 - 15:46
There's a phrase doing the rounds on social media that goes something like this: Marquez has a rubbish bin in place of a heart. He was left unaffected by both Race Direction, when it handed him a senseless 3-position race grid penalty after a carelessness during qualifying that wouldn't have even raised discussion on other occasions,  and Valentino Rossi, putting an end to the Rio Honda debacle with a breath-taking win at the Texas GP.
In truth, Magic Marc's superiority was also embarrassing in Argentina, despite the obvious errors he committed.
His rivals and their fans, instead of travelling the world and talking badly about him, or booing underneath the podium, should perhaps ask themselves some questions and thank the god of speed for having created a champion as wasteful and exaggerated as the Soanisgh Honda rider. Who won the world title last season, despite clocking up two more zeros than Dovizioso..
Carlo Pernat has got it right. The experienced manager had been quick to condemn Marquez's (excessive) aggressiveness in Argentina, adding: "the controversy of recent weeks has only served to spur Marc Marquez on. The lesson he gave everyone at Austin was embarrassing. On the contrary, I think that Valentino came to America tired, worn down by the situation".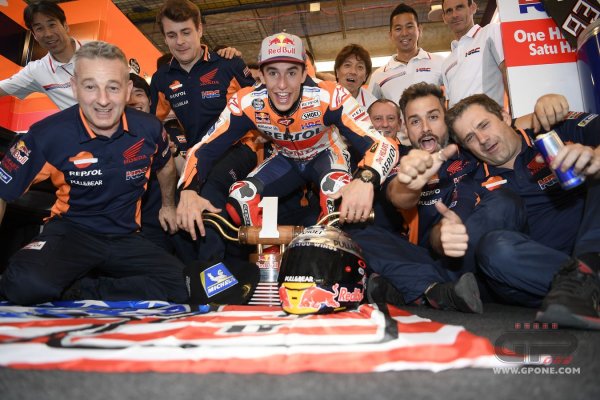 We agree.
The world champion began his season with a second place finish at Losail, a track he does not like. At Rio Hondo, if it hadn't been for his Honda swtiching off on the grid, he's have been in for a podium finish, if not the win, while America saw him run away with the victory.
Marquez has also shown to be impervious to controversy. Something that, in the past, has destabilised the likes of Gibernau, Biaggi and Stoner.
This is something to really worry about, rather than the fear of him coming up behind you on track.
Valentino Rossi is a super-champion. And not just for the nine world titles he's won so far. The fact he's still competitive, at 39, is not normal, it's special. And to be able to be competitive takes all the energy in the world. Every drop.
Marc is both Muhammad Alì and Mike Tyson.
Lightweight and powerful. Cruel when required, but with a smile on his lips.
Do you want to know something? We have never, repeat never, seen him worried. Or angry. Not even when, in 2013, his men made a mistake a Phillip Island, getting him to come in one lap later than required, costing him the black flag. Even then, Marc remained unmoved.
It's true that he had a significant championship lead and that was only his first match point, but Lorenzo went from being 43 points behind to just 18 points, with only two races left to run.
Can someone like this really be the monster that some make him out to be?
It's still early days in the championship anyway and Marquez, like everyone, can be beaten.
His Achilles heel is his compulsiveness. He's always in the centre of the ring, guard lowered. Even in Austin he crashed twice. Didn't hold back. He got away with it, he's made of rubber... but that uppercut you don't see coming and that will floor you is always just around the corner.
All we can be sure of is that it won't arrive as a result of Marquez turning to hear his detractors.
He's deaf to criticism. And with that indelible smile on his face, he's as frightening as the Joker in Batman.
This article appeared in the 24 April edition of Corriere dello Sport