Other times, other conflicts: Senna vs. Schumacher
Champions always 'catch the scent' when their equals are approaching. But on Sunday, racers only think about racing

Submitted by

Paolo Scalera

on Fri, 13/04/2018 - 17:54
Share
Magny-Cours, 1992, Grand Prix of France.
This is part of my memories of F1, because far too much has already been said about bikes and accidents overtaking.
And besides, where bikes are concerned, everyone has their own memories, so it's pointless for me to tell you mine.
This is why I return to that time in 1992. The circumstances around what happened were fuzzy. I have always loved two wheels more than four, so I remembered the conflict between the men in the garage, but not the details leading up to it, so I asked my friend and colleague Alberto Sabbatini to shed some light.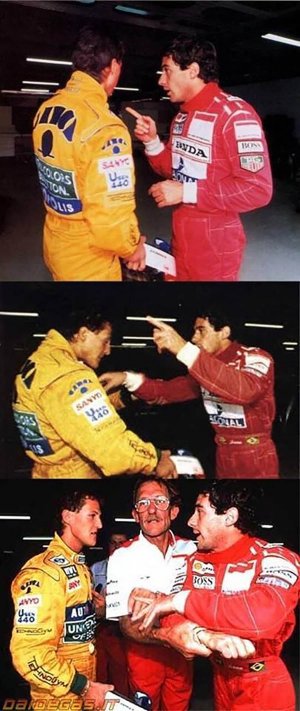 Well, it was the start of the Grand Prix of France and the young Michael Schumacher, in his Benetton-Ford and in his first full season, on the braking section at the first corner, forced none other than Ayrton Senna off the track, a driver who, at that time, had already won three world titles. Red flag.
Ayrton, a pensive and introverted driver, but also hot-blooded when needed, sends no messengers to young Schumi. He blocks him in front of the garages and, in his more than outstanding English, wags his finger in his face, giving him a brief lecture, not only how to drive, but also on what he thinks of him.
The two are pulled apart.
A legend, and one who would later become a legend. Does it bring Valentino Rossi and Marc Marquez to mind?
In a certain sense, why not? The elder of the two was still number one, but in that 1992 season, the McLaren was starting to be a tight fit for him. And that German lad irritated him and looming in his future was the Williams-Rothmans and the horror of Imola.
You all know the story.
This memory dredges up another. Zolder, 1984, or was it Zandvoort the following year? Free practice, if I remember correctly. A young Senna at the time does something that he should have done with his Toleman Hart Turbo to Michele Alboreto who, in response, planted his face in the gearbox. On purpose, not by mistake.
Michele was a guy who got pissed off and when something happened, he would tell you to your face. He was like that with the press too.
Racers.
I have had the good fortune to meet many in my job. Some well enough for them to consider me a friend.
I liked this side of their character very much. Even if they were able to catch the scent of a new, young champion from afar they would confront them. Always.
They didn't act like racers. They were racers.
And then, of course, we built stories on these arguments. We created headlines in the newspapers, but there still was no Internet and you always had to wait 24 hours for the follow-up story. But at the next race, when the lights went out, the episode remained a memory.
For them and for us.
Racing was too important to waste time on this B.S.
Share