The season you didn't expect to see from Andrea Dovizioso means that he will now fight it out for the title against Marc Marquez at the final round.
He is up against Marc Marquez, truly overwhelming in a season that started badly: after the Italian Grand Prix, round six, a third of the way into the championship, the Spaniard was languishing in fourth place, behind Vinales, Dovizioso and Rossi and with the same points tally as Pedrosa. He was lying 37 points behind, as a result of two crashes, at Rio Hondo and Le Mans.
He appeared to be out of the running, and yet he staged a comeback, starting at Barcelona where he finishes second behind Dovi. Progress was interrupted by an engine failure at Silverstone, but then continued full-throttle - with nine podiums and five wins in eleventh Grand Prix, enough to hand Honda the manufacturer's title, ahead of Ducati. 332 to 303.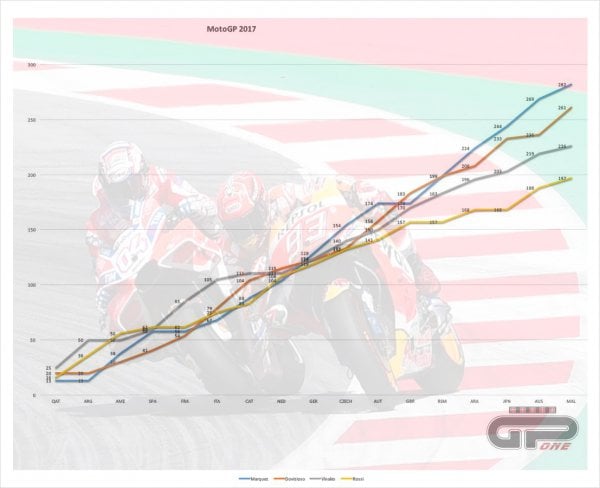 A great match, whichever side you are on, with two rivals who have battled it out long and hard. It's a good job Andrea got two runaway wins in the bag at the Red Bull Ring and Motegi, otherwise we wouldn't be here debating the final round now.
Almost as if, up against an adversary with more technical strings to his bow, Dovizioso was able to take two precise shots that enabled him to raise his score.
But what do we mean by superior technique when we refer to Magic Marc? Do we mean his Honda? Not at all. We are referring, in fact, to his ability to conceal his limit and that of his RC213-V in any situation.
In effect, the Spaniard's worst result was a sixth place finish at Mugello, while the Italian crossed the line 13th in Australia.
It was there, at Phillip Island, that Andrea lost out to Marc. And it's for that reason that he now faces a truly difficult task at Valencia, needing to make up 21 points. This essentially means he has to win, seeing as any other result, starting with second place that is worth 20 points, would not allow him to achieve his goal.
In other words, if Dovizioso doesn't win at Valencia, Marquez  becomes world champion regardless of his own result.
A tough enough challenge you think?
Let's add that if Dovizioso wins, Marquez only needs to place 11th to score his sixth world title.
A result that he can achieve even if he rides one-handed.
The winning combination for Dovizioso then sees the Italian cross the line first and Marquez 12th.
This is why the Ducatista, regardless of the final result, appeared pleased at Sepang.
The challenge he faces is akin to someone getting into the ring with Mike Tyson when he was at the top of his game and coming out on his own two legs.
The championship decided at the final round: the precedent
- In 2006 Rossi arrived at Valencia with an 8-point lead over Hayden. he crashed at the second corner and Kentucky Kid got the job done, closing 5 points ahead of Valentino.
- In 2013 Marquez arrived at Valencia with a 13-point lead, Lorenzo won with a 4-point advantage.
- In 2015 Rossi came to Valencia 7 points ahead of Lorenzo, but the Spaniard won his fifth title, closing 5 points up, because the Italian, having received a penalty that saw him start from the back of the grid, couldn't do more than fourth.
This article appeared in Corriere dello Sport on 31 October 2017