Marquez and Dovi, moments of glory and embraces
The epilogue of the Grand Prix of Japan and BSB at Brands Hatch reminded us of the true spirit of 'sport' with two magnificent examples

Submitted by

Paolo Scalera

on Mon, 16/10/2017 - 16:56
The most beautiful moment was the embrace. Not the impossible corners in the wet and the driving rain, the Ducati fishtailing as it aquaplaned at 290 kph, or Marquez's pass, only to be overtaken again by Dovi on the last turn.
All moments, true enough, which kept us on the edge of our seats. But what we really enjoyed, truly and lastingly, passionately and in an incredibly intense way, was that moment when, after the finished line in parc fermé, Andrea and Marc embraced, smiling and happy, the victor and the defeated.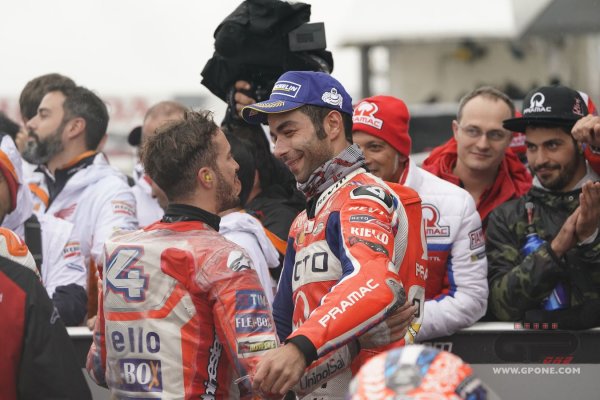 It was a moment of glory and sportsmanship shared shortly thereafter with the third place finisher, Danilo Petrucci, magnificent after his loss with the phrase "I had the privilege and I had fun watching them battle from a front row seat. They both rode an incredible race", expressing the very spirit of what we all were watching: a sporting show.
A cathartic moment. Because catharsis is the word the ancient Greeks used to define the purification of the soul of the material things of the flesh and the irrationality of passions.
This is motorcycle racing and for those of us who loved the 3,000m steeplechase final in Helsinki in August 1994, when Francesco Panetta stopped to help a teammate to his feet, Alessandro Lambruschini, who then he went on to win the race, nothing in this life is better.
What image could be more beautiful than two athletes who engage in a battle to the death - and in a dangerous sport like ours! - to then celebrate together with beaming smiles?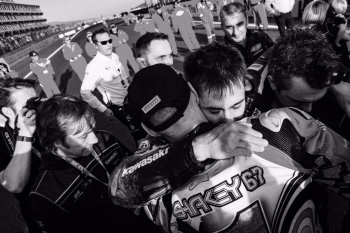 Let's all forget the partisanship of the past. Let's lock it away in the Pandora's Box of our human fallibility on a Sunday that gave us not one, but two examples of how wonderful our sport is and sports in general.
In the final BSB race in England, held at Brands Hatch, Leon Haslam and Shane Byrne went head to head for the title. Ron's son crashed, fracturing his ankle and hand, but that did not keep him from going to embrace Shakey, the confirmed champion.
Sportsmanship.