Open letter in memory of a boss, a friend: Ivano Beggio
"Great passion: they offered to you to enter as a shareholder in the Dorna but for the love of the bikes you bought the Moto Guzzi"

Submitted by

Carlo Pernat

on Wed, 14/03/2018 - 17:45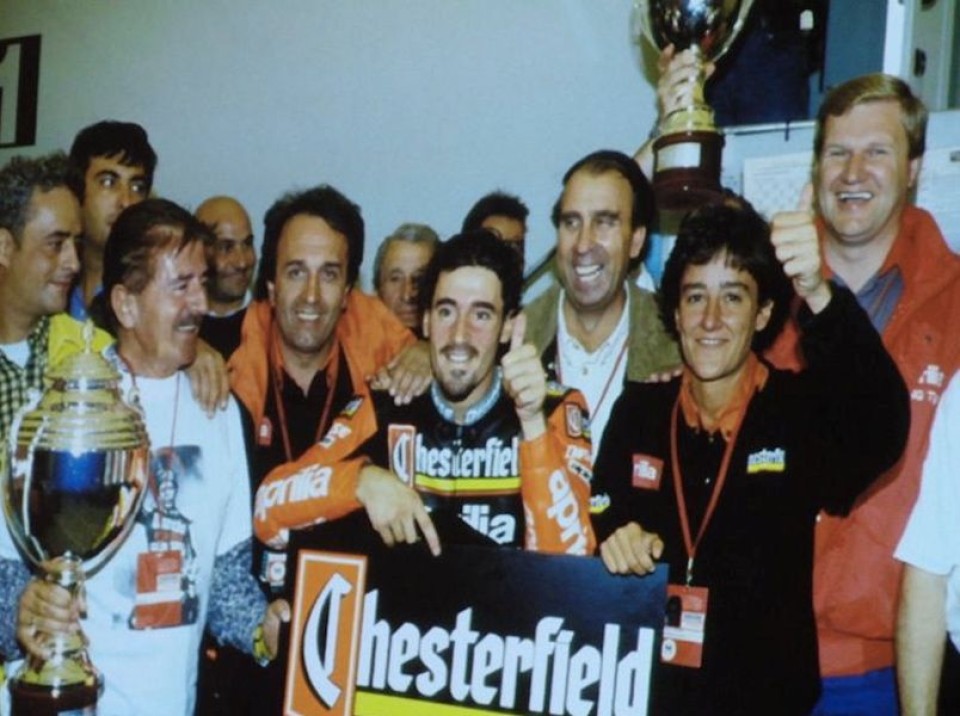 Lettera aperta a Ivano Beggio
Ciao grande, grandissimo patron della "vera" Aprilia che, durante i mitici anni '90, dominava su tutti i circuiti del mondo dando la paga a quei mostri sacri giapponesi che a perder non ci stavano neanche un poco. Con te se ne è andato l'ultimo dei proprietari di aziende motociclistiche con la vera passione per le due ruote. 

Eri rimasto solo tu dopo la perdita del tuo amico-nemico di Claudio Castiglioni, con cui ti contendevi la leadership nello sport e nelle vendite di meravigliose motociclette. Eri sopratutto un grande appassionato di motocross, avevi ereditato dal padre una fabbrica di biciclette, ma non erano la tua passione e nel tempo libero ti eri messo a costruire con amici una moto da cross. Da lì nacque la tua fortuna imprenditoriale e la tua marca, rimasta con lo stesso nome delle biciclette, incominciò a farsi conoscere e a vincere qualche campionato italiano. 

In quel campo pieno di polvere e di salti acrobatici ti ho conosciuto, quando con la Gilera ci combattevamo sportivamente e tu con mezzi inferiori ci davi del filo da torcere. Eri già una persona vera, genuina, con un tocco di umanità difficilmente riscontrabile e fra noi nacque un feeling che mi portò a lavorare nella tua favolosa azienda. 

Ricordo quando vincemmo il primo mondiale nella classe 125 con il "toscanaccio" Alex Gramigni e non ci volevi credere, ti sembrava una cosa impossibile per un'azienda ancora troppo piccola per arrivare a questi traguardi. Il motomondiale italiano ti deve quasi tutto perché dalla tua scuola sono arrivati piloti come come Max Biaggi, Valentino Rossi, Loris Capirossi, Marco Simoncelli, Marco Melandri, Loris Reggiani, Alex Gramigni, Roberto Locatelli e forse ne dimentico molti altri.

Ricordo ancora quando ti pressai per prendere Valentino Rossi con un contratto di tre anni, anche se era sconosciuto agli addetti ai lavori, e tu, pur con i tuoi dubbi, lo facesti lo stesso dandomi la tua totale fiducia. Ecco, questa fiducia incondizionata nei tuoi collaboratori dava lo spessore della persona che eri e sei sempre stata nei confronti di chi lavorava con te. 

La tua smisurata passione per le moto ti portò a non accettare di entrare come azionista nella Dorna, organizzatrice del motomondiale, per acquistare la Moto Guzzi, che in quel momento era in vendita. Non ci avevi pensato un secondo prima di buttarti anche in questa avventura. 

Quanto eri legato a tua moglie Tina, anche lei genovese come me, e ti ricordo sui podi dei Gran Premi dedicarle tutte quante le vittorie. Un legame profondo con la tua signora che si occupava anche dell'immagine dell'azienda, insomma una cosa tutta gestita in famiglia. 

Con te ho imparato anche un poco di veneto perché durante le nostre brevi riunioni usavi il dialetto, ma fra Repubbliche Marinare ci si capiva lo stesso. Uomo ambizioso, come tutti i capitani di azienda, ma con una umanità che faceva la differenza con gli altri, non si poteva dirti di no. E di no non lo dirà sicuramente il buon Dio che ti riserverà un posto d'onore per vedere i Gran Premi, passione della tua splendida vita.