MotoGP betting is one of the most popular sports for wagering, thanks to a rich selection of events that occur regularly. This sport also offers many bet types, including wagering on Race/Season Winners, Podium Finishers, Teams, and more. It is not surprising that the high speed and thrill of MotoGP's events attract the attention of many bettors worldwide.
Among them are also vulnerable individuals for whom it is difficult to take control over the sum they use for betting and set time limits. This may create serious problems with the Responsible Gambling approach. So, according to statistics provided by Public Health England, 0.5% of the population (approximately 246,000 people) have problems with gambling addiction, and 3.8% (2.2 million people) are 'at-risk' gamblers.
For such bettors, a convenient GamStop self-exclusion mechanism was created. Its main aim is to make it physically impossible for the program's participants to register or keep playing at eligible bookies.
Why MotoGP Fans Need Self-Exclusion Tools?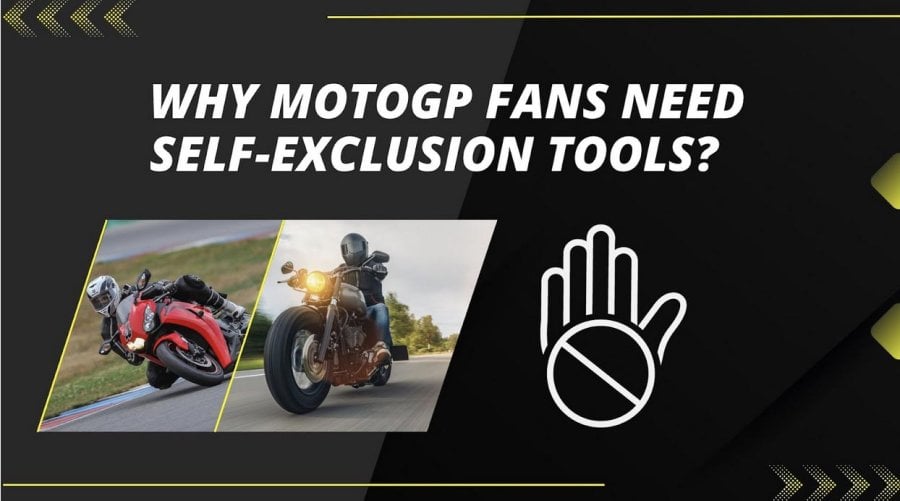 Self-exclusion is necessary for vulnerable individuals and those who already have obvious problems with gambling addiction to regain control over their psycho-emotional state. Due to their individual characteristics, many bettors cannot set limits for themselves (financial or time) and strictly follow them.
As a result, betting is gradually becoming the predominant activity in life, pushing aside hobbies, work, communication with close ones, and so on. The person becomes more nervous and withdrawn. With each unsuccessful outcome, this condition worsens and may even lead to depression.
All this is accompanied by financial problems, debts, and sometimes crimes (theft to keep betting). Self-exclusion programs help build a physical barrier between the bettor and the bookmaker. As a result, even if the individual breaks down and decides to continue betting, he will not be able to do this.
What is GamStop?
Most modern bookies support different self-exclusion programs. For example, almost all betting sites not on GamStop develop their own proprietary programs that allow you to self-exclude on different terms or limit the deposit you may use for betting.
However, it works only for the specific bookie. In turn, GamStop is a more global solution that supports all bookmakers with a UKGC licence. Register on the official GamStop site to join this program and pass simple ID verification.
After that, your data will be sent to all casinos that support GamStop within 24 hours. The program offers 3 self-exclusion terms: 5 months, 1 year, and 6 years. Further, it cannot cancel the program until the minimum exclusion period is over. Also, on the GamStop site, there are links to multiple reputable resources that are aimed at helping vulnerable individuals, including Gordon Moody, Samaritans, Epic Restart Foundation, and more.
Top Alternatives to GamStop for MotoGP Enthusiasts Seeking Self-Control
Since the GamStop program is active only at UK-based bookies with a UKGC licence, some individuals seek more universal solutions that do not depend on the region of the bookie's peculiarities. Among the top GamStop alternatives are Gamban, BetBlocker, and GamBlock.
Gamban
This is a popular solution you may use on any device. First, it was released eight years ago and currently can boast over 60,000 unique addresses. Notable, Gamban experts update the database and add new addresses regularly. I
ts targets include different sites, from bookmakers to NFT and trading platforms, and more. After installation of Gamban software, it will not be easy to delete it. If you still want it, you should first contact the service's experts and provide them with all the required credentials.
BetBlocker
The best thing about BetBlocker is that you can use it without providing your personal details, and 100% free of charge. You only need to download the software, and install the application on your device, and launch it. The service has a proprietary database of URLs and block access every time you try to open those sites. 
As in the case with Gamban, BetBlocker's experts try to keep up with the emergence of new sites and add them to the database. There are almost 86,000 URLs, and this list is updated weekly. Along with blocking bookies and casinos, this service allows you to schedule your gambling activity, set up Parental Control, and more. 
GamBlock
Unlike previous options, GamBlock is a paid service. Bypassing the program's algorithm is extremely difficult, even after changing VPN or DNS settings. To get started, you must only download the app and launch it. After that, GamBlock starts scanning sites you visit and blocks those in its database. Deep customization is another peculiarity of the service. For example, you may ask to block only betting sites or stock trading platforms.
Importance of GamStop for MotoGP Bettors: To Sum Up
GamStop is a perfect solution that allows you to set a physical barrier between you and a bookmaker. Various self-exclusion terms, free use, links to additional resources, and its simplicity make GamStop a top choice among MotoGP bettors. At the same time, you should consider that it works only for sites with UKGC licences.