By now it is clear that this is the way it will go: Enea Bastianini and Marco Bezzecchi are openly on a collision course in view of 2024 and, in the end, only one will remain in Ducati.
The subdued season of Enea, in red, alongside Pecco Bagnaia has in fact put him on the launch pad for being replaced at the end of 2024, if he doesn't get back to being the Enea we saw in 2022. And at that point there would be nothing for him but a new contract to other destinations (Aprilia? Honda?), or a new seat in Pramac where (coincidentally) Franco Morbidelli will arrive with a one-year contract.
Whatever happens, they will be the two kings of the 2024 market, about this there is not the slightest doubt.
There are two things to say: for the moment - but we are only halfway through the season - Bastianini is still ahead of Bezzecchi. If the position in the world championship at the moment is the same, Enea at the end of the championship arrived with 4 victories and two second places. Marco is currently on two wins, one second and two thirds. And to this we can add the victory in the Sprint in the Netherlands.
However, in terms of sensation and talent, the two are superimposable and both show a more lively character than the world champion and current world championship leader. Which doesn't hurt one jot.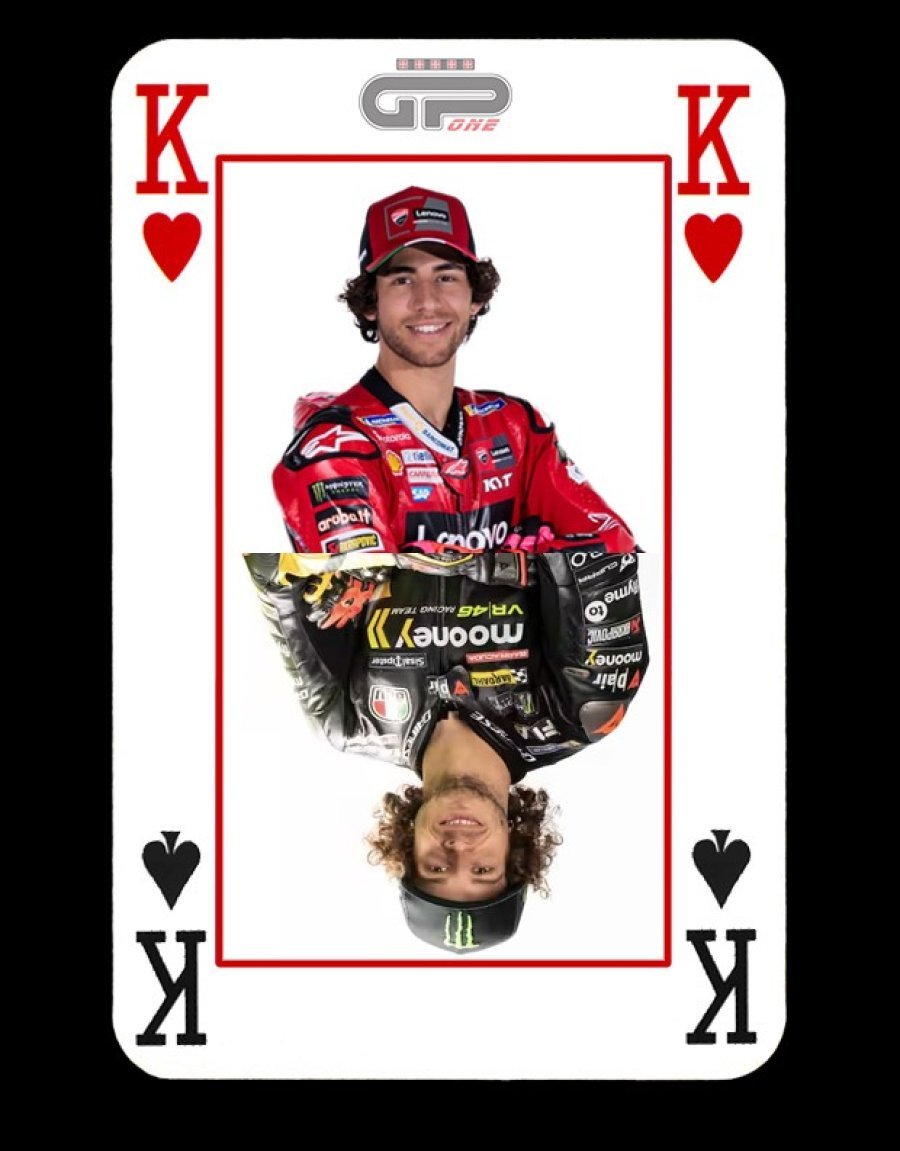 The second thing to say, and which deserves to be said, is that it seems possible to say that there is a real advantage in racing in a satellite team with the Desmosedici from the previous year, if you have good technicians by your side.
In fact, while in 2022 Enea was able to take advantage of all the data from the official team with a perfectly set-up bike which only needed to be fitted with fresh tyres, Marco is currently experiencing the same situation.
We don't know how it could have gone if Luca Marini hadn't already brought down the Beast in Portugal, but now it's futile to moan about that. The fact is that the two raced similar seasons also in their debut year in MotoGP: Bastianini 11th (a 3rd place at Misano as the best result) and Bezzecchi 14th (for him a 2nd at Assen).
In short, two sides of the same coin or, if you prefer, two kings in a deck of poker cards. With the hearts suit for Enea, in homage not only to the Ducati colour, but also to his affable character and spades for Marco, who is not afraid of being grumpy at times.
Which of the two is destined to become an ace, is unknown to everyone except God... or Gigi Dall'Igna.