Danilo Petrucci was smiling at the end of the French GP, the final piece of his weekend as Enea Bastianini's replacement, astride the Desmosedici GP of the official Ducati team. A dive into memories that gave the rider from Terni new impetus and morale, 11th at the finish line of the Grand Prix at Le Mans.
"It was a very difficult race compared to yesterday, but I improved my pace and fastest lap a bit. In the end, apart from the first lap I was behind, I never took lost than a second from the leader. 7-8 tenths a lap isn't bad, having got on the bike on Friday. I'm happy. I pushed throughout the race and gradually I understood the bike a little more - said Petrux as he took stock of the French trip - I thank Ducati for giving me this gift. It was great to race here again, with all these people and a Ducati. It's something I never thought I'd do in my life and I'm delighted. I also got points, so I'm still on the roll of honour this year too. I'm sorry for the other part of the garage, that of Pecco, who didn't score any points, but there were three Ducatis on the podium and I'm happy too. I think it was very difficult to do more with two days of experience on the bike."
Is it a different Ducati to the one you rode?
"Yes, they have gone and solved those difficult points, which were the power delivery and the handling of the bike. From the first corner I did, I felt the bike was much more docile mid-corner. The transition between closing the gas and opening the gas is virtually non-existent and this is what makes the bike turn when there is no grip or you have the bike leaned over, but the impressive power of the Ducati has remained. I think it's the best bike I've ever ridden in my life, too bad it's already Sunday. I fear I won't be riding it again, but I was delighted. I got excited in the lap of honour. I've been on the podium three times here at Le Mans, the French public loves me very much and I was delighted to be here for a weekend".
What was it like working with Gigi and the others again?
"I had a great time with the team. With the crew chief Marco Rigamonti, with the electronic engineer Dario Massarin and all the guys. Gradually, with my experiences with Ioda, Pramac, Ducati, KTM, Suzuki and again with Ducati, I think I have worked with everyone in the paddock and I must say that I have excellent relationships with everyone. We didn't make any mistakes, I'm just sorry about the crash on Friday afternoon, but the conditions were difficult and Le Mans is quite a treacherous track. There were a lot of crashes today and it was difficult to stay on my feet, but I think I did mine. Getting the bike to the finish and getting a few points was the best we could do. I was quite close with the group in front, with Morbidelli, but I was always a little late in opening the throttle, as happens to me in Superbike, so I was trying to recover under braking".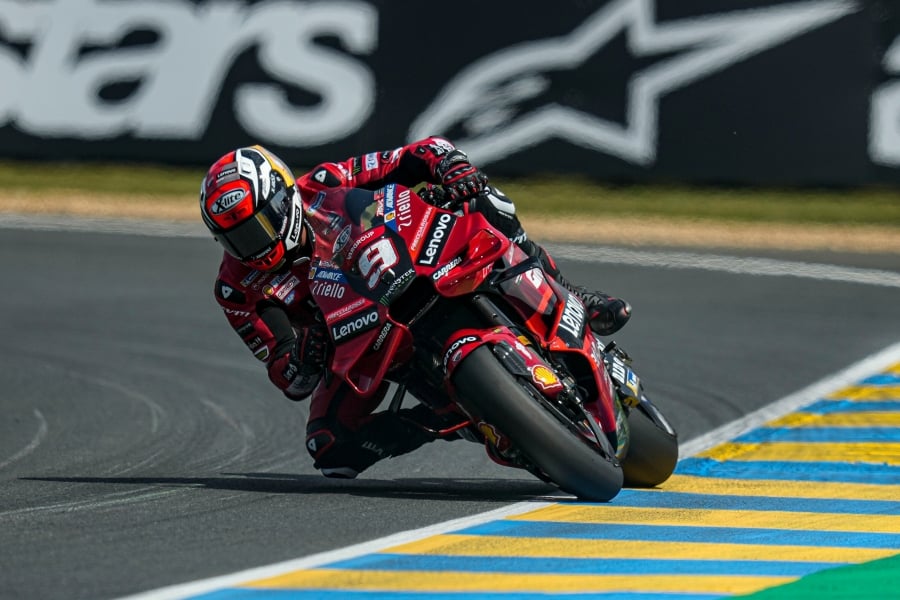 In 20 years, what will you tell your children about this race?
"It was an incredible emotion. I was amazed the first time I put on this sweatshirt and someone approached me for a selfie, because I've seen that image for a long time and seeing it again was like going for a walk. It was very different last year in Thailand, but here, with this crowd, with the team I won with, on a track where I won, it was a huge gift that life gave me. Today was like a victory."
You've come a long way from the Ioda to the World Champion bike.
"Yes, I have put four gears in my life. It was all a circle. When you're a phenomenon in CIV or in Superstock you arrive in MotoGP thinking you're a phenomenon, instead when you get to the second race of your life and they lap you, you say: 'MotoGP isn't exactly what I expected'. Bit by bit however, by fighting, I got from last to first place and then with KTM I went to last again: I really did the whole circle! For better or worse, I was close in qualifying and in the race. I am very happy to have ridden a bike that won the World Championship".
Is a weekend like this exactly what you needed to get to the end of the season and, perhaps, for the next few years?
"Yes. This is another great gift that the sport has given me and it has given me the strength to go on, like the Dakar did. I thought I'd do like the elephants and go and die away from the herd, but instead it gave me the strength to race again, to go to America and return to World Superbike. I hope we can use something to understand my difficulties in SBK, because here I went better than in the Superbike races, so there is something we are not understanding on the other side. Now I will have another meeting with Ducati to see what can be done for SBK".