Grand Prix #1000 (one thousandth can neither be seen nor heard, unless we are talking about a country) did not disappoint expectations. Bezzecchi dominates, Ducati celebrates by colouring the whole podium red thanks to Martin and Zarco, followed by surprises, shows, controversies. All at Le Mans, which welcomes the world championship as it knows how, with passion.
MotoGP spoke Italian, like Moto2. There was Tony Arbolino to enchant, the rider who has discovered that he is grown up and matured at the start of 2023. That's good, especially considering that the next stop will be at Mugello.
THE GOOD – Perhaps the French are still pissed about seeing only the Italians and the French win at Le Mans, their home. But they were perfect guests, 166,692 on Sunday alone, 278,805 all weekend, a record. On the grandstands from dawn to dusk to cheer on any rider who went by on a two-wheeled vehicle in front of their eyes, at night wild in the campsites between engines and over-revving and a few (so to speak) beers. A course on how to organize and host a MotoGP Grand Prix.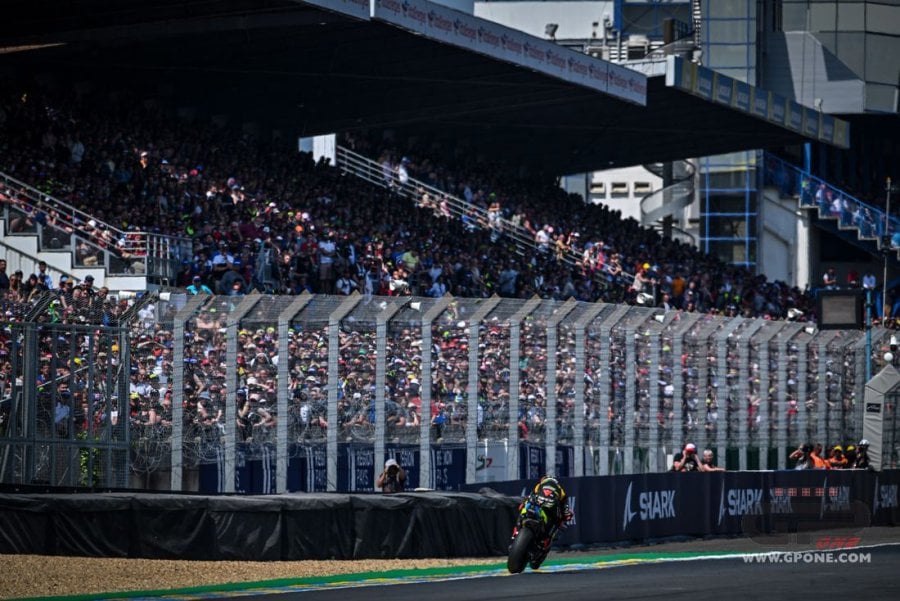 THE BAD – That's the way he's painted, like it or not. Meanwhile, Marc Marquez is back and did it his way. Battling, risking, wasting even. He left for home with a handful of points, we with the certainty that MotoGP has found a protagonist again.
THE UGLY – A couple of seconds more and Lowes could have started from pole position on the restart. The mechanics of the Marc VDS team, holders of the new motorcycle rebuilding record, deserved it. The red light in the pit lane was heartless, luckily Arbolino wasn't and it brightened their day.
DISAPPOINTMENT – The Yamaha is like a TV series: the previous season is always better than the next. Quartararo relied on the settings of 2021, Morbidelli those of 2022, somewhere in the garage there might still be Rossi and Lorenzo's notes. The only remake that they would like is the results of the past.
CONFIRMATION – He can cut off his moustache which he didn't like, he gave his mother Daniela a gift and even won a GP. The second, but in the same way as the first: getting away and dominating. Marco Bezzecchi wins in the dry as well as in the wet, he doesn't take himself too seriously and goes his own way. We are curious to find out where it will take him.
ERROR – Neither of them made a mistake; both of them made a mistake. Bagnaia and Vinales collided first on the track and then in the run-off area. Tempers then calmed down, peace was made, the empty joke remains.
SURPRISE – MotoGP's Carneades is called Augusto Fernandez. He is not a philosopher, but a racer and at Le Mans at his best. Enough to be the top rider on a KTM (even if his bike is called a GasGas) at the finish line, and in his team's home GP. Well done to him, everyone in MotoGP can be famous for 45 minutes. For once – finally – he didn't only have to answer a few questions about Acosta, destined (perhaps) to steal his job.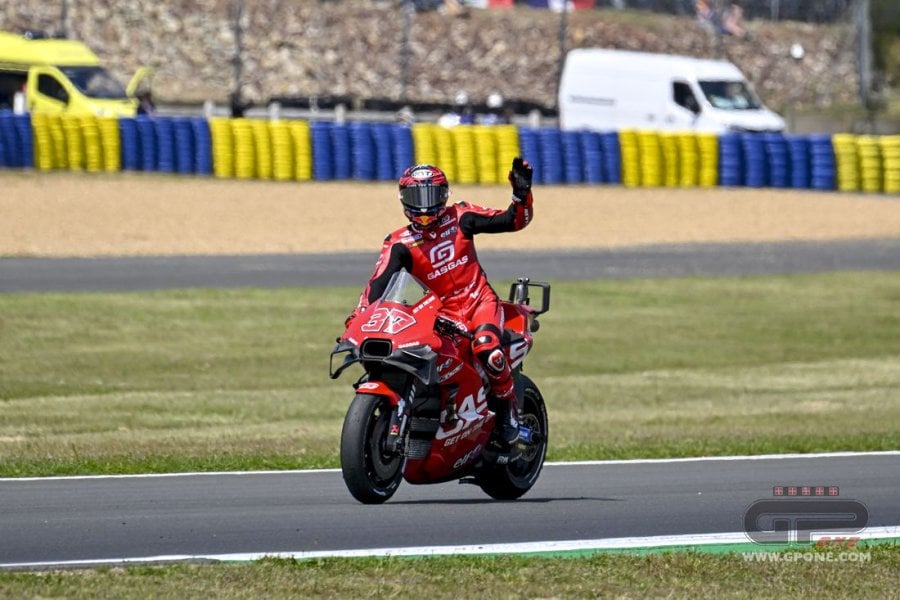 PASS – This category was easy to decide; either making them or undergoing them, you just need to have Marc Marquez on the track to be sure we'll have our dose of daily entertainment.
ANECDOTE - Agostini, Ickx, Alesi, Laffite, the Le Mans paddock was full of legends, not just in the pits.
TOLD YOU SO – "If there is contact during overtaking, you will be penalised". The Stewards had said so, so it was obvious that they would then do the opposite.