The Mooney VR46 Racing Team can breathe a sigh of relief for Luca Marini's condition after the French GP. Exams conducted at the medical center didn't show any fractures after the violent contact with Alex Marquez at the Dunlop chicane, which ended the race for both while they were fighting for a 5th place.
"That's just the way it went. How the accident happened, and how I remained in the middle of the track, it could have been much worse, so I'm happy, also because I have three weeks now to recover. I'll need them," Luca said at the end of the race in an interview with Sky Sport MotoGP. "There was nothing broken in the X-rays, but my thumbs hurt a lot because, when I was hit from behind, I felt as if they had stretched on the handlebars. Then I slammed my hands on the ground when I fell, so my hands hurt really badly. But, fortunately, everything is fine. Maybe, when I get home, I'll have other tests done and especially physical therapy, in order to get back to working as soon as possible, also because, technically, I have to train at Mugello with Panigale. We'll see if I'll be able to do it or not."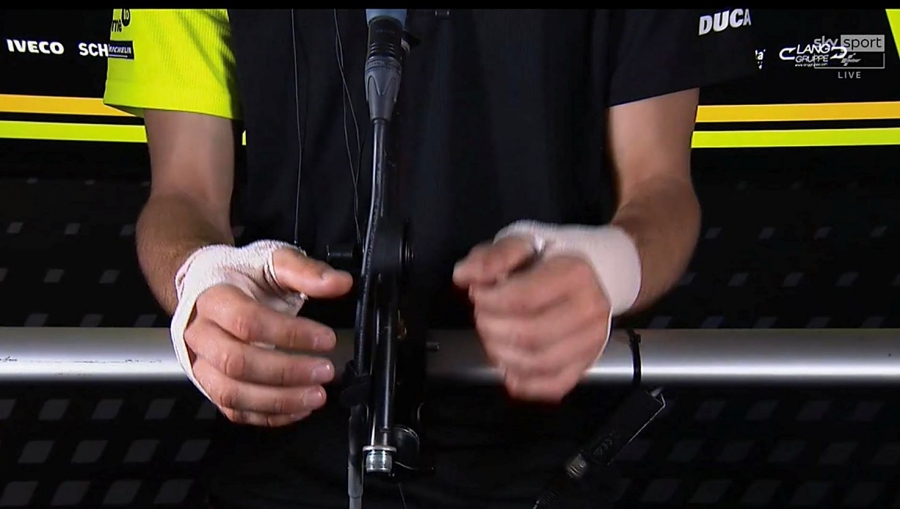 The Ducati rider then went into more detail about the dynamics of the accident. 
"I cut too much on the curb inside turn four, and I lost the front. I managed to save it, because I was very good and responsive in pulling up the bike, and I was very happy at that time, since it was one of the best rescues of my life," he admitted. "But as soon as I started accelerating again, I was hit by Alex Marquez. I heard a big bang from behind and ended up on the ground."
Marini also realized that it was an accident that was impossible to prevent.
"I think it was difficult for him to avoid contact, because he was trying to get the position and not waste too much time. Then there was Bez up front, who was doing well, and he probably couldn't even see me. It was a simple racing accident. Just an unfortunate episode and, fortunately, neither he nor I got hurt very much," the 25-year-old, who took a really big risk, said. "I was afraid only when I got up, and I looked back to see that there was no one else. Honestly, when I was on the ground, my eyes were closed, hoping no one would run me over."
An unfortunate episode the Mooney team rider feels bad about, convinced he has the potential to get on the podium along with his teammate, winner of the 1,000th GP of the MotoGP.
"The race was pretty much under control because I felt good. As usual, they were all rather aggressive during the first laps, but I think I could've had a good race today," Marini admitted. "I think I could've definitely fought for the podium. There were a lot of falls, and I think the fight for the podium was very open."