It seems that we have gone back in time on this Thursday afternoon at Le Mans, with Danilo Petrucci gearing up to get on the official Desmosedici GP to contest the French GP. That was actually the last race won by the man from Terni in MotoGP with the Ducati, in 2020. A lot has changed in the last three years, starting with Danilo, who doesn't hide his emotion at having returned once again to wear red.
"It's another one of those things that I didn't expect in my life, but I've done a lot in the last year and I'm really happy and proud to be back here. I have good memories, because the last time I was at Le Mans with the Ducati, I won the race and I can only be happy and grateful to Ducati - Petrux commented - It's a mission impossible, because it's quite difficult to throw yourself into a race weekend with no tests or anything. But I think it will be a little easier than last October in Thailand, because on that occasion everything was new apart from the track, while now I know the whole team, we've already had a briefing, we have a set-up and I know the bike, which is also improved compared to three years ago. I think the SBK riders are testing at Misano right now, but you can't say no when they make an offer to you to ride the bike that won the World Championship last year. So here I am."
When did the offer arrive?
"Friday, during the race weekend. Pirro wanted to race in the Italian championship, so I think I'm the only one who has ridden this bike before. It's crazy, because I'm replacing Bastianini, who won in 2022, while I won in 2020. It's like it's a sign, but I hope Enea will come back stronger at Mugello."
Did you see Pedrosa at Jerez? Do you think you can do what he did?
"Yes. I would like to (he laughed, ed.), but Dani is Dani and I think he clocked up a lot of kilometres at Jerez with this bike. Plus, I don't think anyone has anything to teach Dani at Jerez. It's as if it was his backyard. Le Mans is a bit like that for me, because I've been on the podium three times in a row, but now the MotoGP riders are really fast. From what I know, we can use the set-up I had here three years ago, also because everyone is moving in that direction. I am confident that I will find a great bike, but last year in Thailand I was really happy to have overtaken twice and not finished last. I think it could be a goal for this weekend as well."
Are you hoping there will be rain?
"First I'd like to test the bike in the dry to understand how it's changed, then yes, also for my physical condition. I hope it will rain because I'm better in the wet. However I already know that Sunday afternoon I will be happy in any case. I'm already happy to be here and every time I come back to this paddock, everyone is very nice to me and I think this is the biggest victory. It's complicated for me to cross the paddock because I don't know how many hands I have shaken! This is the biggest goal I've achieved."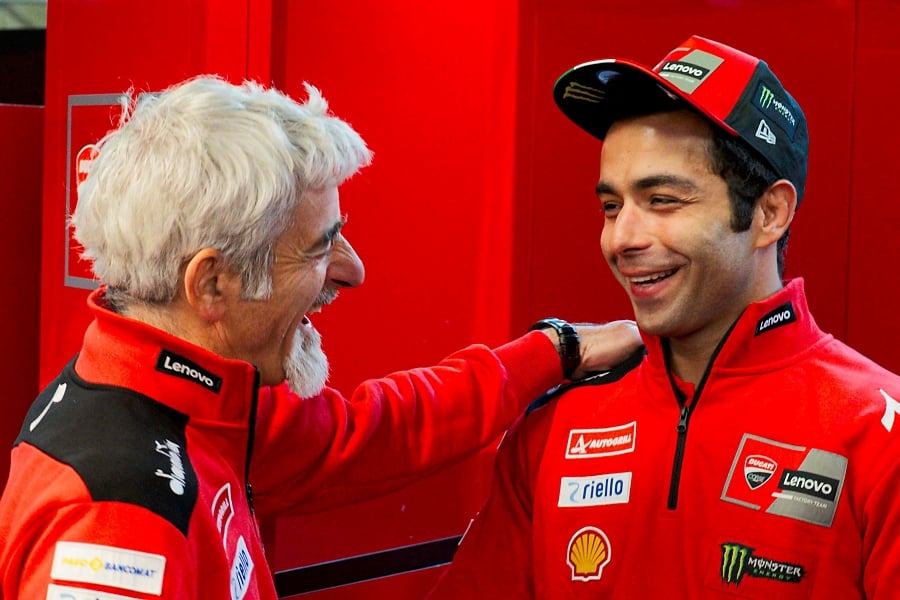 What do you expect getting on the Ducati?
"Fortunately, they still have all the data from 2020, including the riding position, which I can still use. It will really be like having my own motorcycle. I don't know how the Desmosedici has changed, they haven't told me, but I think it has improved a lot. We're ready to go, then I'll need to do kilometres to understand how the bike is".
Do you think the Sprint Race will be like the Superpole Race in SBK?
"I don't know, also because I hate the Superpole Race. I arrived without wings in the first two races in Australia and Indonesia, because everyone was hitting me from one side and the other and every race weekend I'm very nervous and worried about the Superpole Race, because I'm struggling with new tyres. Sometimes specific tyres are used for the Superpole Race, while here I think we will use the same softs that are used in the race, so you can push more without having extra grip. I don't really know what to expect, but I enjoyed watching MotoGP from the outside."
How do you experience these one-time replacements?
"I saw last year as a reward, a 'thank you' not only from Ducati, which allowed me to race with Suzuki and this year with the MotoGP. Dorna was also involved in 2022 and it was truly a gift that was given to me and this year I think it is also a reward for what I have done and am doing at Ducati. Although clearly I would like to do more. I see it more as a thank you than one-time appearances, even if there is the risk of ruining yourself, because doing races like this, in 18th or 20th place, you say: 'he's coming now because he's an old derelict'. Last year I thought that would be my last MotoGP race and this year I think the same. I'm taking it as a reward trip here to France. It is difficult to make an opinion of what the results will be. Obviously I hope to do well, but I think it will be one of my last weekends on a MotoGP bike, so I'll just try to enjoy it. I want to see the good side of it."
You talk like you're old...
"I'm old for MotoGP (he smiled). More than anything, I'm heavy for MotoGP. I don't think I'm not competitive anymore. At the Dakar I discovered that I know how to ride a motorbike. Then there I felt the 4kg camelback on my back and between me and Martin or Bautista there is a 30kg difference, let alone add another 25! When we had another rear tyre construction, between 2017 and 2019, often here at Le Mans, Assen or Mugello, I set the track record in FP3, because my extra weight was an advantage in those conditions, because I was able to heat the rubber and it held. At the same time, Bautista and Pedrosa couldn't do it, so I think there's a technical explanation for all of this. But I also think we've gone back to an era where being light makes a difference and it's a problem for me as I'm extra large".
Is this a problem you also have in Superbike?
"Also in Superbike I suffer when I have to pull off the last second with a new tyre, because I open the gas but the tyre doesn't support me. We are working but the problem has always been the same since the first day of testing and this is a problem for the races because I can't start from the front. At the beginning I suffer a lot of overtaking, then I manage to recover and this pisses me off because in the last 5 laps I get close to the podium positions, but I'm 5" behind. I see how it goes, but if I lose enthusiasm I don't want to continue to suffer. I do what I can with serenity. The fact that there is not physically that much space for me on the bikes anymore is something I faced several years ago. I'd like to go back to the Dakar to do it better, because maybe I have more room to improve there."