Aprilia has done everything to put Maverick Vinales in the best possible condition. It did it because it was aware of the enormous potential of the Spanish rider and after working with him on the bike to try to bring its characteristics closer to those of the rider, the next step was to create a working group around Maverick who made him feel completely at ease.
One of the key men in his career is Manuel Cazeaux, the crew chief who accompanied him in his first steps in MotoGP with Suzuki and with whom Maverick had built a perfect understanding. When news spread of Suzuki's retirement, the Top Gun immediately asked to have Cazeaux at his side again and the Veneto manufacturer decided to oblige him. It was the right decision, because in the first three rounds of this season Vinales has shown that he has a winning Aprilia in his hand and probably only a generous dose of bad luck has denied him even better results, which however will come soon.
We caught up with Cazeaux in Austin, talking to him about the change in Vinales in recent years and about the differences between Suzuki and Aprilia, and together with Manu we also analyzed how much MotoGP has changed since 2007, the first year of his involvement in this paddock, to date.
Are we able to get Vinales off the grid well?
"It's not easy for Maverick. We're trying to figure out which is the best possible configuration to allow him to power away well. You can see that now his understanding with the clutch isn't 100%. Only that this is one of the ingredients for making a good race. The other is speed, and that he's got."
What Vinales have you found?
"I was curious to understand what sort of Vinales I would find again. I found a mature rider, very motivated and who has learned from past mistakes. The good thing is that he has the same speed, he is really very fast and he always gives 100%. I think he will be one of the protagonists of this championship. Up until now, some of the things we can't control have turned against us. In qualifying in Austin before turn 15 he was doing a front row lap, unfortunately he caught a yellow flag, and he lost that lap. Often for one reason or another he fails to show his full potential. The only race where things went normally for him was in Portimao on Sunday, because then in all the others he has been involved in contacts with other riders. In any case, I really found a mature and fast Maverick with a great desire to do well".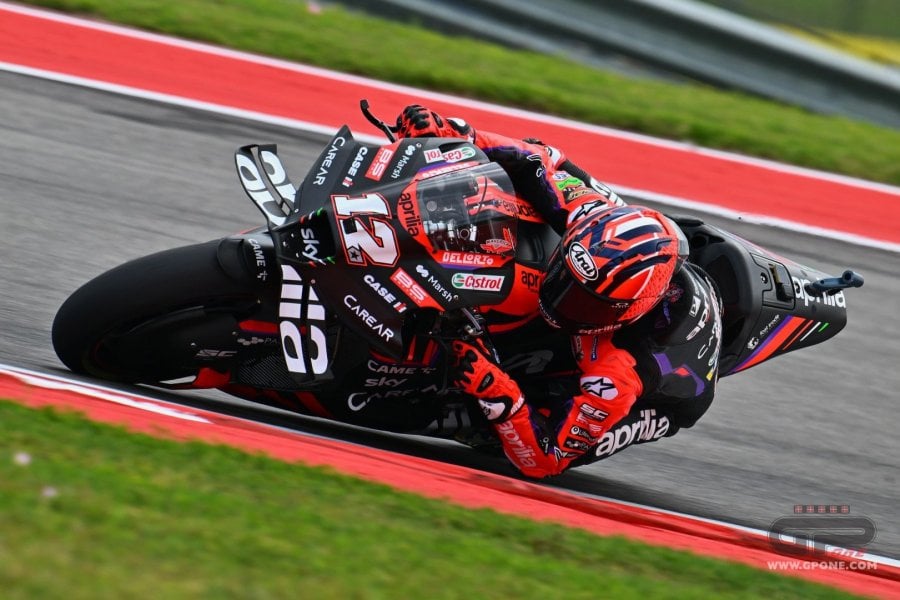 And instead, how was the transition from Suzuki to Aprilia for you?
"I was just as curious to discover Aprilia from the inside. Because the idea that one can get from the outside is often wrong. Maybe you think the bike is faster in one area rather than another, instead you discover that it's all different. I wanted to understand it, and I found a company that knows how to go racing. This was a good confirmation, I never thought differently".
There is a lot of know-how in racing at Noale.
"There are people with a lot of experience, who know how to make racing bikes. There is a beautiful structure dedicated to the construction of these bikes. Compared to my recent experience, the working method is a bit different. I wouldn't define it better or worse, there's a lot of attention paid to certain areas of the bike that aren't treated like that elsewhere. Things work, that's the important thing".
You have been in this paddock for many years. In your opinion, is it true that now the bike counts more than the rider, a bit like in F1?
"This is an interesting question. I don't know the situation in F1 very well, but if you talk to colleagues who have moved to the other paddock or who have come here from there, you feel that the driver there makes less of a difference than what he does today in MotoGP. But according to my experience in recent years, I have to say that the bike has become increasingly important, today it is undoubtedly higher".
Translated into numbers?
"If I have to give a number, before the rider made up 80%, today I'd say he makes up 60%. The 40% that the bike makes up has become much more important, and it's been like this since 2010, 2011 more or less".
There will also have been changes in your work since that time.
"The other thing that has changed a lot over the years is the work of the team. I always say this, when I started in 2007 to choose tire pressures you decided them with a pressure gauge, you marked them on a sheet of paper and decided by eye the pressure to start in the race. Like you do when you go for a track day. Today you have a lot of sensors for the front and rear tyres, you need a lot of analysis from the engineers to be at peak efficiency. This example I gave you with the tires, you can extend it to the rest of the bike. The work has become much more complicated, we spend more hours on the track and perhaps this is also the reason why a good bike and a good team have more importance than in the past. But for me the rider is still the most important thing."
Define Aprilia in a few words.
"Aprilia is a great company that knows how to approach racing".