Hervè Poncharal is one of the bulwarks of the MotoGP paddock, a character who has gone through the various periods with his Tech3 team, from the golden era of two-strokes to MotoGP, up to the present day which for the Frenchman is GasGas. We interviewed him at Austin, in the GP in which Jonas Folger will take to the track for GasGas, called in to replace the injured Pol Espargarò.
We talked to Poncharal about many topics, about how much the MotoGP paddock has changed and about the recent events involving Marc Marquez and the controversies surrounding the decision of the Court of Appeal. As always, the Frenchman offered us an interesting point of view, very personal and full of nuances, going so far as to remember the times when there were riders like Barry Sheene and things were apparently more fascinating. Hervè remains a romantic, but he admits that today things are much better for everyone.
We are at Austin and Folger is back racing for you today. Strange coincidence, don't you think?
"The situation for COTA is very clear, we have to replace Pol Espargaró as per the regulations and I think that with Jonas Folger we have found an excellent solution. I know him very well, but now he is a completely different guy. When he raced for me, he fought for podiums and maybe victories, while today he has a test rider mentality. Here the goal with him is not to do whatever, he just needs to gain experience on the bike and that this also allows him to improve in providing feedback when doing the test with the RC16. We are happy to have him here, it's been six years, but I have many good memories with him".
When do you think we'll see Pol back again in the races?
"Pol won't be back for Jerez, absolutely not. It seems that Jonas will probably race at least here and at Jerez, and I think also at Le Mans. It's clear that until Pol returns, Jonas will be on the bike. There are many riders out, like Marc Márquez and Enea Bastianini. It's tough for us because Pol is our captain, while Augusto is the rookie. Yesterday I told him that he would be the captain here!"
With Augusto it seems that you have found yourself an excellent rider.
"I don't want to say anything excessive, but Augusto is really an intelligent young guy, very well educated, he listens to you a lot. He has a lot of respect for the work of the team, and he understands that in MotoGP to stay at the top you must become one with the team. I think he has understood it very well. Moving from Moto2 to MotoGP isn't easy, but he's growing step by step. In Portimao, even if he finished far away, at the end of the race he was setting excellent lap times. Then he went really fast in the wet, he showed us that he is able to improve lap after lap. For me, he has excellent potential for the future in MotoGP. Maybe he doesn't have an explosive personality, he doesn't create controversy. But he's a great guy and I'm happy to have a rider like him on the team".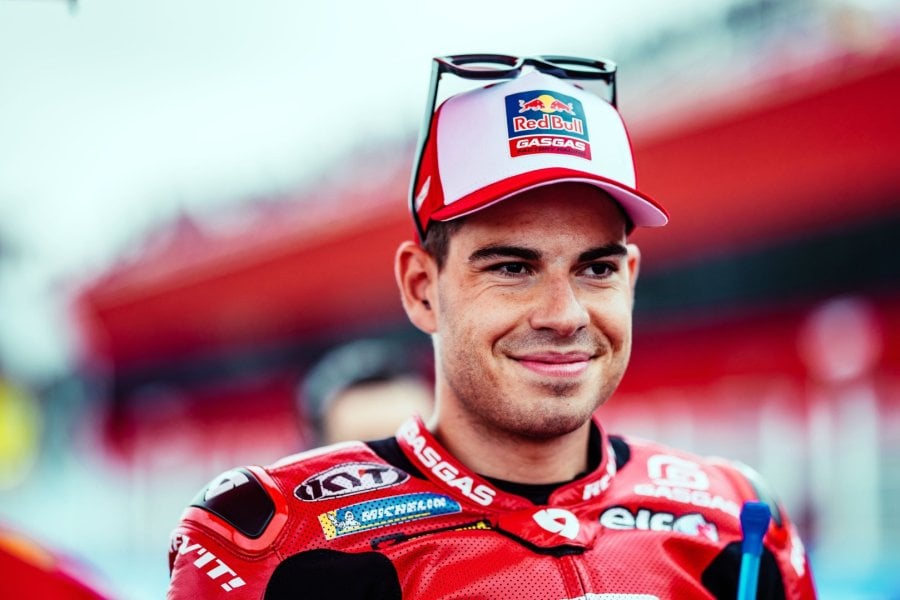 It seems increasingly difficult for manufacturers to find riders ready to move up to MotoGP bikes.
"Today's MotoGP bikes are complicated, very difficult to take to the limit. It's almost impossible to find riders capable of doing that and that's also why the manufacturers have very fast testers today. It's a good thing that each manufacturer is well organised, just look at what happened with Honda and Marquez. Bradl jumped on a plane and he's here. But it's certainly a problem, because if Jonas were to get hurt on the track, then we'd be really in trouble. We can always try to improve the safety, but the reality is that there is a limit".
Do you think the situation depends on the new format?
"You know, there are numbers that would surprise you. When we thought about cancelling the warm-up for Moto2 and Moto3, we saw some numbers and you can't imagine how many riders had to miss races in recent years due to crashes during the warm-up. The races on the bike are obviously dangerous. Today everyone is talking about the new format, but Pol Espargaró got hurt in FP2. You can tell me that today FP2 is different, but last year it happened in FP3 that the riders crashed trying to improve. Marc crashed in the main race, these are mistakes that can always happen".
So, you like the current weekend in MotoGP?
"I like the new format, I talked about it with Pol and Augusto, and they like it a lot too, even if unfortunately, Pol wasn't able to race. The problem in my opinion is not the format, but perhaps the riders' approach. Pecco for example made a mistake in the race in Argentina and not in the Sprint Race. Then there are riders who I would define as not so young, who had some difficulty settling in with the Sprint Race, while other young guys, such as Bezzecchi, were immediately very good. The younger generation will be able to handle them, they like to race all the time. Nobody likes to do free practice, tests. Everyone wants to see the races. Before we had FP4 which was completely pointless, I didn't like it".
And what about the controversy surrounding the Marquez case?
"A few years ago, Race Direction was managed by Dorna and IRTA and every time there was a problem on the track, the press wrote that the Spaniards were favourites and stuff like that. Carmelo Ezpeleta decided to change everything, entrusting the FIM with the management of the penalties. Justice must be independent, and this is what Carmelo wanted. Now it is difficult to understand who a good judge or a bad judge is. I don't think I know how to judge a judge. Sometimes it is difficult to understand certain penalties, there doesn't seem to be much rationality. But from the outside it's complicated to understand certain decisions. There are so many aspects to consider and it's not easy to do so. I don't want to get into any controversy, I don't want to be someone who judges the judges. But I think that getting to know their work better, perhaps everyone would change their opinion on many things".
But you didn't answer about Marc!
"The problem with Marc was that they assumed he would be present in Argentina. Instead, he broke his hand and decided to have an operation. If he had left for Argentina, he would have served his penalty, and no one would have argued about it. But it didn't go like that. Now the problem is that we need to learn from mistakes of this type. I honestly don't know if the regulation is wrong, or if whoever wrote the penalty was wrong in interpreting it. I don't boast of knowing the regulations so well as to have the truth. I think whoever made the decision knows it better than me."
Rossomondo has arrived in MotoGP, from the NBA. What do you think about it?
"I've met Rossomondo, but I still haven't spoken well to him. Last year, we as IRTA asked for a more international view of MotoGP marketing. If we look at Drive to Survive for F1 and then MotoGP Unlimited, for example, it's like day and night. This does not mean that we must copy them, but they know very well how to do Marketing, I think better than us. So, it is good to have an English-speaking character, who knows this modern world well, has experience and he can bring a lot of knowledge from a sport like the NBA. A vision was needed, and I hope that Rossomondo brings it. In the USA they know how to do certain things, here in F1 a few years ago there was no one in the paddock, while today both here and in Miami it's fully booked for F1. If MotoGP can take a similar step forward, it would be perfect. I also like it because this way they'll stop saying that Dorna only takes Spanish people."
Do you think it's good to have MotoGP with so many riders capable of winning?
"Now we have an excellent show, in Argentina there were three independent riders on the podium. The level of competition is very high, Ducati is certainly ahead, but the others are all close. I remember those periods in which there were only two riders, one riding a Honda and the other riding a Yamaha. Now everyone can win, even private teams. This is fantastic, the possibilities are more open. Today there are 37 points up for grabs every weekend. Everything can change quickly."
What do you think of those romantics who miss the old days?
"I was here when this sport was less professional. There were few riders who earned anything, safety was a euphemism, we had shitty bikes around. We worked in the dirt with tents. If it rained, we had to shovel the mud. I liked that romantic world, I share some things from the point of view of Paolo Scalera, who was with me in those years. It was a more rock and roll, more heroic world. But if you sit down and think about today's situation, about what is better and what's worse…of course we didn't give a damn at the time, we were free, it was wilder. Barry Sheene was a rock star; he was great fun. But if you really put everything on a scale, you realize that today we are much better off than at the time".