Lin Jarvis is experiencing a very challenging period in his management of Yamaha in MotoGP. With the contract signed last year, he secured the services of Fabio Quartararo at least until the end of 2024, but in the other half of the Iwata manufacturer's garage, there is a lot less certainty. Razgatlioglu's test in Jerez served to put the Turkish talent to the test with a long and accurate work programme, but it was also useful for Toprak himself to understand how complex MotoGP is today.
We interviewed Jarvis in the Austin paddock, getting him to tell us how the test went and above all what it meant for Yamaha. An opportunity to also talk about many other topics, about how much a further change in the mentality of the Japanese is needed to return to the top and about the news in Dorna, with the arrival of Dan Rossomondo from the NBA and the desire for this sport to find a new way to communicate.
The hot topic of the weekend is of course Toprak's test. Can you tell us how it went and especially what it means?
"We tried to do a test with Toprak in 2022, but the weather wasn't very good, and he didn't do a full day of testing. This year was a second opportunity to do something with him and luckily the weather was very different. Then the test was also something different from that of Aragon, because that was a gift, a recognition for the world championship title he won in SBK with Yamaha. This year, however, we wanted to do a complete test with him, to understand how he could go on a MotoGP bike. He needed it too, because Toprak has the idea of going to MotoGP in the future".
Did Toprak use the 2023 or 2022 bikes?
"We did two days with the 2023 bikes, we were also on the track with Crutchlow, then there were Bradl, Savadori and Pedrosa. It was a complete test, with about 50 laps a day for Toprak. I have to say that the first day it was a bit strange for him, because he had to find his position on the saddle, he's very tall. He's about 185 cm, a bit like Valentino, and the bike isn't built for these measurements. He tried many solutions to stay more comfortable in the saddle, then on the second day it went much better, because with a day of experience on his shoulders, he immediately felt good".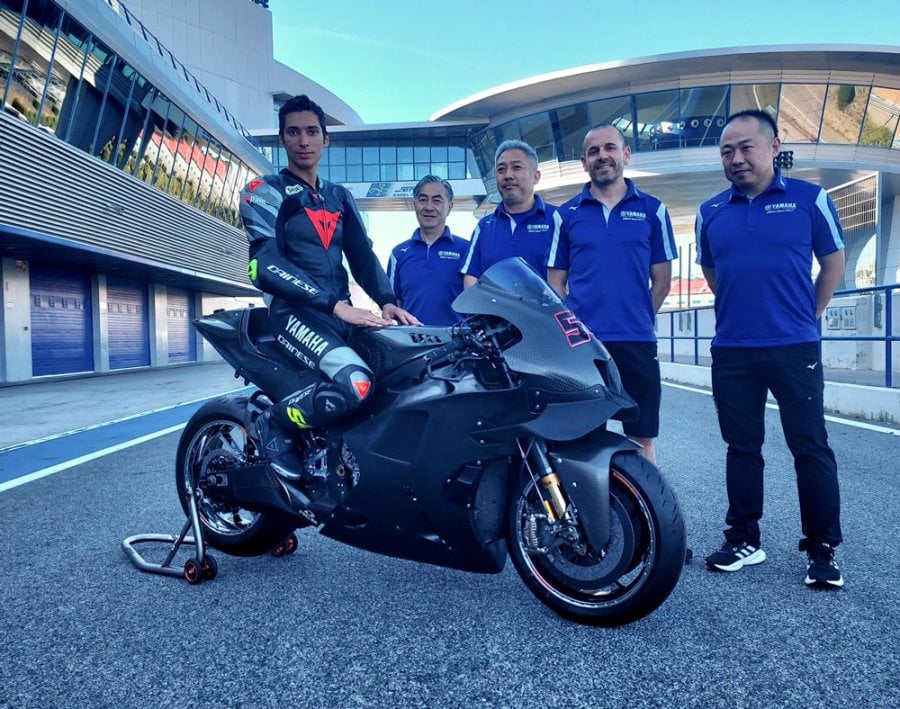 In the end how did he go?
"It's not easy. Going from the R1 to the M1 isn't easy at all. The stiffness changes, the tyres change, everything's more complicated. You need a different style for the M1, but I think he liked it a lot, but he admitted it wasn't easy. We didn't do a real time attack, we never looked for the fastest lap. I was there with Maio Meregalli, we had dinner with Toprak, spent time together. It was a real experience, a nice moment to experience. In my opinion, now it's too early to talk about Toprak's future, because I think he needs to think about it, understand if he really wants to move to MotoGP. There's no hurry for us now."
Would the first choice be a resurgent Morbidelli rather than taking a risk with Toprak?
"It would be nice for us if Morbidelli were to continue to be as fast as he was in Argentina, both for this year and to think about the future. If Franco returns consistently fast, we won't try to change riders for 2024. Then I repeat, Toprak still has to think carefully about the idea of moving to MotoGP and if he wants to do so, he will have to find a place. Today we only have two bikes on the grid, in my opinion it will be difficult to have a second Yamaha team in 2024, but you never know. We want to get back to having four bikes on the track as soon as possible, but we have to do it in the right way, with the right team, without having any complications whatsoever."
Today it seems that getting used to MotoGP is increasingly complicated for a rider. In the past it was easier for a rider to move up and go fast, today it seems impossible.
"I agree with you. I think the bikes in SBK are very different, the tyres are. It's much easier to go from MotoGP to SBK than do the opposite. This is why no manufacturer looks for riders in SBK to take them to MotoGP, usually they draw from Moto2, but then you also need time to get him used to it, to let him grow. As we only have two bikes, we must have two fast riders, so it would be better for us to go back to having a project with a satellite team. In the end, that's what we did with Franco and Fabio, they both came from Moto2, they passed through the Yamaha satellite team, which was Petronas, and then they were promoted to the factory team. This is the best way to make riders grow".
Today in MotoGP the European manufacturers are dictating the pace. Do you think the Japanese are adapting or are still far away in mentality from what it takes?
"I think that in recent years, I think in the last four years at least, the European manufacturers have been very aggressive in the development of bikes, they have shown that they have the mentality to change their bikes quickly. In my opinion, the Japanese are still conservative. Now I can say that we are behind, but the important thing for us will not only be to catch up with our rivals, but rather to find solutions that allow us to have an advantage. This is a problem. I think it was different for Suzuki. Then we must not forget that we won the world championship in 2021, Suzuki in 2020. We finished second in 2022, so we can't say we're not competitive, but we can say that today the benchmark is Ducati. Then there's Aprilia, which is close, then it's us and KTM, who are often very fast. But we, as Japanese manufacturers, must change the way we work to get back to the top and be very competitive again."
Dan Rossomondo has joined Dorna from the NBA. Do you think we are ready for a sort of MotoGP 2.0?
"We can do better than we have done in recent years. If we look at 5 years ago, Formula 1 was in a bit of difficulty, while we took big steps forward in that period, with new riders, with the quality of the races. But then Formula 1 changed a lot step by step, they did a different marketing, even with Netflix, and this made them change profoundly. We went ahead in the same way, we survived Covid by working very well in my opinion with Dorna, with FIM. We did a good job to survive difficult circumstances, but now we must find our way back to high-level marketing and communication. In my opinion, the Sprint Race can help, but it's not the solution. It can be a part, but not everything. I don't know Rossomondo, I haven't spoken to him yet. But I hope he can bring a different vision, coming from another top-level sport. I'm sure he will be able to help, but we must do everything together. We, Dorna, the riders, the teams. We need to work together to create an ever better future. I don't see Formula 1 as a competitor, we can coexist, they can learn from us and I think we too can learn a lot from them, but I think there are good opportunities for the future of MotoGP."