Diego Gubellini has been with Fabio Quartararo since the Frenchman's first steps in MotoGP. He saw him grow, scoring his first poles, podiums and victories, up to the conquest of the 2021 world championship. A period in which the Frenchman established himself as the absolute top rider in MotoGP. Today, no one questions Fabio's talent, but it's clear that the Frenchman is no longer able to be the steamroller that he had shown he could be above all because of the Yamaha that currently he has at his disposal.
We interviewed Gubellini in Austin, picking up his sensations on Quartararo's real potential and an interesting point of view on how much MotoGP has changed in recent years, perhaps now too closely resembling Formula 1, a category in which the vehicle is far more important than the driver.
Two not easy races with Fabio at the beginning of this season.
"We had an up-and-down start to the season with Fabio, that's true, but if we look at the beginning of 2022, they went like this, so I'd say we're in line. It's true that Quartararo was always competitive in terms of race pace, maybe not so much to fight for the victories, but certainly enough to achieve other results. They are only two races, so they don't make statistics, but if we look in detail, without always talking about the fact that we are a bit lacking in the time attack, they were all different situations. In Portugal the tests penalized us, because those who have more power than us had time to adjust the bikes in order to get it all down. So I think our performance was penalized by the fact that we did the tests earlier. In Argentina however, I would say that perhaps the key moment was missed in FP2 and then in Q2, but I wouldn't speak of a lack of performance, but rather of a lack of peace of mind. Especially in Q2".
Can you explain yourself better?
"We did an excellent Q1 in a scenario in which Fabio isn't very fast, instead he did almost the same time there as Alex Marquez who goes very fast in the wet. In Q2, however, we did the same time, while the track was improving. Maybe one last flicker from Fabio was missing, which would have guaranteed us one or two rows better on the grid. Then, both in the Sprint Race and on Sunday, the pace was really good, I think we were second or third fastest on the track. But I don't believe that not starting up front in qualifying is linked to our bike, but rather to how modern MotoGP is. I say unfortunately, because I don't like this situation. We have reached a point where the bike makes the difference, the rider much less. Starting back there is not the margin of recovery that there was a few years ago and although one may have the best race pace, if he starts 15th the margins are very low. Then we should consider that two times out of four they took us out and we started last in the first lap. If Fabio had maintained his position at the end of the first lap, without contact with Nakagami, he would have been on the podium. He was faster than both Morbidelli and Alex Marquez."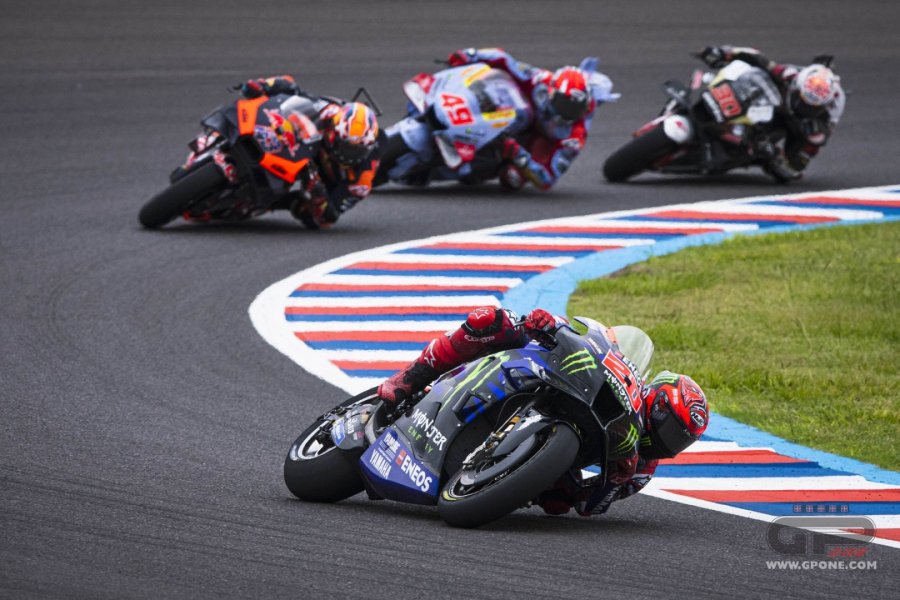 You were very harsh about the lack of sanction for Nakagami.
"I would say that they are applying the regulations somewhat randomly. They are not following the same guideline for everyone. I don't think it's complicated, if I don't do my job well, I am judged and for me the judges too if they don't do their job well, they must be judged. It's not that at the first mistake one should be kicked out, but if one sees a clear inconsistency in the way of doing things or in interpreting the regulation... The problems may be related to how the regulation is written and not how the judge applies it, so I don't blame one or the other. But there are some things that don't work in giving penalties, we should act quickly. If a rider with his behaviour penalizes another rider's race, he must be sanctioned. It happened with Marini who caused Enea to fall, who also fractured his shoulder, and was not penalized. This does not add up if we look at the guidelines and this episode does not concern us. Nakagami went in on Fabio and there was no contact only because Quartararo lifted the bike up and went back to the back of the group. In that case Nakagami would not have made the turn, but he wasn't penalised. We need to figure out how to sort this out."
Today in Yamaha there are only two bikes on the grid and Morbidelli had never been as fast as Fabio until Argentina. Did this penalize you in your opinion?
"It has been a disadvantage for Fabio. The others all have equivalent riders or at least close to each other, so they all can shape up with each other and get inspiration even just in one curve. I'll give you an example, maybe today Bagnaia is very fast in almost all the corners, but not in one. He can understand how to improve even in that single curve by looking at the data of others. Now, since Vinales left Yamaha, we haven't had this opportunity and for us it's an important disadvantage. Because we rely on Fabio's sensations, on what we can see on the previous year's data. But we lack a benchmark up front with which to try to improve and then there are only two Yamahas on the track. This makes life very difficult for Fabio."
In your opinion, is Fabio already to be considered out of contention for the title or was it just a false start?
"We're at the third race, the world championship is wide open. In fact, we haven't seen the real leader of this world championship yet. But in modern MotoGP, there's a brand that becomes the leader. A bit like in Formula 1. If you're in the best car, you have the chance to fight for the world championship. The driver makes less of a difference than a few years ago. This is why riders like Marc Marquez and Fabio are suffering more than normal in recent years. While in Ducati I see that everyone is going fast. In my opinion, Fabio has what it takes to fight for the world championship anyway, because he is undoubtedly among the two or three strongest riders in the world, and he can try to close the technical gap that we now have from the best. But every season is a story in itself, often there are single events that change everything. We must live it and simply try to do our best".