2023 marks the entry of the GasGas brand into MotoGP. The Spanish brand (which is part of the Pierer Mobility group) makes its debut in the premier class alongside its sister KTM and with the Tech3 team. The bike is an RC16 and is entrusted to two Spanish riders: on one side there is the veteran Pol Espargarò, on the other Augusto Fernandez, the only rookie in MotoGP this season.
The team was officially unveiled last night and you can watch the video of the launch above.
"I feel like I am coming back to my roots – commented Pol Espargarò - With Tech3 and the new brand we have a GASGAS 'mood': friendly, close to people and we're really hard workers, so I believe that if we fight and push together as a team we will be there. We will be right at the top. I think the potential is high on this bike. For sure we have a lot of work to do because the level in MotoGP right now is super-high but I think we can reach it. In Valencia for the first test I felt the DNA of the bike and when it matches your own DNA it makes you feel so good! The bike is almost ready to fight for something really great this year."
While Pol will have to show that he knows how to fight for the top positions, Augusto must learn the ropes after winning the Moto2 title last year.
"Well, I'm jumping into MotoGP with this confidence of being world champion and it's good but honestly I don't know what to expect in terms of positions – confessed Fernandez - I'm looking forward to being competitive soon and trying to be in the battle with my teammate. I think I am facing the most important year of my career but I know I need to be patient. I am discovering everything that it means to be a MotoGP rider, a factory rider. But it's good to see how many people you have behind you and not just your team; the whole factory that is waiting for you and your results. Portugal is coming soon and I'm really looking forward to it and it's a dream come true: my debut in MotoGP. I honestly can't wait."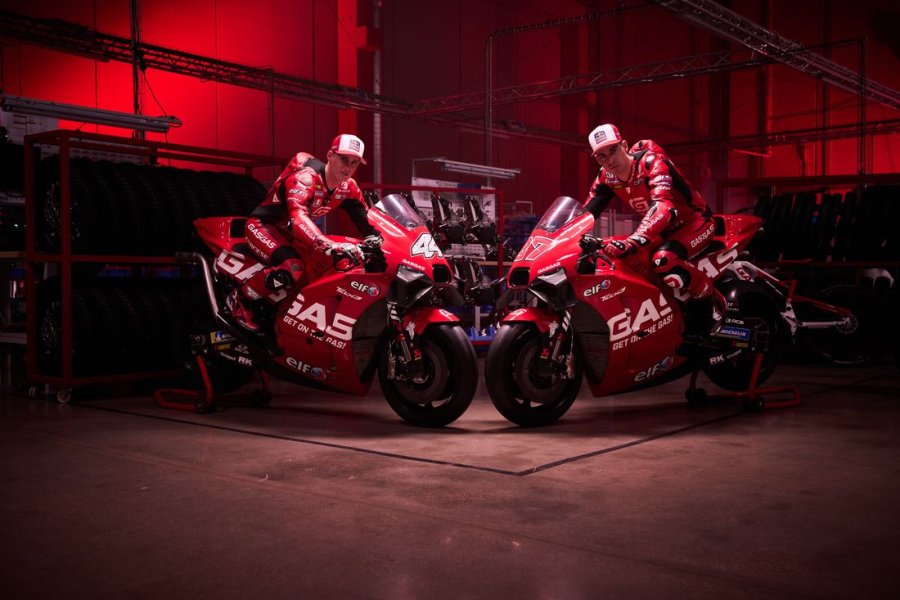 Pit Beirer, GASGAS Motorsports Director, commented: "When we first put that Moto3 GASGAS bike on the grid - with our fantastic partner in the Aspar Racing Team - nobody was even dreaming of a MotoGP team two years later but here we are with our new baby and our new brand. I feel we have a strong combination. You have Augusto, the young one who is world champion and is hungry, looking up to the big boys but then you have a guy like Pol coming back to the family who is a fighter and who motivates the whole team and who, of course, brings some really good MotoGP experience. I feel it is a super-strong team. It is a new direction for our friends Tech3, and in terms of the structure we combined the best of the best. We enjoy these kinds of partnerships because in the long-term they make you very successful. I feel it is an exciting time, and with these two riders and this new brand; I feel we are ready to go."
Hervé Poncharal, Team Principal:, added "I have been in MotoGP for quite a while and I've experienced quite a few seasons and every new season is always a very exciting moment. To do it with GASGAS means a lot for me because I have been following this brand since it started in Trial – I love the name – and I'm excited. We always believe that experience and youth is a good mix. I am pretty sure that Pol is happy to be back and having Augusto with us is something very exciting because it is always perfect to receive the rookie rider as a Moto2 world champion. I am very happy, very proud and we are looking forward to creating positive vibes. Red vibes!"