Danilo Petrucci's first weekend as an SBK World Championship rider ended with an eighth, an eleventh and a ninth place. A result that does not fully satisfy the Barni team man, who was just a whisker away from achieving the goal that he had set himself before starting the round in Australia.
"I wanted to be the best rookie in both races, and I succeeded in two of the three, today in Race 2 Aegerter screwed me. This cannot be the target; maybe it's OK for the first race. As an objective I had given myself three top 10 finishes, instead my face is still hurting because of all the slaps that I picked up this morning in the Superpole Race, because it was a bar fight more than a race and I was not used to it - said Petrux - I finished without the winglets because I lost them on the first lap because everyone started immediately as if they were attacking on the last lap and I was not used to that. The Superpole Race was bad for me, and I must try to understand more than anything else the different attitude of these riders and these tyres that have a high potential from the first lap. I was no longer used to going full-out in the Warm Up. "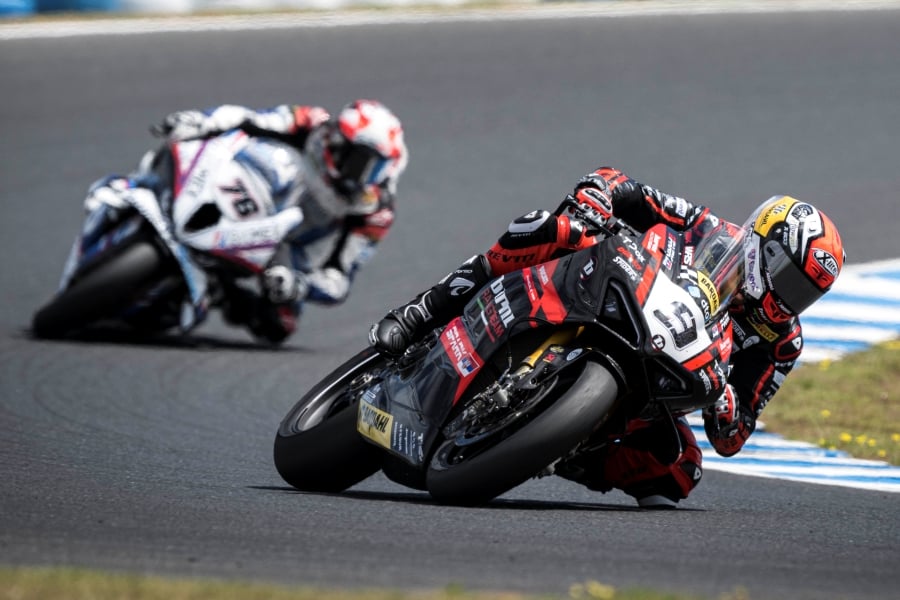 Sensations a little different from those experienced in the long Sunday race, in which the man from Terni thought about the possibility of fighting for fourth place, before having to give up to a drop in the tyre in the last laps of the race.
"I am satisfied. The team worked well and in race 2 I thought I could catch up with the group of the best, because they were making a bit of a mess of things when Toprak and Lowes crashed and I was behind them thinking that maybe they had finished their tyres, but then they regained those two-three tenths. I'm still lacking a bit of confidence with this compound in the front in the fast sections and I could not catch them - explained Danilo - there were two or three curves in which I picked up one or two tenths at each one and they got away from me, even if in the rest of the track I went like them. Then, in the last four laps, the tyre dropped a lot and I was unable to stay behind Aegerter, Lecuona and Rea. I thought I could get into the battle for fourth place, but in the last laps they lapped in 1'32" low and I was on 1'33". I have to be happy even if I would like to see myself further up, but these guys are really strong, and they hit hard".
It's quite a positive balance for Petrucci, who in Australia was able to start sizing up his opponents and to feel the pulse of the situation, beginning to understand what aspects to focus on in view of the next races.
"Alvaro really has the bike in his hands. He has such impressive confidence on the front. Unfortunately, that is the only thing that have not yet been able to calculate with computers. Confidence is a secret world that only comes from feeling and sensations, but I reckon I deserve a 6 or a 6.5. Perhaps, 7 for yesterday, because we started without ever having seen the rain tyres and wet bikes - the 32-year-old said - this year everyone expects so much from me, and me first, so I must do better. Mandalika will be very tough, especially because I don't even know where the first corner is. "