The 2023 SBK World Championship got underway under the sign of Alvaro Bautista, who pulled off a historic hat-trick at Phillip Island that makes the Spaniard the first rider to score five SBK hat-tricks, two of which on the same circuit. He is also the first to score eight wins on the Australian island, with his 61st championship podium. A result that immediately makes things clear how this year's championship might pan out, as it puts the Aruba team rider clearly on top of the standings, with a 28-point lead over Andrea Locatelli, first of his pursuers.
"We can say that it was the perfect weekend. They were three different races, but I felt good in all of them and was competitive in each one. I'm really happy," commented the reigning champion.
What is it that makes you so strong on this track?
"I wouldn't know. Maybe it's because I like fast corners and here it's all fast corners except for two. I don't think it's just on this track though, because this season I've been fast on all the winter testing tracks. I think I've taken a step forward compared to last year because I know the bike, the tyres and the benchmarks better, plus the new Panigale makes my riding out of corners a little easier. It's a bit of a combination of all these factors. We'll see at other tracks, but so far, I've been competitive at Jerez, Portimao and here and I can't wait to go to Indonesia to see how I feel, because there last year it's not that I didn't feel competitive, but I didn't feel really be able to fight for the win."
Did you expect three consecutive victories?
"Honestly no. Particularly, yesterday's victory in the rain, because nobody had any benchmarks. In Race 2 I knew I had a very consistent pace and in the last lap I had managed the tyre drop, and therefore I had a better chance of winning the long race. In the Superpole Race, on the other hand, I was expecting more of a battle than I had this morning. We were all on the softs and I saw that many could be fast, but testing is one thing and racing is another thing. It's not that I didn't expect to win three races, it's just that I didn't have any expectations. I went out on the track to give my best".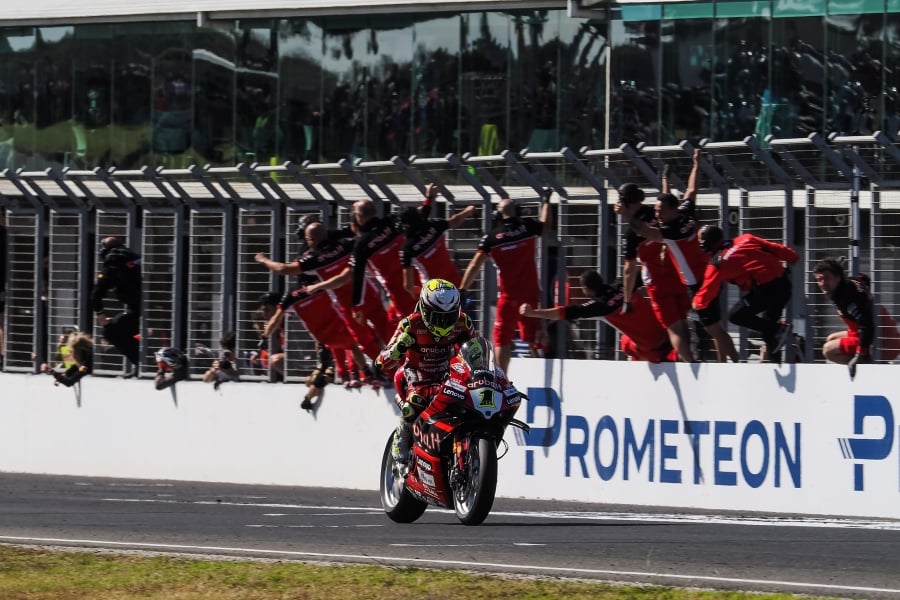 We are only at the first race of the season and you are already 31 points ahead of Rea and 39 over Toprak. It's quite a setback for them.
"I was lucky this weekend, because I was competitive and, like last season, the important thing is to try and give my all in every race and every weekend. Honestly, I think we were a little better than them and we got the maximum. Plus, it's not that they really made any mistakes, given that Toprak crashed because of another rider. Then Jonathan had a problem with another rider this morning and I don't know what happened to him in Race 2. We got the maximum, but I don't think this season it will just be between the three of us, because there are other riders like Locatelli and Rinaldi who will be in the fight for the podium and victory. This season will be different from the last one in which we were fighting for the top three positions, because if you have a bad day there are other riders who will be there. You have to be even more precise, concentrated and try to make fewer mistakes."
Last year you said that the centre of the corner is the Ducati's weak point. Were you able to improve on this aspect in the winter tests?
"Not really, but the good thing is that the character of the new engine allows me to carry a little less speed through corners, because it's easier to exit when I open the gas."
Is there any area of the bike that you would like to improve more?
"Definitely stability because the bike moves a lot, also due to the combination between me and my weight because I struggle to keep the bike down and I must move a lot on the saddle to make it change direction. It is difficult to solve this problem, but we have to find the best possible combination."
There is the possibility that Imola will be back on the calendar, what do you think?
"I raced there in 2019. Honestly, in my opinion the danger is a bit borderline because the wall is very close, so in many points there aren't any big run-off areas. As for the layout, you must adapt to it and you can go more or less fast, but in my opinion, it would be much better if they increased the safety, because I'd rather not have to race with the wall so close. But if we were to go, we'll have to cross our fingers that nothing happens."