The snow is falling heavily behind the windows, but Bagnaia just needs to look at his Ducati with the # 1 on his front fairing to get warmed up. After the whirlwind of emotions that accompanied him from Valencia onwards, Pecco now seems more aware of what he has done, as well as how difficult it will be to do it again. Apart from this, he seems like the usual guy, polite and available, a far cry in everyday life from how he appears on the track.
Pecco, has anything changed now that you are world champion?
"In terms of routine nothing, but the appreciation I get is different. I hear the fans closest to me and it's nice, I enjoyed it. You have to be happy with the popularity, but you don't have to focus too much on it. I want to continue being who I am. To return to the question, I don't feel changed, if anything more complete, with a different awareness, but it's still me".
Sometimes aren't the commitments too many?
"There are times I feel in difficulty, but then I think I'm a privileged person who does what he likes and everything follows as a consequence. Being close to the public is positive and I only see the best side of the coin, you have to respect the people who cheer for you".
How will you start this season?
"I mustn't make the mistake of thinking I'm already champion and relax. I have to keep the same approach and mentality as always, I think I have learned the lesson from last year's mistakes. The bike will also be close to last year's and I think we can start well. There will be a different format, but I am confident that if we work well, we will be able to stay ahead".
Out of all of them, what was the most important lesson?
"Not to crash (laughs). I already improved last year, but I lost a lot of points. You have to stay calm and never get nervous."
"I have complete faith in Dall'Igna: the GP23 will not be a revolution"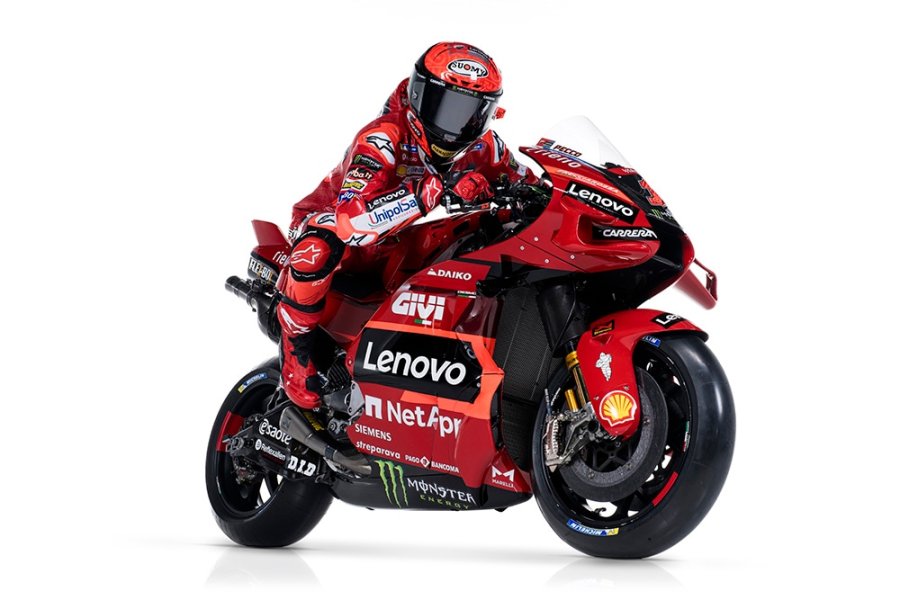 Did that misstep at the beginning of 2022 on the bike have consequences in your relations with Dall'Igna?
"No, my trust in Gigi is maximum, like that in the other engineers. It was a bit tough, because the 2021 Desmosedici was an incredible bike and when I started working with the new one I felt a bit lost. So, I asked to stop and go back to the old bike for a while, and it immediately went better. This year the GP23 won't be a revolution but an evolution, when I tested it in Valencia it was already better than the old one".
You will need it, this year everyone will want to beat you.
"It will be difficult to defend the # 1 but that's why I'm here, I don't feel satisfied yet. I want more: to keep working and improving every race and every year. I'll try and, if I do everything right, I know I'll be able to stay in front."
Any regrets about changing your number?
"The # 63 means a lot to me and will always be my number. I will have # 1 on the bike and board, but the # 63 will remain in the garage".
"The rivalry with Bastianini? Created from outside"
In the next one, however, there will be Bastianini's # 23.
"Everything was set up with Miller, while with Enea we'll be starting from scratch. The battles between us last year made a lot of noise, because we are two Italians and we always look for dualism, but it was created more from the outside, it's not like that. Of course, if Enea managed to beat me I would be frustrated, but it would happen with every other rider. Bastianini was incredible last year, he showed he's very competitive and knows how to fight for victory even when he's in trouble. We'll have to be smart to work well in the garage, then everyone will do their own race".
How would you describe Bastianini?
"We've known each other since the minibike days, for a lifetime. As he said last year… he is a bastard! (laughs). Seriously, Enea is a smart and fast guy, we both want the same thing, so it will be an intense battle but we will have to be smart and maintain mutual respect".
Who will be your most dangerous rivals this year?
"It seems to be a school roll call, because everyone can fight to win. I think Marquez will be at 100% and if Honda is competitive he will be in front, otherwise it will be more difficult for him. Now everything is difficult in MotoGP, the other opponents? Quartararo, Morbidelli, Enea, Oliveira will be competitive with the Aprilia, like Binder with the KTM. The goal is to defend what I did last year and I will put all my skills into it."
"The rider makes the difference: look at Marquez, Rossi and Stoner"
You were talking about how fundamental a competitive bike is now, what difference does it make?
"Big difference, but I think the rider in turn can make it on tyre management, under braking and in the flying lap. It is clear if we look at what happened in the past: Marc was the only one to win with the Honda, Casey did the same with the Ducati, while Valentino was ahead in every era. The rider can make the difference".
The big innovation this year will be the Sprint Race, did you train differently in the winter?
"My preparation has been similar, but every year I change something to reduce my weaknesses and I'm lucky to be able to work with Carlo Casabianca. I think the Sprint Race can make a big difference on the race weekend and we will have to be smart to manage it well, but until you do it you don't know what will happen. Consistency is always a feature of a champion, but I think speed is more important."
From a technical point of view, where do you need to improve?
"Definitely in the wet, that's where I struggled a lot last year, then from all points of view because you never stop understanding. The problem is that to do it you have to make mistakes (smiles). I need to grow, I had a very particular approach in MotoGP, I went from struggling to fighting for the title, it all happened very quickly. I'm a methodical person, so it takes me time to do my own thing".
How are you feeling?
"I feel great, like last year too, but then I had a complicated start. I know perfectly well that I have learned and will start from a better situation and that defending the title is very difficult, only Marquez and Valentino have succeeded in MotoGP. We will need to arm ourselves with a lot of determination, but I am very ambitious".
Will 2023 also be the year of marriage to Domizia?
"We have to take things slowly, I don't think we will manage to do it this year. During the break there will be Luca Marini's wedding, in September we are in the middle of the season and I don't want to get married in December with the cold. We take it calmly, in the meantime we are not running away".