2022 was a year that surpassed the Gresini team's wildest expectations. Also those of Nadia Padovani, who would never have imagined that she would take the team of her late husband Fausto to third place in the championship, in its first season as an independent team in the Top Class. The first with Ducati, as well as the first year under her leadership. And yet, the Faenza team succeeded in the unimaginable and it is precisely from the results achieved with Enea Bastianini in 2022 that they want to start again in the next championship. A season that will see the confirmed Fabio Di Giannantonio and the new addition Alex Marquez line up at the starting line, with the aim of reconfirming its position among the MotoGP greats.
"We are very excited about this new adventure. 2022 was crazy from all points of view, but the idea is to continue to grow and amaze. We are a young team with great ambitions: Fabio will be able to demonstrate all of his potential in his second year and Alex has a great desire to take back the stage. We will do everything to help both succeed in their goals," confirmed the team owner during this morning's presentation.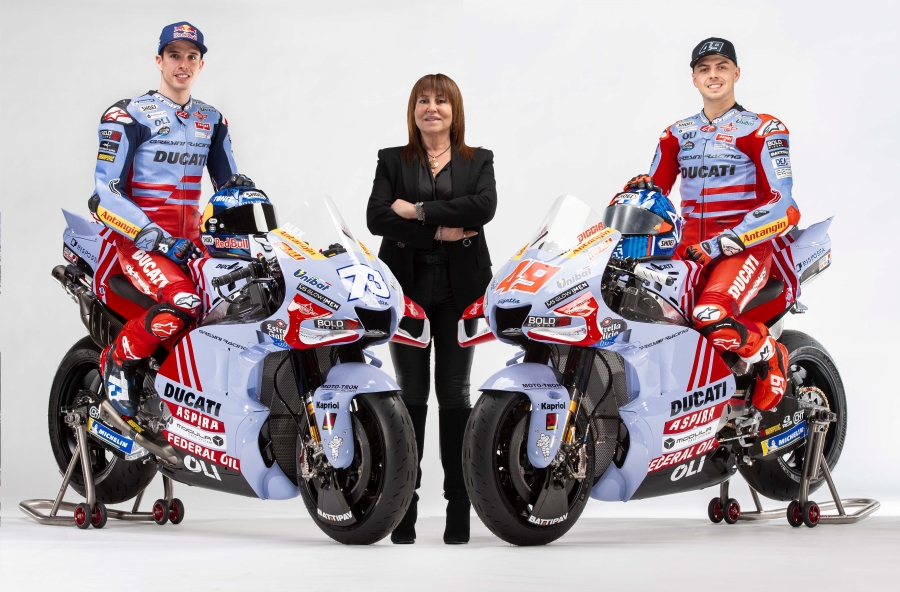 Nadia, do you think the team can continue in the wake of 2022?
"We do our best to keep doing well, but races are unpredictable. There are many very strong riders on the track, but we will absolutely try to do our best with the riders we have, who are very capable professionals. In addition, we have the Ducati, which is very competitive and is the bike that won the World Championship".
Would you have believed it if someone told you that you would have started last year with a victory, that you would have been leading the World Championship, and then finished third at the end of the year?
"No, absolutely no. We thought we were doing well, because Enea had just come from a rookie year in MotoGP. We thought we could score podiums, but not so many victories and finish third in the World Championship with Enea. It was great".
Is there a moment you remember most fondly?
"The first MotoGP race in Qatar. It was incredible."
For this year, on the one hand there is the continuity represented by Di Giannantonio and on the other the new arrival Alex Marquez. Do you feel some pressure in this sense?
"We will try to bring out the talent of this guy, who has won a championship in Moto3, one in Moto2, and can also do well in MotoGP".
What are the goals for this 2023?
"Always be at least in the top ten. Eight. Five (laughs). It's too early to talk about the title, but we will see as we go along".