New livery, new spirit. That's what we perceived from the Yamaha's 2023 presentation, as they unveiled the M1 in Jakarta, the bike that will, once again, be entrustede to Fabio Quartararo and Franco Morbidelli. Their defeat in 2022 is still an open wound, so the Japanese constructor decided to make things extremely clear: Yamaha is serious and is ready to battle it out with its opponents to the fullest, aiming to conquer the World Championship.
"Our goal for this year will obviously be to regain the title, and we're working very hard to help Fabio and Frankie fight against tough rivals," Takahiro Sumi – Managing Director of  the company's Motorsport Development Division – said. "The most important thing in racing, in order to reach the highest level, is harmony between the riders and the bike. So we're preparing for the tests in February, with the aim of building the best possible package, thanks to the extensive communication we have with our riders."
Jarvis: "It'll be a difficult year, but Yamaha is ready to battle it out"
Clear and precise intentions transpire from every detail chosen by Yamaha, starting from the location of the presentation, all the way to the new livery that, in 2023, will envelop its motorcycles. 
"It's a pleasure to be here in Indonesia, which is the top market for Yamaha. We really like coming here, and we'll be back a second time for the GP. It's amazing to see how many people watch the MotoGP in this country," Lin Jarvis said. "Our new colors originate from our strong partnership with Monster Energy. We have a multiannual agreement with them that we just renewed in January of this year, and it's a very important aspect. I always thought the livery of our previous bike was the most beautiful and sharpest in the racing world, but now you'll see  that it's become a bit younger and more aggressive, with a camouflage touch that is not accidental. The livery was designed by one of the most important designers in our world, Aldo Drudi, with the intention of being aggressive. We'll go to battle, we'll go to war, we'll challenge opponents with a renewed creation and a design similar to what you'll see later in Motocross and Supercross. It's a new look and a new perception for Yamaha."
The constructor in Iwata accepts the challenge proposed for 2023 and enthusiastically rebuts: "This season will be the longest and toughest ever in the MotoGP. We'll have twenty-one races, ten outside Europe and eleven in Europe, starting on March 26th and ending in November. But we'll also have a new format this year with the addition of the sprint race on Saturday. The race will be at the half distance, with points divided in half, but this means that there will be forty-two races this year for the riders and teams," the Managing Director added. "It'll be difficult, especially for the riders, but there will be more races to see for the fans. It'll be hard for everyone but, if we can offer more entertainment for the fans, that's the most important thing. We're ready, and we'll just have to see."
Meregalli: "You need the right mentality to win a MotoGP"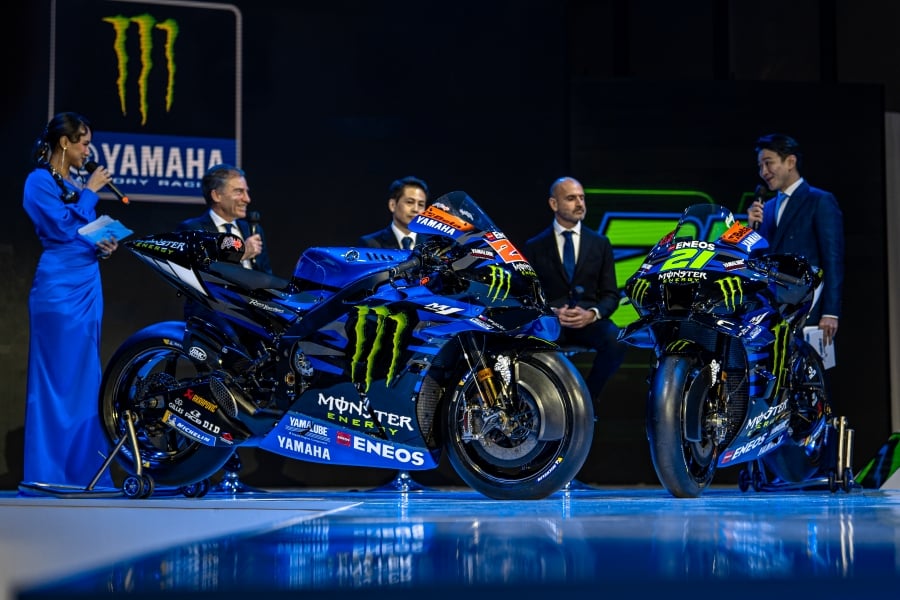 Yamaha doesn't want to leave anything to chance in a long and complex year like the one that's about to begin.
"If you want to win in the MotoGP, you have to have the right mentality. Be strong, positive, with an open mind, and ready for anything, because everything can happen very quickly in the MotoGP, and you have to be ready to react. With this long break, we were able to rest and regenerate ourselves, and we're ready to start this new season," Team Director Massimo Meregalli added.
"From a technical perspective, we'll have to be fast and, from a strategic perspective, we'll have to avoid mistakes and be ready to face the weekends in the best way possible, without taking anything for granted, especially this year with forty-two races. Being very consistent will be the key to winning the title," he continued, aware of the challenge that awaits the team. "We'll have to get used to the new format, which will be more challenging for the team and the riders. On Saturday, after the sprint race, we'll immediately have to analyze the data to understand what we can improve in view of the next race, and it'll definitely be a challenge. This new format will certainly be nicer to watch but also more stressful."