The current history of the in-line, four-cylinder Yamaha M1, which lost the world championship against the Ducati V4 last year is somewhat reminiscent of the Aprilia RS Cube. You might remember the RS3 three-cylinder, the only one on the MotoGP starting line-up, constructed by the Noale-based company from 2002 to 2004.
That prototype, with a Cosworth engine, was built with decidedly advanced solutions for its time, but it never became a winning bike.
After all, in the history of racing competitions, if the regulations don't change, the bikes on the track all end up looking alike. In fact, the best technical choices that emerge are adopted by the entire competition, precisely because they offer advantages.
However, every now and then, some engineer decides to go crazy, rightly or wrongly convinced that there's no point in copying and that you need to innovate to win.
One of these is Gigi Dall'Igna, who set the standard with his aerodynamic innovations. But not always.
So we could say that only some decisions that go against the tide are successful, even if the basic idea of doing something different sooner or later often crosses the mind of every engineer.
That's why Aprilia opted for the three-cylinder in those years, when Gigi was already in the racing department. Just as he had tried to compete with a 2-stroke, twin-cylinder engine that didn't have full capacity at the time of Jan Witteveen, he was convinced that better cornering speed would allow it to fight against the four-cylinder 500s.
Unfortunately, that didn't happen. The twin-cylinder, with a displacement of up to 420 cc, was indeed fast when cornering, but only when it was on its own. When it was battling with the four cylinders, it was unable to to take advantage of its speed and was soundly beaten under acceleration and on the straight.
Kind of like what happens today to the Yamaha M1, the only in-line, four-cylinder left after Suzuki exited the scene.
So, exactly one month from today, on February 10th in Sepang, we'll be seeing only two Yamahas against the entire opposing line-up. Ducati, Aprilia, KTM, Honda: all V4, and all practically with a 90° V that experience (even Aprilia caught up) has proven to be the best solution for reaching the difficult compromise among power, torque, elasticity and, last but not least, chassis position.
But what are the macro differences between an in-line four-cylinder and a V4?
The in-line four-cylinder is a more compact, but larger engine. It seems like the greater length of the crankshaft has certain benefits in driveability but, on the other hand, in order to prevent flex problems, it usually revs less and  it's wider.  This allows for excluding an external flywheel,  so as not to increase width.
We all know that engines in the MotoGP areb't only restricted, but also frozen and stamped. This prevents changes being made in  development. However, some external parts can be modified, and this allows the V4s to take advantage of the possibility of changing the flywheel with one of a different weight, which affects the throttle-wheel "connection" and also the driveability of the engine.
However, as soon as a configuration is chosen, riders prefer to keep that one rather than modify it, but being able to do so is still an advantage.
Also, an in-line four-cylinder,  isince it's shorter, allows for a longer swingarm. This sometimes helps improve mechanical traction but, today, between lowering devices and aerodynamics, this problem is noticed less and left to these devices.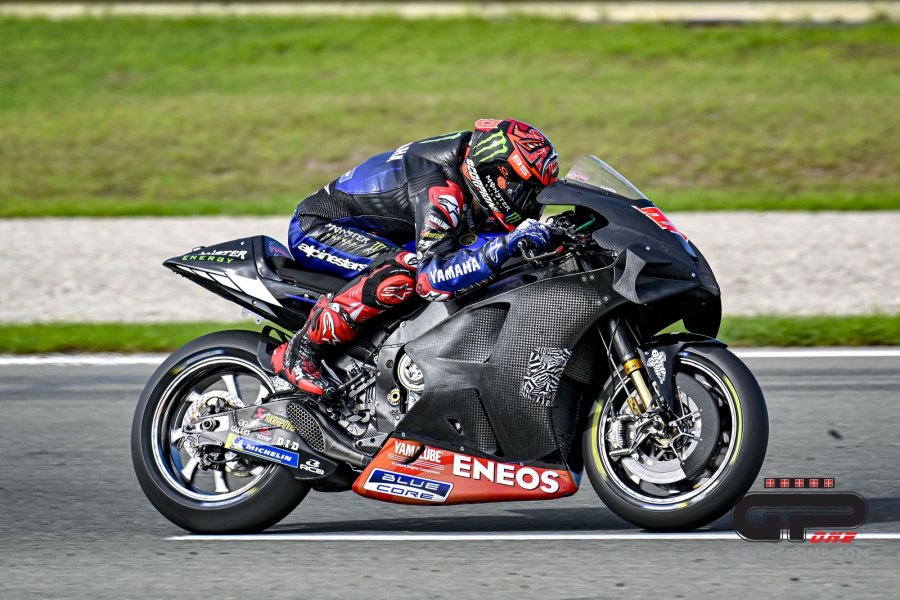 So, here we are, with Fabio Quartararo who's capable of braking very late, who manages to decelerate the bike when it is still straight and all in a limited amount of time. The ideal factors for him are 'U' trajectories, the opposite of the V4s which prefer to break lines with 'V' trajectories, point and shoot, getting the bike up as soon as possible to take advantage of the larger contact area of the tyre to unleash the accelerating horsepower.
In this situation Fabio finds himself fighting in a condition of inferiority, because if he is behind he is unable to take advantage of the higher speed, he suffers in acceleration and at every lap he is forced to try to steal meters under braking. A riding technique that is not very profitable in tussles, as well as certainly more tiring.
What would he need to fight things out on equal terms? Of course, more horsepower. For this reason, Yamaha has decided to make use of the consultancy of Luca Marmorini, from 2009 to 2014 engine and electronics director of Ferrari.
We also forgot to say that having more horsepower not only allows for greater speed on the straight and greater acceleration (if traction is found), but also allows you to make the most of the current aerodynamic loads allowed by the new MotoGP trend: aerodynamic appendages.
In fact, it is evident that the downforce obtained with the wings "eats up" power. If you have enough, or more, you can play with important wing surfaces, otherwise you have to find a compromise.
Yamaha realized this after the first tests when Quartararo, having modified the aerodynamics, once again expressed doubts about the capabilities of the renewed M1 engine. And just think that the arrival of Luca Marmorini was the main reason why Yamaha convinced Fabio to sign a two-year contract with the Iwata manufacturer. To retain the former world champion, Lin Jarvis, managing director of Yamaha Motor Racing, had to convince the Japanese to take an epochal step: to hire a European technician as an external consultant.
With his Marmotors engineering concern Marmorini has also collaborated with Aprilia Racing, thanks to Massimo Rivola who had appreciated him in Maranello. However, nobody is able to work miracles, because every innovation - and Yamaha is testing an entirely new aerodynamic package - involves the search for a new dynamic balance.
Moreover, aerodynamics is totally changing the way modern MotoGP bikes are ridden. The greater load on the front has already put the tyres in crisis so much as to force Michelin to take measures, but now after the first years of doubt none of the riders would do without the wings which give greater stability to the bike in all the more delicate phases: braking and acceleration. Allowing them, however, to make use of the electronic controls less and as a result put more horsepower down on the ground.
We don't think we're exaggerating if we say that the next step in innovation, for the entire MotoGP line-up, will be new fairings with ground effect. Fairings capable of generating load on both wheels and therefore mechanical grip, without wasting power due to the high drag of the wings.
Dall'Igna has been working on his 'ears' in the lower and forward part of the fairing for a couple of years. Honda has replied with aerodynamics inspired by these, but different, while Aprilia, now copied by many, is experimenting with the entire lower part of the fairing with a "trunk" line, certainly not beautiful but perhaps efficient.
Until today Yamaha has been the most traditional, in terms of aerodynamics. We think that in Iwata, however, they are waking up.
In Sepang it is going to be good…