2022 was a season to remember for Ducati, which put its seal on both MotoGP and Superbike, becoming the third manufacturer in history to conquer this prestigious double. A result that will be celebrated on 15 December with an evening event in the heart of Bologna, in which all the men who symbolize this great achievement will take turns on stage, accompanied by artists of the calibre of Giuseppe Giacobazzi and J-Ax.
"For a man from Bologna like me it is particularly exciting to manage such an important company and to achieve a result that can be viewed as one of the greatest feats ever achieved and to be able to celebrate it in Piazza Maggiore" commented Ducati CEO Claudio Domenicali during the presentation conference of the event, which was held at Palazzo d'Accursio.
A party in grand style, organized with the support of the Mayor of Bologna, Matteo Lepore, when victory in the MotoGP was not yet such a sure thing: "While in 2007 we won with four races to spare, and it was highly unlikely that it would not happen, this year it was a run-up right until the end, so we had to start thinking about how we would celebrate if it happened - Domenicali said - We had already celebrated the champions in the square in 2007 and we also evaluated other alternatives, but it seems to us that this was the best alternative because it puts the city and the people at the centre".
The main objective of Ducati, which focuses entirely on the involvement of its public and the Motor Valley area.
"We like this idea of celebrating our Champions all together. We are certainly extremely proud of what we have done, but I meet many people on the street who share this pride, so it is certainly the result of a company but also of a system, because our technicians all come from local universities and such an important result is an indication of the quality of its education system - underlined the 57-year-old - Certainly the company has invested a lot in the past in racing, which for Ducati is an essential part of the brand itself. We believe that our mission, the reason why the company exists, is to make people have fun and give them emotions, both with the product and with the races, which are both a tool to connect with our fans and to develop technology. A lot of what we do in the races is then passed into the production product".
Domenicali: "We aim to repeat the result, but it won't be easy"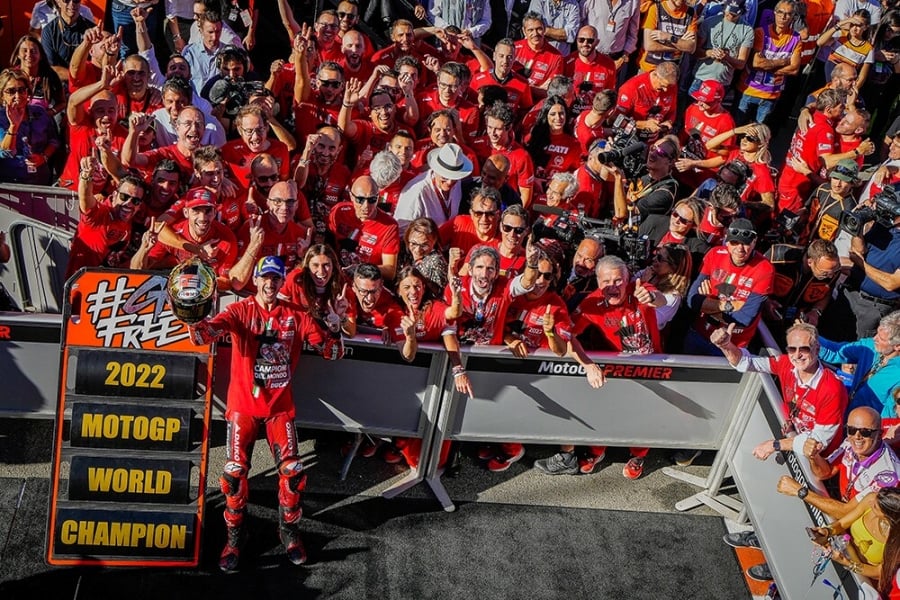 "We are talking with all the Italian clubs and dealers and many people will also come from outside and abroad. We expect the entire Ducati community to be here for a memorable event. We are positive and optimistic about the fact that this is the start of a cycle" added the CEO of the Bologna-based company, explaining the objectives that Ducati has set itself for next season.
"Doing better is impossible, because racing in MotoGP and Superbike you can't do anything more than winning all three titles in both. However, we can get very close or even replicate what we did in 2022, which is our target - he commented - We have said it several times - and it will also be part of the story of the evening - that we have reached this result through a series of actions that start from afar. There has been a growth in the structure in terms of knowledge and skills, but also in our way of communicating with the riders. We've made some mistakes in the past that we need to acknowledge, but also feel we understand. The structure is very robust, so all the elements are there to do well. We start off in a position to be able to repeat the result".
Constant progress on all fronts, which has led to an unparalleled result.
"The two triple crowns that we have conquered in both MotoGP and Superbike are not sporadic or fortuitous events. Pecco's seven victories on one side and Alvaro's sixteen on the other represent a combination given by the rider's talent and the bike's potential, certainly very important. During the winter everyone works, the riders train and we start from scratch. This is the beauty of sport - continued Domenicali, aware that repeating the feat will not be a walk in the park - Pecco and Enea are two very strong and highly talented riders. On the other hand, the opponents we will have to face are very strong and well-prepared. Marc is Marc: he is a multiple champion who restarts after a troubled period, so he is a very formidable opponent, perhaps the most formidable. Fabio fought for this victory with us until the very last laps, he will have a modified bike on which they are working a lot, as we are on the other hand. Aprilia had an extraordinary championship and they too will have the whole winter to improve, so I'm not saying it will be easy, in fact it will be very difficult".
"Pecco and Enea are two great champions and they will start on an equal footing"

Precisely on the rider front, the Ducati CEO guarantees equal treatment for Bastianini, Bagnaia and others.
"They are the two riders who won the most races in the championship that has just ended. They are riders with different characteristics, but they have both already demonstrated their talent: a rider who manages to win repeatedly in MotoGP, in the same year, two/three races is obviously a great champion and both are - affirmed Domenicali - Pecco is more champion because he is also World Champion, but they certainly start from the same technical configuration, as do Johann Zarco and Jorge Martin, who we thought for a long time about whether bringing him to the factory team was the best choice or not. We are betting a lot on both for results, especially on Jorge".
Without any hierarchies within the team, will Bagnaia resort to the number 1 to remind his teammates who is the reigning champion?
"The number 1 is always nice because in some way it indicates that this is the World Champion bike. On the other hand, it's a choice of the rider, completely free therefore, Pecco is still thinking about it - explained Domenicali - He's somewhat torn, because he's very fond of his #63 and he's also right because I too have 'Pecco 63' on my car, but I also have the #1. Maybe he could even make something up with his graphic designers, I don't know. We'll be happy anyway."