Before really starting the winter break, Nicolò Bulega takes stock at the end of his first season in Supersport, which saw him ride the Panigale of the Aruba.it team to its debut. It was a good year for the 23-year-old from Emilia, who ended up with 4th place in the 2022 ranking.
"The balance was quite positive, because I was the first Ducati at the end of the championship. But it was a bit of a shame for the last part of the season, because from Magny-Cours onwards we struggled a bit - commented Bulega - In any case, at Phillip Island I scored another podium in the wet, despite not having never ridden with the Pirellis in the wet and I finished 4th in the championship. I would have liked to have finished 3rd, but unfortunately there were some things that made us lose points, such as Portimao where I started from last in both races, because we had a problem in qualifying. In my opinion, in the end, we didn't go badly."
Despite not being able to give Ducati its first victory in the championship, Nicolò is quite satisfied with what he managed to do in his rookie season, but how can his drop in performance be explained?
"It's not me who dropped off, I remained consistent; it was the others who improved a bit more than us - underlines the 23-year-old - We got off to a very good start: at the beginning of the year my bike was the most competitive among the Ducatis and I knew how to get the best out of it. I think I was able to adapt quite quickly to a completely different bike from the Moto2 I was riding before. Then, during the summer break, the other Ducatis worked hard and became very competitive thanks to an important step forward with the bike, because Caricasulo has always been fast, but at the beginning of the year his bike was inferior to mine".
Regardless of the comparison with the other Ducatis, what was it like racing against bikes with different engine capacities, such as the Kawasaki?
"Those who don't understand anything about bikes said to me many times 'how can you not win with a 1000?' and this pisses me off, because I'd like to give them my bike, put them on the track together with the others and see if on the straight they actually find themselves with a 1000 against a 600 - comments Nicolò - Let's say that this was the worst part of the whole year, but in the end we did our own thing and we didn't go badly. At the beginning of the year, I bemoaned the fact that my bike didn't have much acceleration, but I've never complained about the engine. In my opinion, there are worse aspects, such as the gearbox, or the fact that our wheels weigh 2.5 kg more than those of the others".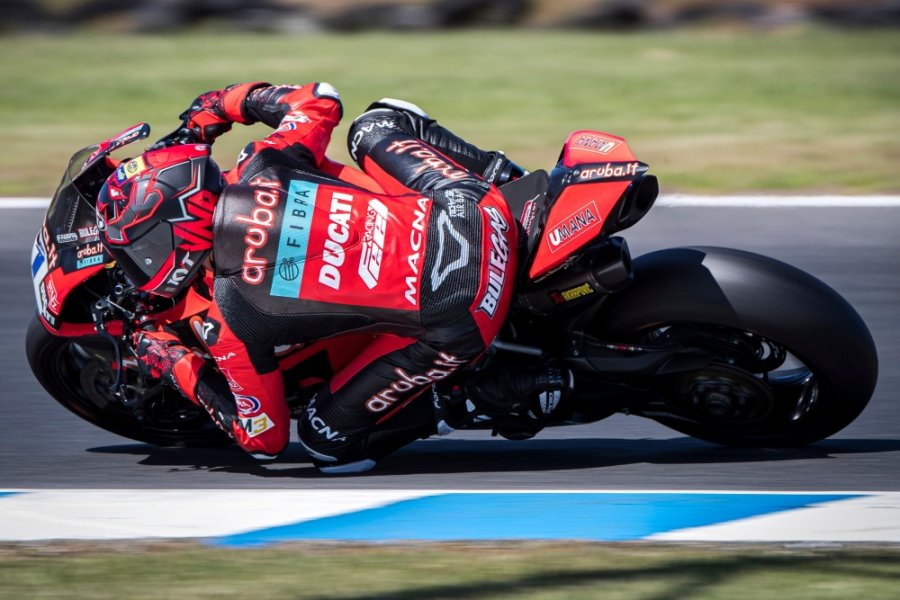 Despite a few small problems here and there, Bulega seems to have found his dimension more in the World Superbike paddock than in that of the MotoGP world championship.
"The championship surprised me positively, because coming from the MotoGP paddock you expect everything to be much less of a 'stage'. Instead, there are several interesting things, like the double race or the fact that people can buy passes and come to the paddock. For me, for someone who really likes motorbikes and who likes to watch races, Superbike is much nicer than MotoGP and I'm not saying it because I'm here now - says the Ducati rider - I didn't expect it to be so family-like, but I liked it and I was very comfortable with it. I also got on well with my team. I also liked the tyre change a lot, because with the Dunlops I was struggling a lot with my riding style. Especially at the front, which in Moto2 is unforgiving. When I put on new tyres, it took me 5-6 corners to be able to lean, instead on my first time out with the Pirellis in Jerez I already had almost my elbow on the ground in Turn 2, because it's impressive how much you can lean right away with new tyres. It's an aspect that helps a lot with the feeling."
So does Nicolò have a future in SBK on the horizon, always wearing the colours of the Aruba.it Racing Ducati team?
"I'm doing very well here and I think that in Moto2 you struggle to emerge, if you're not in an absolutely top team - comments Bulega - Clearly, I don't want to stay in Supersport. Having also seen Baldassarri and Aegerter, who certainly did better than me this year, I'd like to go to SBK. If we can do well, why not?".
With the two contenders for this year's title heading straight to SBK, 2023 could already bring great satisfaction to the rider from Emilia, but he prefers not to start dreaming big right away.
"Two strong riders are leaving, but Navarro will definitely arrive and, in my opinion, with his riding style, he will be very strong with the Pirellis. Schroetter has already been strong in his first race with MV at Phillip Island. We don't know where Manzi will race, but he will certainly be strong too. There will be a lot of riders up front next year - concludes Nicolò, setting his bar - This year we did 9 podiums, we hope to do even more".