Punctually, as every winter, the classification in which no rider ever wants to appear has arrived: crashes. Tumbles, slides, falls, accidents, all carefully noted in the 20 Grands Prix of this 2022 which has given a lot of emotions, but also many crashes. After all, the motorcycle by its nature lives in a precarious balance and popular wisdom states that, all in all, motorcyclists are divided into just two categories: those who have already crashed and those who have yet to crash.
Before finding out who turned flying into an art this year, we take a look at the general statistics that tell us that there were a lot of crashes in this 2022: 1106 to be precise. The 2017 record came close, when there were 20 more crashes, but only 18 races were run.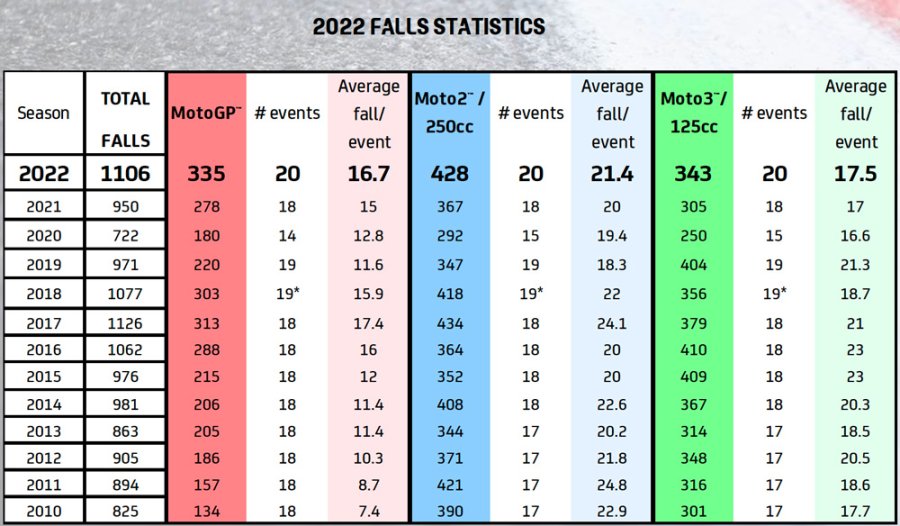 Moto2 tops the table in the overall standings, reaching 428 crashes, i.e. 21.4 per weekend (it still managed to do worse many other years). After all, the intermediate class is the first stumbling block for riders who find themselves on a heavy bike, with good horsepower and few electronic controls, in short, everything you need to become… horizontal.
Moto3 is also historically full of mistakes, given the very low average age, but if anything, this year MotoGP surprised everyone by reaching a record of 335 crashes. Experience is not lacking in the premier class, the electronics are superfine, but this year there were so many mistakes. Only in 2017 was it worse, with an average of 17.4 crashes per GP, this season it stopped at 16.7, a big figure in any case.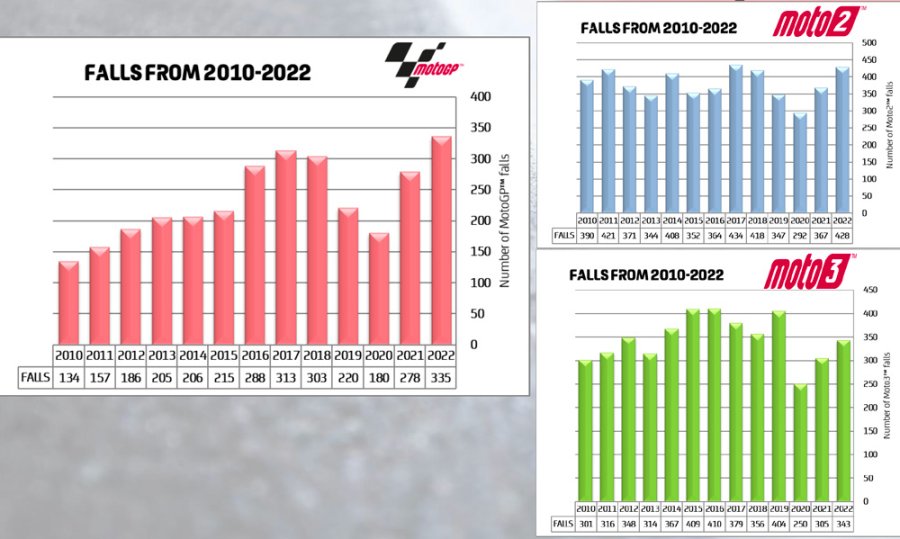 As for the sessions with the most crashes, victory for the race over practice sessions goes without saying. With 346 recorded crashes, it alone makes up a third of the total.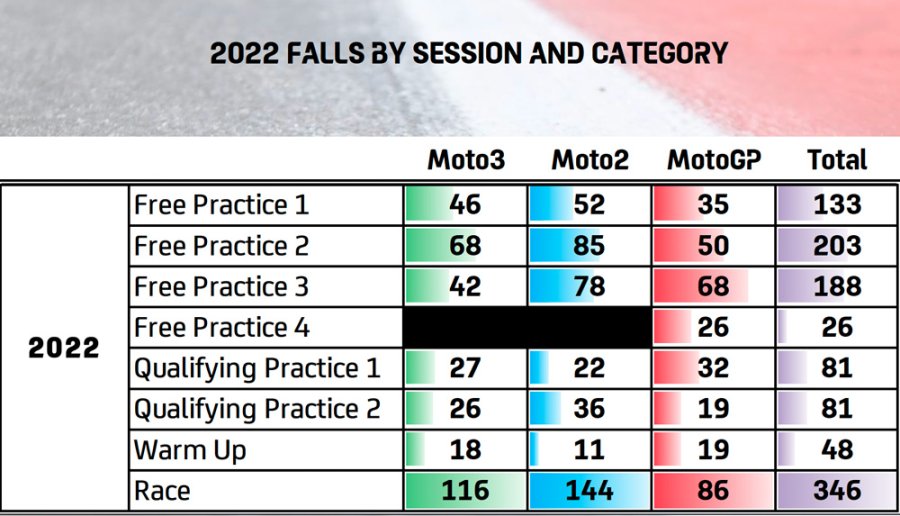 Darryn Binder wins, but Marc Marquez overtakes him
We have dwelt a bit on the general classification, but it is time to move on to the riders' classification and declare the winner, which is no surprise. Moving directly from Moto3 to MotoGP has its price and Darryn Binder paid for it with 27 crashes, or 1.35 per GP. The South African won this particular classification from Keminth Kubo, who laid down his Moto2 bike 25 times, and over Marco Bezzecchi. The MotoGP Rookie of the Year was one of the surprises of the year, but he also gave his mechanics a lot of work to do with 23 falls.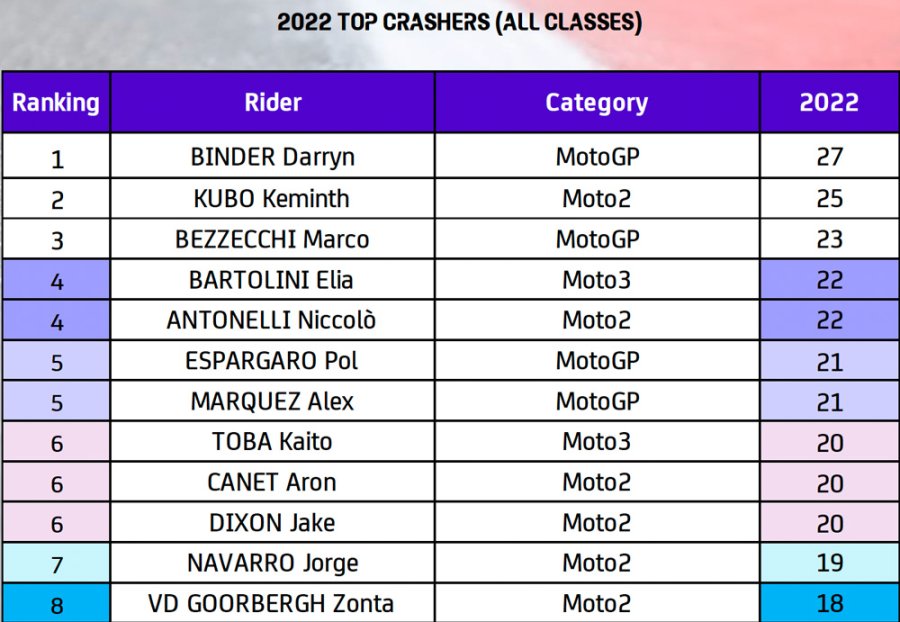 Irony aside, the class rankings also provide other interesting data, because it's not always and only the rider who is to blame when gravity is the winner. The Honda is often said to be a difficult bike and that it conveys little confidence to the riders and the statistics seem to confirm this. Pol Espargarò and Alex Marquez both picked up 22 crashes (more than one per GP), while Marc stopped (so to speak) at 18. Without a doubt the worst manufacturer result.
However, there is another surprise, because Marc Marquez only took part in 12 GPs, so his average is 1.5 crashes per weekend, thus doing better (or worse, you decide) than Binder. As mentioned, there is little to celebrate, because these statistics show how the RC213V is a critical bike for all riders, including Nakagami, who crashed 12 times in 17 GPs.
However, let's also give credit to those who (almost always) remained on two feet or wheels and here Maverick Vinales ripped up the competition with just 2 crashes in 20 races. Out of those who took part in all the races, Quartararo and Marini are second to the Spaniard from Aprilia, with 7 crashes. And the world champion? Bagnaia crashed 14 times, as many as in his debut year in MotoGP, but his future teammate Bastianini beat him… with 18 crashes.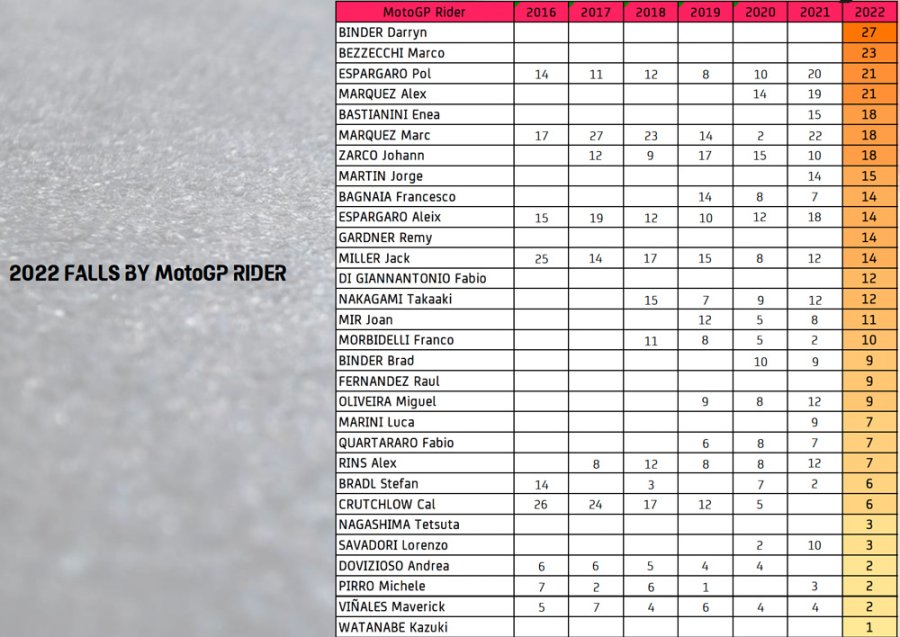 Watch out for Portimao, and the first corner of the Sachsenring
We conclude with the most treacherous circuit of all and here there is a surprise, because after 3 years of domination Le Mans had to give way to Portimao. The weather played an important role, good in France and less so in Portugal. Thus the Algarve racetrack is the only one where triple figures were reached with 105 crashes in three days.
The worst corner for riders, however, can be found in Germany, and it's the first one at the Sachsenring. A right turn, after a series of lefts, in which 21 falls were recorded.
The circuit with the least number of crashes? Termas de Rio Hondo, just 34 times in the whole weekend.