In his fourth season in MotoGP, Francesco Bagnaia managed to become World Champion, fulfilling his dream of winning the title with Ducati. It was a result that was not easy to achieve for Pecco, who managed to snatch the World Championship from the hands of Fabio Quartararo with an incredible comeback, at the end of a season riddled with ups and downs.
A feat that the Italian talks about in the special DAZN programme "Pecco Bagnaia, a champion's comeback", reflecting on his path and on the difficult beginning of his adventure with Ducati, in the colours of the Pramac Racing team. Two complicated years, in which the rider from Chivasso recorded only one podium and numerous retirements, which led him to question his choice to arrive in the premier class with the Borgo Panigale manufacturer, to become champion with them.
"When I signed for Ducati, it was my goal, my dream - says Bagnaia - And when I was at home, I sometimes wondered if it was the right choice, if it was the best team for my future. And I always said to myself: yes, it is. This is my dream. And that if I managed to win the title on this bike and with this team, it would have a special flavour".
Wearing red was an extra incentive, but also a great responsibility for Pecco, who managed to complete the work left unfinished by Andrea Dovizioso.
"I felt all that pressure, all that weight on my shoulders and it wasn't easy, but it was also a motivation to achieve this goal. I am very proud of my World Championship team. It's incredible for us" continues Pecco, reflecting on his achievement: 91 points behind Quartararo in the middle of the season, transformed into an advantage of 17 in eight races.
"91 points were a lot, but I was thinking about the potential we had - the 25-year-old commented - I thought I wasn't the type of rider who suffers from those ups and downs. I considered myself better than that. I thought I had the competitiveness to continue fighting for the title and had the potential to be champion."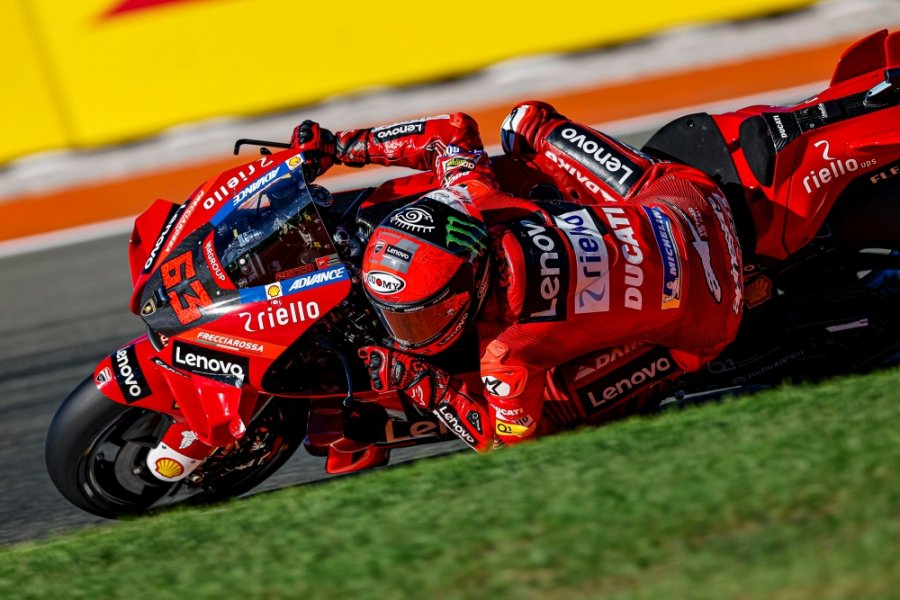 A change of mentality that was the real turning point of Pecco's season.
"I think I used that determination, that ambition to stay there and fight, because I understood that I was a rider capable of doing it. And the moment I started thinking about being competitive, I started working in a different way from FP1 and this helped me a lot to be more concentrated during the race and to start winning - observes the Ducati rider - You start thinking about being unbeatable and, maybe I shouldn't say it, but when I finished second at Aragon I was angry, because I didn't get a fifth consecutive win."
Five (out of the seven for the season) were the successes achieved by Bagnaia in the second part of the championship, in which Quartararo went without a win.
"Perhaps Fabio was too defensive in that part of the championship. I don't know if I put too much pressure on him, but something certainly changed, because in the first half of the season they were  more consistent, while in the second they started to struggle - commented Pecco - I was in a better situation. Definitely easier, because he (at Valencia) was forced to win, while I had to finish 15th to take the championship. When I crossed the finish line, I saw on my pit board that I was the 2022 World Champion. At that moment, I still didn't realize what we had done."