The red wig is placed near the desk: "In the end it suited me, like world champions you look good even with a red wig on your head" jokes Gigi Dall'Igna. The day after the great success, Ducati's general manager is sitting in his office. He is waiting to start the next season with tests on Tuesday and in the meantime he is thinking about the recent past.
You and Bagnaia had a common dream, that of winning the title with Ducati: what did you feel making it happen?
"Honestly, only this morning did I realize what we had done. Yesterday was an incredible emotion, but I didn't realize everything. After I woke up, I looked at the videos of the race, the last laps, I read some articles, and I was even more excited ".
How did you experience those 27 laps?
"I was afraid that due to the contact with Quartararo, Pecco's bike had been damaged to the point of not allowing him to finish 14th. He did his own strategy, being aggressive in the first laps to make Fabio lose some time, but he might not have paid off. Instead it was the right one ".
You joined Ducati at the end of 2013 to win in MotoGP, was there a moment when you feared you might not succeed?
"If we look closely, my very first Desmosedici, the GP15 was not bad, we finished 2nd and 3rd in the first GP of the year. In 2016 we won the first race, in 2017 we fought for the title until the last one against Marquez. 2018 and 2019 weren't wonderful years, but we had a lot of victories with Jorge and Dovi, in 2021 we finished second in the championship again. To answer the question: honestly no. I always thought it was only a matter of time because Ducati was fighting for the positions that counted for years ".
"Bagnaia is incredible, if he smooths out some edges he will be stratospheric"
What was missing to win the title?
"In my opinion the rider".
What did Bagnaia bring that Lorenzo and Dovizioso had not brought?
"Pecco is a serial winner even more than the other two. He won the first race at Aragon last year and from then on he won it today. He is an incredible rider who will give us a lot of satisfaction. If he smooths out some edges, he will be stratospheric ".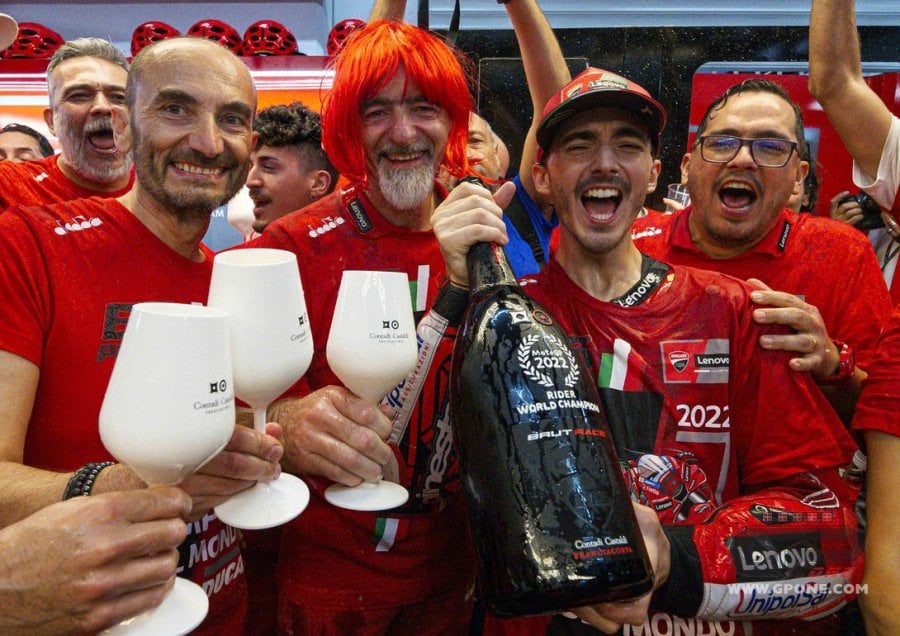 When did you realize the stuff he was made of?
"When he was in Moto3 he rode the Mahindra, which was certainly not the best bike of the lot, and he always won and always tried: that's a character that not everyone has. Most riders get depressed at certain times, lose their way and are unlikely to bring anything home. Those who, on the other hand, even with an inferior vehicle, try and succeed, like Lorenzo, are the ones who can compete for the titles ".
You mentioned Lorenzo, does Bagnaia remind you of him?
"Honestly, yes, also for their character: they always try. I remember the times with Lorenzo in Derbi, we certainly didn't have the best bike, yet he won the races and sometimes dominated them. It is clear that he was complaining and wanted more, all the riders want it, but that is not the problem. The technicians are also encouraged by the rider, but when he goes out on the track you have to try, that's what makes the difference ".
Was it Ducati who made a motorcycle for Bagnaia or was it Bagnaia who made it his Ducati?
"I have always listened to all my riders, in SBK I also listened to Biaggi and Camier because if I solved a problem with the bike that only Leon had, in the end Max would have gone faster too. Every time we have to try to give a better bike to all the riders, sometimes you succeed, sometimes you don't. The problems with the bike can be seen when the riders ride it ".
"In last year's tests we made a mistake, we went back on our steps"
Everything ended well, but at the beginning of the season Bagnaia made some mistakes and maybe you technicians too, with a GP22 that did not start off well.
"The problem in recent years, with the way the championship is organized, is that there is very little time to test with the riders. There are two tests before the championship and one after the last race which can be dangerous because the riders are not focused. So the decisions you make on that occasion can be mistakes that can lead you astray, I think that's what happened. But we knew what the bike that won the first race was like (the GP21 with Bastianini, ed.) and we worked to go back to those steps that we believed were wrong ".
Now the Desmosedici seems to be almost perfect, so much so that there are those who take away Bagnaia's merits. Could this be almost absurdly a source of pride for a technician?
"I want to win and anything that bothers my rider also bothers me. I hope the same happens towards me because we are a group and this is how we work and bring home the results".
Bagnaia is the spearhead but you have many other fast riders: Bastianini, Martin, Bezzecchi. Aren't you afraid that they will be stolen from you as happened with the technicians?
"It's part of the job market. We also have a different strategy on the technicians, we prefer to build them at home. It can happen that they poach them from you, but there is nothing we can do about it".
"I will go to Indonesia for SBK, not doing so would be a lack of respect for those who work for me"
You have another goal that you could achieve this weekend: the SBK title with Alvaro Bautista.
"In fact, after the tests here at Valencia, I will go to Mandalika. I know the efforts all the people who work for me, riders included, make and not going to such an important race would seem like a lack of respect towards them and it is right that I am there ".
Bautista asked to test the Desmosedici if he wins, will you cater for him?
"We always try to fulfill the wishes of the riders when we can".