First in the morning and eighth in the afternoon, with Francesco Bagnaia always behind him: the weekend could not have started better for Fabio Quartararo, who in Valencia is pursuing the dream of a two-times world champion, clinging to those two points that separate the rider from Piedmont from the title of MotoGP World Champion.
"It was a good day. We worked very well, especially on the pace. I got off to a good start, a good way to start also because on the second lap I was already around 1'31 and this means that we are there. There are many fast riders, but few were fast right from the start. In the afternoon with 16 laps on the tyre I was doing 31.3, 31.2. I'm confident for tomorrow", said El Diablo at the end of Friday, convinced that he still has some potential to extract from his M1.
"This afternoon the pace was very good, while in the time attack we have to understand where we are losing, even if we already have some ideas. There are areas where we need to improve, but I already feel pretty good, definitely better than last year - explains the Frenchman - It's good to have the hard front because in Thailand – I don't know if many people used it, but I was one of them, and even for the pace it's a big help. A few things we need to improve because also with the wings we have this year we still have some margin in some accelerations. I think it was a really good day today."
The trio of Desmosedicis at the top of the FP2 times does not worry the Frenchman, who has now got used to the recovery of the Ducatis with the soft tyre.
"I am used to it. It's one full year I am used to this. In one lap, I don't know – when the Ducatis put that soft tyre for a few laps, they have an extra grip that we don't have. For sure extra power also. But… I think even today we worked pretty well. Because, for sure we can improve a few things, with these wings like I said, but on the pace I feel we were really strong. For sure some riders made one lap faster, but I made – every time I was going out, I was pushing like hell, not doing mistakes. And we have I think a little bit of margin in some areas for the pace."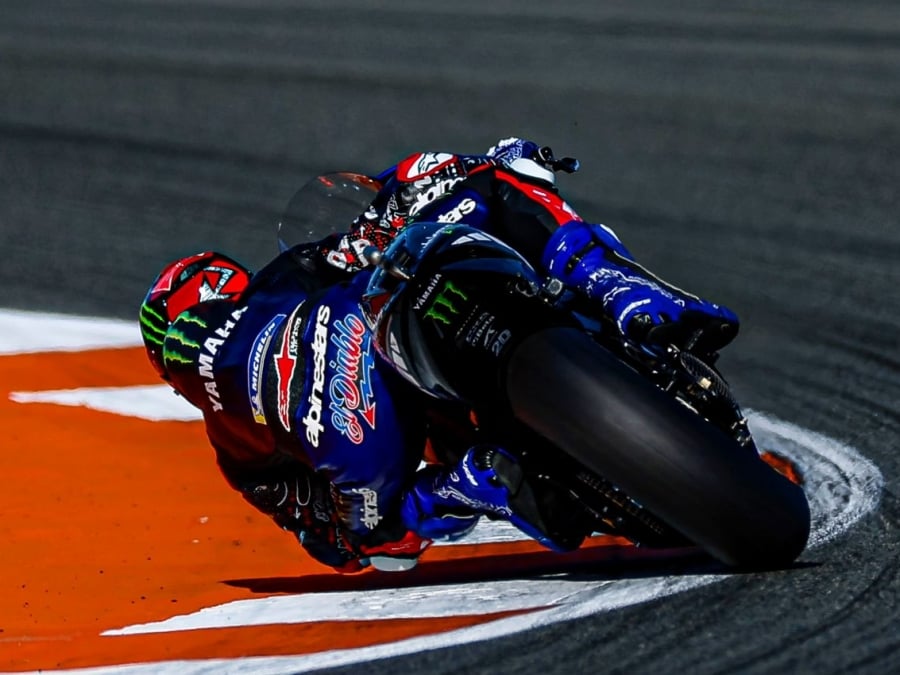 The missing rider in front of everyone, however, is Bagnaia, who seems to have felt the pressure on this first day on the track.
 "It's normal – commented El Diablo - Why should I be nervous? I have already told my team and friends that I will go all-in in this race and, whatever happens, we are all going to have fun on Sunday night. Obviously, I won't leave here without trying".
Jokingly questioned about Zidane's famous head butt on Materazzi in the 2006 World Cup final in Germany, the one in which the Frenchman earned a red card for having lost his temper with the Italian, who had insulted him during the game, Quartararo laughed it off. Yet similar events have occurred in our sport: Melandri with Alzamora, Capirossi with Harada. Later Bagnaia himself said he did not want to play the role of Materazzi.
In addition to the Ducatis, however, complicating the Yamaha rider's mission is also the injured finger in Malaysia, which he will only have an operation on after the Valencia round.
"I took care of the finger, but it is bent and using the holeshot on this track is very complicated and I have used it four times - says Quartararo - Plus, I had a bad wrist injury when I was younger. I can't use it and the finger is still so-so, so we're still trying to figure out if we can make some changes to the bike for tomorrow, but I don't think so".
The topic of the day was the farewell of Franco Uncini, who will hand over the role of Safety Director to Carmelo Ezpeleta's nephew, Tomé Alfonso. A news that the reigning champion preferred not to comment on, preferring to underline the fact that "you have to take care of Race Direction, after what happened at Phillip Island", before concluding by explaining why he prefers not to take part in the Safety Commission meetings: "There I have been once and I decided not to go back, because in 2020, when there was the scary accident in Spielberg, we asked to intervene because we no longer wanted to race in those conditions, but then the following year we had to do it again. I have nothing against the Commission, I just don't go there".